Write a LOVE acrostic poem for Valentine's Day with this handy template. 
Like our poem about the LOVE of teaching…
🇱 – Looks of wonder on little faces when students learn something new  
🇴 – Opportunities galore to shape hearts, minds, and lives
🇻 – Victory flows through our veins when we hear "I get it!"
🇪 -" Every child!" is the answer when asked who's our favorite 😉
"Love" Acrostic Poem — Curriculum Goals
This illustrated poetry template challenges students to write an acrostic poem about love and color the image. 
Students will think of a word or phrase that starts with each letter of the word and write them in the spaces provided. 
Put completed student works together to create a class book of poetry, or showcase the worksheets on your Valentine's Day classroom display! 
By completing this English Language Arts activity, students demonstrate an ability to convey their thoughts and feelings by writing with details.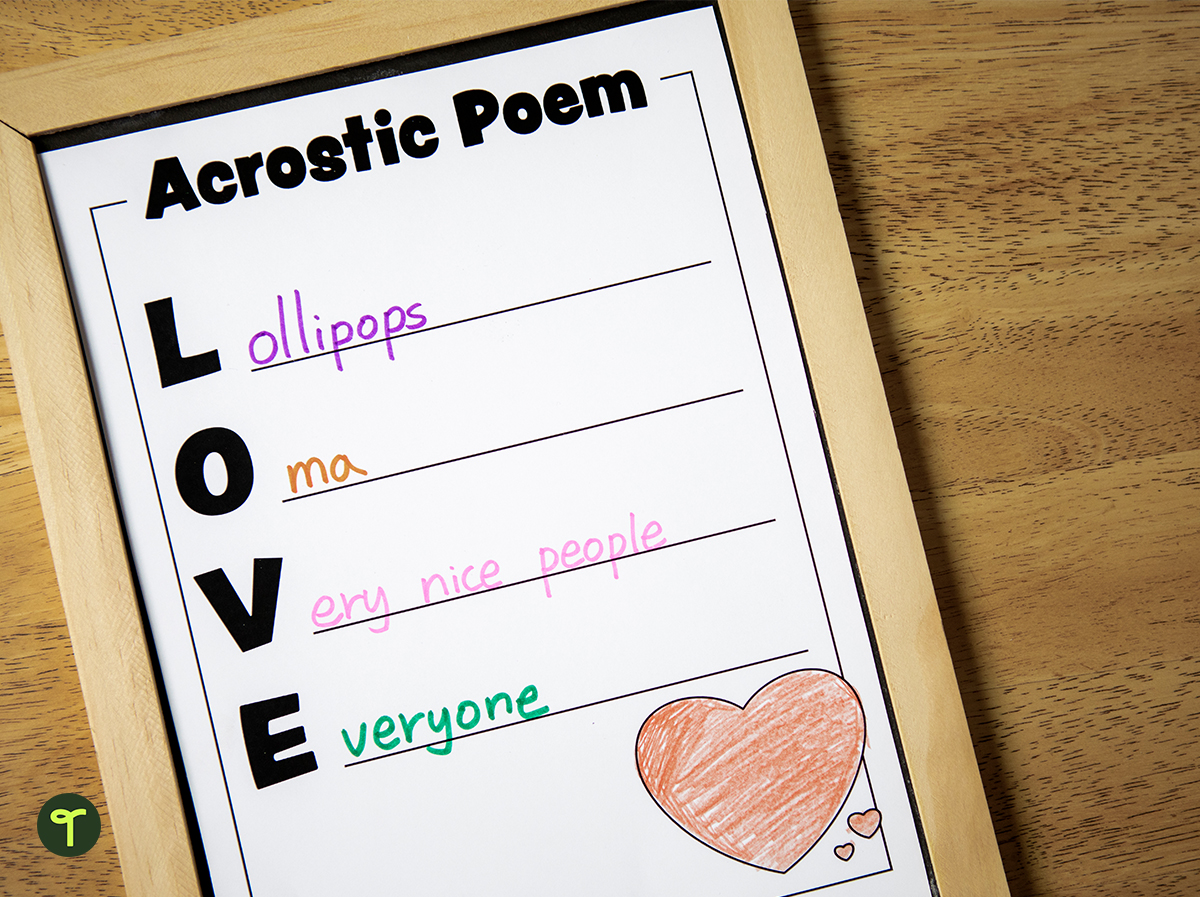 Scaffolding + Extension Tips 
In addition to individual student work time, use this writing activity to support your lessons and encourage educational play for:
And more! 
Students who need support would benefit from a demonstration of this activity before completing it themselves.
To Prepare This Resource
Please note that this activity will download as a PDF. Print on cardstock for durability. 
Turn this teaching resource into a sustainable activity by slipping cardstock copies into dry-erase sleeves. Students can record their answers with a dry-erase marker, then erase and reuse. 
Additionally, project the worksheet onto a screen and work through it as a class by having students record their answers in their notebooks.
NEXT: 20+ Valentine's Day Activities Your Class Will Love »
---
Be still my heart! We've got more Valentine's Day activities and teaching resources to share a love of learning:
[resource:4571224]   [resource:4575597]   [resource:4571200]