An acrostic poem template for the word 'ocean' to use during National Poetry Month and when learning about oceans.
Use this template when exploring acrostic poems with students.
This illustrated poetry template encourages students to write an acrostic poem and color in the image.
Celebrate National Poetry Month in April and Earth Day on April 22 by writing poems about ways to protect the ocean and the many species who live in our oceans and waterways.
Gather different types of poems written by your students together to create a class book of poetry!
Mark World Oceans Day in June with an ode to the ocean, and learn about the ways pollution in the ocean affects the animals who live there.
Continue learning about poetry with these resources ready to print and use in your classroom:
teaching resource
A template for students to write a concrete poem about a thunderstorm.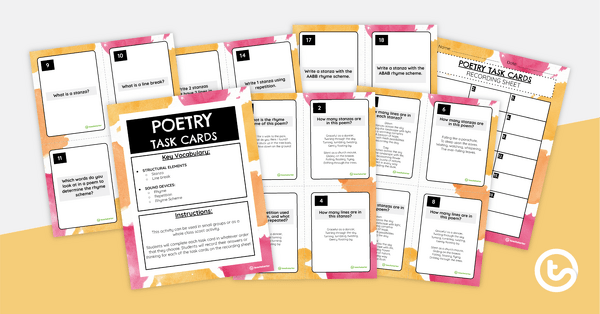 teaching resource
A set of 20 task cards to practice different elements of peotry.