Play this engaging adjective identification card game with a small group of students or as a whole class.
Like a black-and-white movie might force you to use your imagination to make up for lost details, writing that doesn't include enough description to pull the reader in makes for a lackluster experience.
Take the classic film The Wizard of Oz for example: as Dorothy opens her bedroom door to reveal Munchkinland, the brilliant colors promise adventure—a dramatic contrast to the dull, quiet life of her sepia-hued home back in Kansas.
Just like we encourage students to paint with all the colors available to them, the same can be said for language. Specifically, adjectives are one tool a writer might use to give vibrance to their words.
Like a full palette of colors, adjectives provide context, create depth, and add gravity to the words they describe. Through our Adjectives or BUST! game, students will discover how to recognize adjectives, allowing them to build skills for interpreting texts and follow the imagery authors use to share their visions of the world with us.
How to Set up Adjectives or BUST! For Your Students
This adjective activity can be used in your classroom writing center, guided small group with the teacher, or as a whole-class activity.
To play the game, split the players into 2–4 teams and choose an appropriate scorecard for the number of teams you have. Player 1 draws a card, reads it out loud, and decides if the word is an adjective. If it is, they earn a point. If it is not, it is a BUST, and no points are given. Play continues until all of the cards have been used. The player (or team) with the most points at the end wins!
Add Extra Challenges to Test Your Students' Adjective Awareness 
Looking for ways to take this adjective card game to the next level? Here are a few ideas to stretch your students' imaginations and vocabularies:
Sentences or BUST
To practice putting words into their proper context, ask students who properly identify adjective cards to use the word in a sentence. You can also simply ask them to use the word to describe something. Award an extra point if they are able to apply the word properly.
Un-BUST
If the word a player selected is NOT an adjective, ask them to tell you what part of speech the bust word is (either noun or verb). Depending on how far into studying the parts of speech your students have gone, this activity might require a review of how to identify nouns and verbs.
Opposites BOOM
This level of play is a little more challenging because it gets your students to start thinking about the qualities that go into giving a word its definition. If the player can think of a word that is the opposite of the one they pulled (adjective or not), give their team another point! Here are some examples:
House … Boat
Puppy … Kitten
Orange … Blue (or another color)
Smooth … Spiky
Seven … Zero
Prepare This Resource for Your Students
Print this game using cardstock for added durability and longevity.
Cut out the cards and put everything into a folder or envelope as a writing center activity. Or add it to your classroom games area.
Before You Download
Use the drop-down icon on the Download button to choose between the PDF or Google Slides version of this resource.
---
This resource was created by Lauren Piper, a teacher in Illinois and a Teach Starter Collaborator.
Before you go, be sure to check out more adjectives activities we're sure your students will love:
teaching resource
A fun activity to use when learning about parts of speech.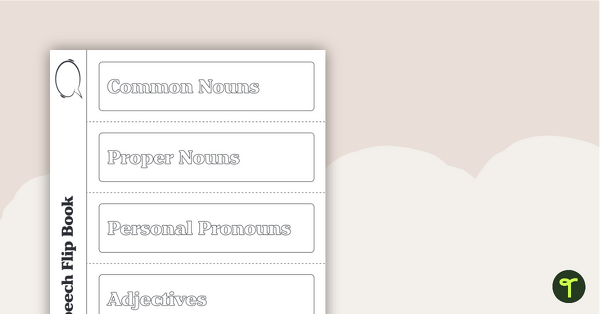 teaching resource
A flip book to use when learning about parts of speech.
teaching resource
A sorting activity to help students identify different parts of speech.