Practice using adjectives to describe objects with this set of 20 task cards.
Adjectives bring language to life! 🙌
They incorporate the senses to describe what we see or imagine, making us feel like we are right there alongside the storyteller and their subject. 
Through this parts of speech activity, your students will tap into their logical and creative sides to show they can use frequently occurring adjectives in everyday language. 
Getting Creative With Adjectives
Use this resource in your writing center, guided group, or class (see below) to practice using adjectives to describe the word on each card.
To play, hang the cards around the room and give students enough time to identify the object and think of an adjective that describes the object shown. Students will write the adjective on their recording sheet in the matching numbered box. 
Use a signal such as clapping your hands, flicking the lights, or calling out, "Scoot!" to motion students to rotate. Students will move in the same direction and follow numerical order. Play continues until the students return to the card where they started. 
Scaffolding + Extension Tips 
Challenge students who already understand the concept to choose 5 different task cards and write complete sentences using an adjective and the object shown. 
Support students who need help understanding the concepts by providing an anchor chart with ideas for describing the objects on the card, such as their color, shape, size, state of being, etc. 
Get our 10 Best Scaffolding Strategies here! 
More Activities To Practice Using Adjectives
Use this resource as independent practice for fast finishers and full-class learning opportunities in centers, lesson reviews, formative assessments, and more.
🚫 True or False Scoot (Beginner)
Write an adjective for the object on each card, some that accurately describe it and some that don't. For example, you could write "red" on the "banana" card, which would be a false statement. Working either alone or in pairs, assign students to a starting point and have them rotate through the cards on your signal, recording whether the adjective fits (true) or does not (false) until they have completed each one.
🔔 Bell Ringer Activity (Intermediate)
Project a card for your students to see as soon as they enter the classroom. On a piece of paper, have students write as many adjectives as they can think of to describe the object. 
🪞 Mirror Game (Advanced)
This activity is a spin on the classic "Newlywed Game" and works best with small groups because you'll need enough dry erase boards and markers for each student. Divide students into 2 groups and have them sit facing each other. Show the students a card and identify the object. Students will get 30 seconds to write on their board an adjective for the object. On your cue, the students turn their boards around so their partners can see their answers. If both students in a pair have a correct word, they get 2 points. If only one accurately describes the object, the team gets 1 point.
Easily Prepare This Resource for Your Students
Print on cardstock for added durability and longevity. Place all pieces in a folder or large envelope for easy access. 
Keep the task cards together in a center: punch a hole in the corner of each and put them on a binder ring.
To turn this teaching resource into a sustainable activity, print a few recording sheets on cardstock and slip them into dry-erase sleeves. Students can record their answers with a dry-erase marker, then erase and reuse.
Before You Download
Use the dropdown icon on the Download button to choose between the PDF or Google Slides version of this resource. 
---
This resource was created by Rachel Angell, a teacher in North Carolina and Teach Starter Collaborator. 
Don't go until you've checked out these exciting adjectives resources too: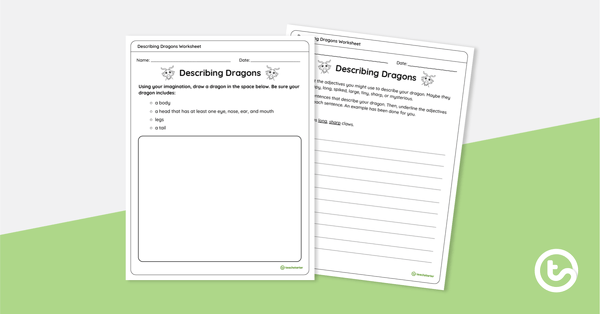 teaching resource
With this 2-page worksheet, students will draw an original dragon and describe it by writing sentences using vivid adjectives.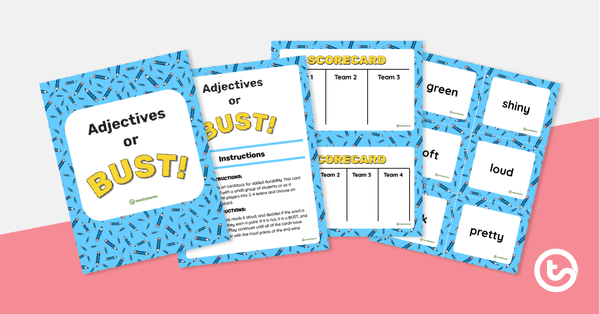 teaching resource
Play this engaging adjective identification card game with a small group of students or as a whole class.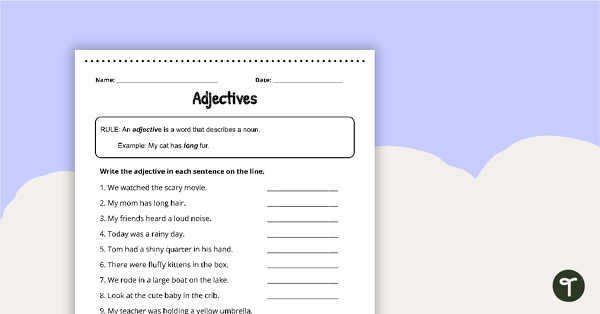 teaching resource
Practice identifying and writing adjectives in sentences with this 1-page worksheet.