Practice blending phonemes to form one-syllable words with this set of 20 bingo game boards and cards.
Students will enjoy learning to sound out and spell CVC words in this 3-in-a-row Bingo game for up to 20 players. 
How to Play CVC Word Bingo
This resource is an engaging whole-group game to practice blending phonemes to form words. You can also opt to make it part of your guided reading group practice, add it to your classroom reading center, or as a fun English Language Arts lesson warm-up.
Students will need BINGO counters to keep track of the words on their cards. 
To play, students listen to the calling card, blend the phonemes together to form a word, and cover the picture of the word if it appears on their bingo board. 
Get More Ways to Play out of Our CVC Word Bingo
Take CVC word practice even further with additional activities to help familiarize your students with blending phonemes to spell words! 
Extend Game Play
In addition to 3-in-a-row, play alternate forms of Bingo like:
4 Corners

Plus sign

Blackout

X out
Charades
Ditch the game boards and use the calling cards as charade prompts. Divide your class or small group into 2 teams. Teams will take turns sending up 1 student at a time to act out the item spelled on the card for their team while you keep score and hand the cards to the players. If after 30 seconds their team guesses the correct word, they get 1 point. Award a bonus point if the guesser can also spell the word themselves! Once every student has had their turn to act out a card, the game is over and the group with the highest points wins.
Draw It! Warm-Up/Exit Game
This activity can also be used as a formative assessment. Pick a random assortment of calling cards and project them on the board for the whole class to see. Have each student pick 3 words and write them on a separate sheet of paper. Then, have the students draw a picture for each word, showing they've read the word and understand what it is.
Want more? Check out our 10 Most Popular Classroom Bingo Games! 
Change the Difficulty Level if Needed
Here's how to add an extra layer of CVC word practice: after covering the correct picture to match the call-out card, have students spell the word out loud or write the word on whiteboards.
For students who have trouble sounding out the words, invite them to use multiple senses by blending the phonemes together using their arms! Have students place their hand on their shoulder to say the first phoneme, move their hand to their elbow for the next phoneme, and to their hand for the final phoneme. Do this multiple times, each time a little faster to blend the phonemes together.
Easily Prepare This Resource for Your Students
Print game pieces on cardstock for added durability and longevity. Place all parts in a folder or large envelope for easy access. 
Before You Download
Use the drop-down icon on the Download button to choose between the PDF or Google Slides version of this resource. 
---
This resource was created by Lindsey Phillips, a teacher in Michigan and a Teach Starter Collaborator. 
Get in more CVC word practice with games and activities to engage and excite budding readers!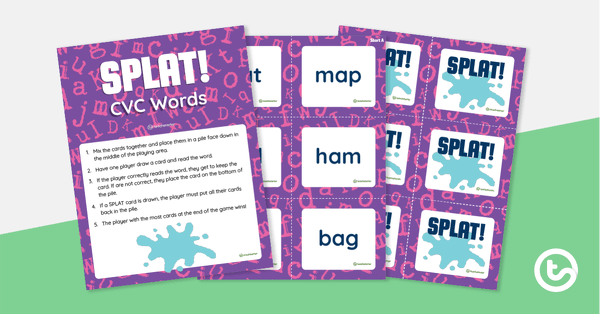 teaching resource
A set of 36 task cards to practice decoding and reading 3-letter words.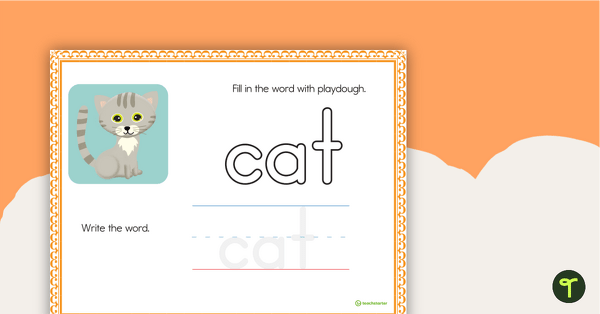 teaching resource
A set of three-letter consonant-vowel-consonant words for students to practice writing and forming in playdough.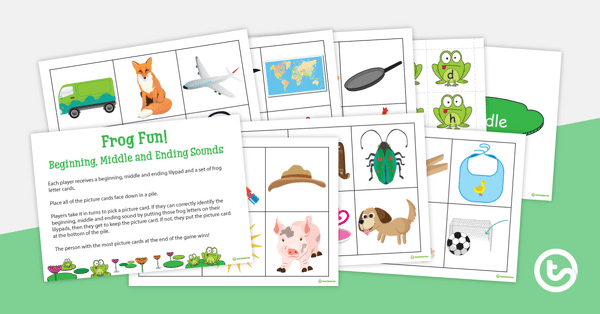 teaching resource
Game cards and instructions for a frog-themed CVC word combination game.