A set of five Christmas coloring sheets that double as paper ornament templates.
Looking for a Christmas Coloring Page? or Five?
Picture this…its the final week of school, just before winter break, and the P.E. teacher calls in sick. It just so happens to be your day for P.E., and there is no sub. You've got to entertain those little ones for 50 minutes with no lesson plans or ideas in sight. It sounds like one of those teacher nightmares, right? Honestly, it happens all too often. That's where we can help!
These cute Christmas coloring pages are the perfect backup activity to have in the final weeks leading up to the holidays. When last-minute plans fall through, you've got five backup plans ready to go! In this group, you'll find a
Christmas Tree coloring page

Decorative Christmas Ball Coloring Page

Blank Christmas Ball Coloring Sheet

Decorative Stocking Coloring Sheet

Blank Stocking Coloring Sheet
Two Birds with One Stone – Christmas Coloring Sheets and Paper Ornament Templates
No need for extra Christmas ornament activities. These perform double duty as coloring pages and as printable Christmas tree ornaments! Students color and decorate the Christmas decorations. Then, cut them out and hang them in your classroom as a great display!
We also have a holiday version available that contains winter decorations for those who do not celebrate Christmas.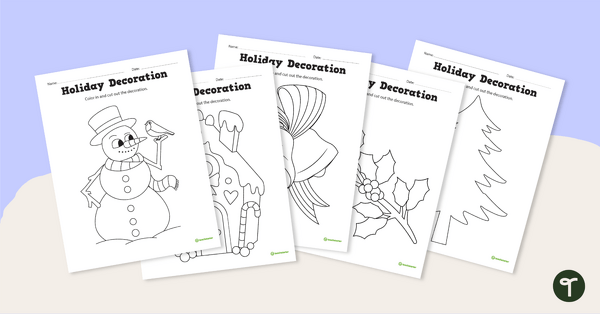 teaching resource
A set of five Christmas coloring sheets.