Bring a bit of Christmas cheer into the classroom with this whole-class collaborative Christmas coloring sheet.
Crafting Christmas with Collaborative Art Projects
This Christmas stocking coloring activity is just what you and your students need to bring the holiday cheer into the classroom!
Are you looking for a creative, out-of-the-box, and different Christmas activity this year? This collaborative Christmas printable coloring sheet has been designed to bring a batch of Christmas cheer to your classroom this year. This collaborative coloring activity features an illustration of a Christmas Stocking filled with zentangle coloring patterns to promote mindfulness.
Christmas Bulletin Board….Try a Christmas Coloring Mural Instead!
Simply put all the sheets together when they're finished to complete the picture! The result will be a unique masterpiece that your students will be proud to display!
This collaborative art printable will make a beautiful Christmas bulletin board or hallway display. Working on this project as a team will promote mindfulness and teamwork in the classroom and spark a bit of joy during the holiday season.
This stocking is meant to be a whole-class collaboration, as it is printed across 16 pages. Distribute one page to each student or a pair of students. Once students have completed their portion, combine the pages for a beautiful Christmas coloring mural.
This resource is also available in a single-page format. Click on the image below to download.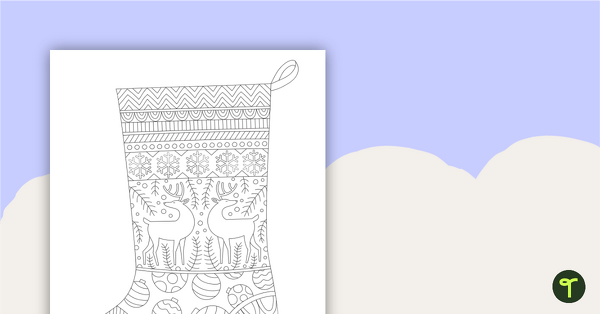 teaching resource
Practice mindfulness and spark cheer with this Christmas coloring page.