A set of posters and fact cards giving information about 10 dinosaurs.
Use these posters and fact cards when learning about the wondrous life of dinosaurs!
Each entry contains information about the following:
pronunciation
temporal range and timeline
name meaning
diet
height/wingspan
length
weight
brief description
These also work great as a jumping-off point for a research project for your students, or when learning to pull information from an informational text.
This resource is available for download in full-size posters or half-size fact cards. Use the drop-down menu to choose which one works best for you! We also have the posters available as a Google Slide deck.
Both of these resources work well in conjunction with these fact cards.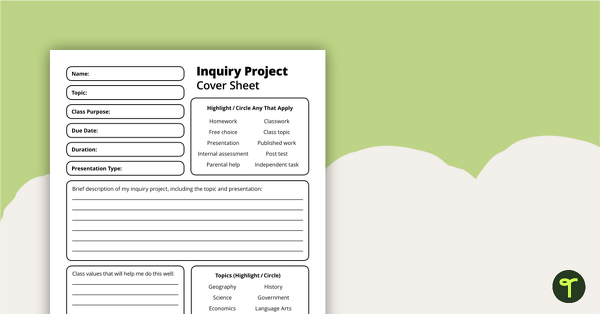 teaching resource
A diverse template to help students craft inquiry questions to produce different types of research projects.
teaching resource
4 planning templates to use when writing an informational text.