Review all 16 task cards with direct speech in the text and correct the missing punctuation.
Can you imagine reading a novel without quotation marks? You'd wonder if a character actually said something or just thought it. Awkward! 
It's also important to know when text is quoted as a reference and is not the author's original words. 
To denote when particular words are spoken or quoted within a text, we apply specific punctuation rules: speech marks. 
Through this set of task cards, students will show they understand how to use commas and quotation marks to indicate direct speech and quotations in a text.
Practice Applying Direct Speech Punctuation
These task cards can be used as individual practice or exit tickets, with partners or groups as a writing center activity, or a guided writing lesson to reinforce your introduction to direct speech punctuation.
This resource uses varied types of sentences—character dialogue and direct quotations from simulated non-fiction texts so that students can practice with both types of direct speech. This resource also requires that students add quotation marks to mark speech and add commas and ending punctuation as needed. 
To use these task cards, print and place in dry-erase sleeves for students to mark up with an erasable marker. 
Answer cards are provided for students to self-check their work. 
Scaffolding + Extension Tips 
Challenge students who already understand the concept to add a phrase to each card with correct direct speech marks. 
Support students who need help understanding the concepts by using these task cards in small group support/reteaching time. You might also have students work with more proficient partners to complete the task cards together. 
To help students focus, assign specific direct speech punctuation to work on, such as only marking quotation marks or ending punctuation.
Students can use a visual reference, such as a quotation marks poster, punctuation mark guide, or speech marks anchor chart, to remind them of their punctuation rules.  
Get our 10 Best Scaffolding Strategies here! 
Use These Cards For Additional Direct Speech Punctuation Activities
Use this resource as independent practice for fast finishers and full-class learning opportunities like scoot activities, lesson reviews, formative assessments, and more.
Group Lesson 
Using your smartboard or another projection device, present each task card and work through them together as a class. Call on students to tell you where to include quotation marks, commas, and other missing punctuation, and write it on the card for students to see. 
Bell Ringer Activity
Project a task card or keep a stack in a central location for students to pull from when they enter the classroom. On a piece of paper, have students rewrite the phrase on their card and add the missing speech marks. 
Circle Up
To use this activity for partner work, divide your class or small group into pairs. Print enough task cards as worksheets (no need to cut them out), and provide each team with their set. Ask students to take turns reading the cards aloud to each other and use a pencil to add the missing speech marks. This partner activity benefits students who need extra practice understanding the content and are comfortable working as teams to build confidence. 
Easily Prepare This Resource for Your Students
Print on cardstock for added durability and longevity. Place all pieces in a folder or large envelope for easy access. 
Keep the task cards out of pockets or under desks: cut out the cards and punch a hole in the corner of each to place them on a binder ring. 
To turn this teaching resource into a sustainable activity, print on cardstock and slip cards into dry-erase sleeves. Students can record their answers with a dry-erase marker, then erase and reuse.
Before You Download
Use the dropdown icon on the Download button to choose between the PDF or Google Slides version of this resource. Answer cards are also included with this download.
---
This resource was created by Megan Cargile, a teacher in Nevada and Teach Starter Collaborator. 
Make sure students leave your classroom proficient in their punctuation with these resources and activities:   
teaching resource
Help your students remember their punctuation rules by providing them with this bookmark for quick reference.
teaching resource
Amazing Man helps students to learn what both direct and indirect speech entails as well as providing examples on how they can use it themselves.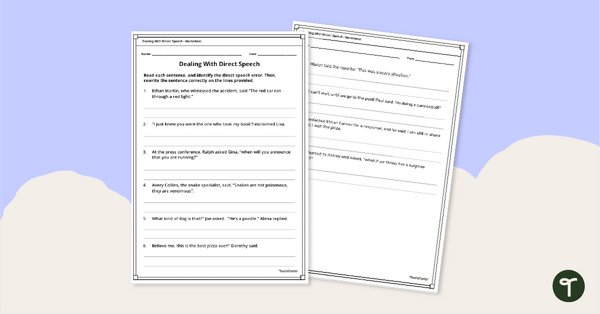 teaching resource
A worksheet for students to practice writing direct speech.