A 14 slide editable PowerPoint template to use when examining female gender stereotypes with your students.
This PowerPoint presentation has been designed to introduce your students to the concept of stereotypes. It specifically addresses female gender stereotypes.
The content of the presentation includes:
an overview of what stereotypes are
some common examples of stereotypes
the problem with stereotypes
an overview of gender stereotypes
some common examples of female gender stereotypes
sources of female gender stereotypes
how to challenge female gender stereotypes.
Links to whole class, small group, and individual learning activities are also included. They can also be downloaded separately below.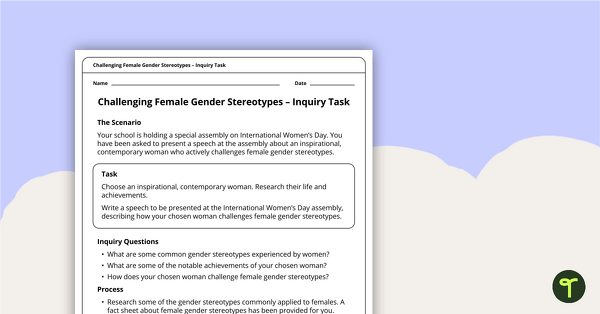 teaching resource
An inquiry task to use in the classroom when learning about inspirational contemporary women.
teaching resource
A set of 8 social strategy scenario task cards that explore issues and ideas related to International Women's Day.