Investigate mechanical, electrical, light, thermal, and sound energy with this set of science activities for kids.
What Are the Different Types of Energy? – For Kids!
Are your students starting to dive into the different energy types found in our world? Let's take a look at the common times of energy. To help you remember the different forms, all you have to do is remember the acronym MELTS. It stands for mechanical, electrical, light, thermal, and sound energy.
Mechanical energy is the energy that is possessed by an object due to its motion or position. It is the energy that is involved in the movement of objects and can be transferred from one object to another.

Electrical energy is the energy that is associated with the movement of electric charges. It is a type of energy that can be transferred through wires and other conductive materials. Electrical energy can be produced from a variety of sources, including batteries, generators, and solar panels.

Light energy is a type of energy that is emitted by hot objects and can be seen by the human eye. It travels in waves and allows us to see things around us. Light energy is also important for plants to make food through photosynthesis and is used in a variety of technologies.

Thermal energy is the energy associated with an object's temperature. The more thermal energy an object or system has, the higher its temperature will be. 

Sound energy is a type of energy that is produced by the vibration of matter. When an object vibrates, sound waves travel through the air or other media, such as water or solids.
Investigate Different Forms of Energy
Teach Starter has created a set of science station cards to use in your classroom when students learn about the different energy types. Each station card includes the materials needed as well as the steps to complete the experiment. With your download, there is also a printable tri-fold where students will record their findings.
Students will investigate different types of energy by:
Dropping a ball from different heights

Creating a playdough circuit (Check out a great Playdough recipe from Squishy Circuits™)

Shining a flashlight on different objects

Dissolving sugar in cups of water with different temperatures

Creating a string telephone
Easily Prepare This Resource for Your Students
Use the dropdown icon on the Download button to choose between the PDF or editable Google Slides version of this resource.
Print the station cards on cardstock for added durability and longevity. Place all pieces in a folder or large envelope for easy access. 
---
This resource was created by Kaylyn Chupp, a teacher in Florida and a Teach Starter Collaborator. 
Don't stop there! We've got more activities and resources that cut down on lesson planning time: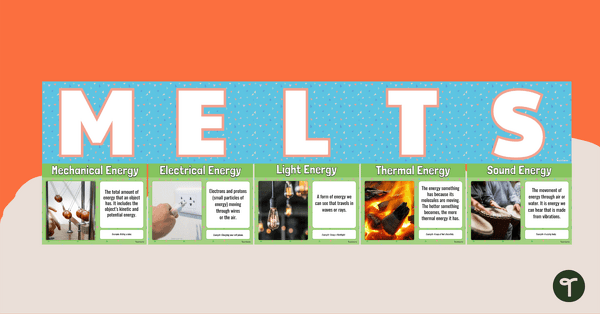 teaching resource
Differentiate between different forms of energy by displaying this poster pack in your classroom.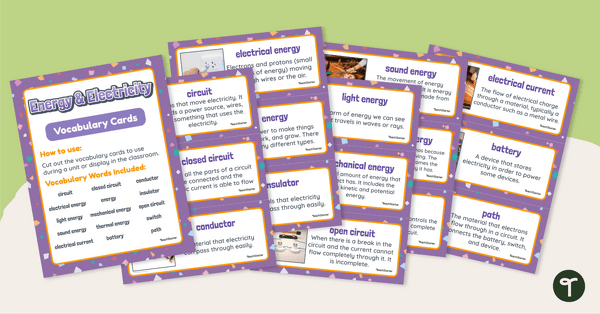 teaching resource
Reinforce science vocabulary in your classroom with this set of word wall cards that focus on forms of energy and electricity.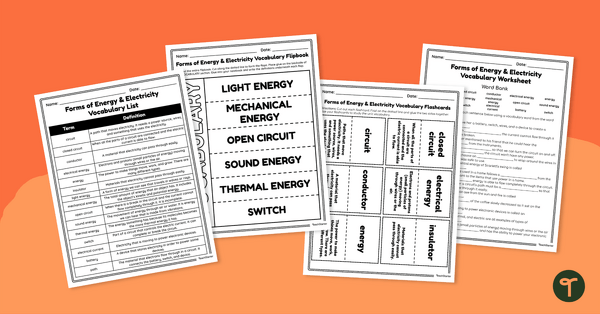 teaching resource
Review forms of energy and electricity terms with this science vocabulary worksheet pack.