Celebrate Grandparents Day in the classroom with a Grandparents A to Z Adjectives worksheet.
Looking for Content-Related Grandparents Day Ideas?
When is Grandparents Day? Are you ready to celebrate in your classroom? We're here to help you prepare!
Grandparents Day is observed on the first Sunday after Labor Day. On this day, people remember and honor their grandparents or other older relatives. The idea of this day is to bring everyone together and build stronger family relationships.
 In elementary school, teachers usually celebrate this day by doing different activities such as
sharing stories about grandparents, 

making and sharing printable Grandparents Day

cards

, 

sharing old photos, 

making a memorable Grandparent's Day craft 

having a party to spend time with grandparents.
However, with the amount of content in your curriculum, it's hard to fit in those celebratory activities. That's where we come in!
We've created a Grandparents Day worksheet to integrate your English Language Arts standards into the gift-making process. This worksheet has students identify and write adjectives to describe their grandma, grandpa, or grandparents that begin with each letter of the alphabet.
Tips for Differentiation + Scaffolding 
For Struggling Readers and Writers
Have your students complete the activity in small groups or with partners to assist in spelling and idea generation.

Provide your students with an elementary thesaurus or digital thesaurus to use during the completion of the activity.
For Fast Finishers
Have your students turn their list of adjectives into a booklet, write complete sentences using their adjectives, and draw pictures on each page.
Easily Download, Print, and Assemble
Use the dropdown icon on the Download button to choose between the PDF or Google Slides version of this resource. 
Have your students complete the activity using any needed resources. Then mount their lists to a sheet of construction paper. They can then decorate the edges of the construction paper and gift them to their grandparents to show them how special they are!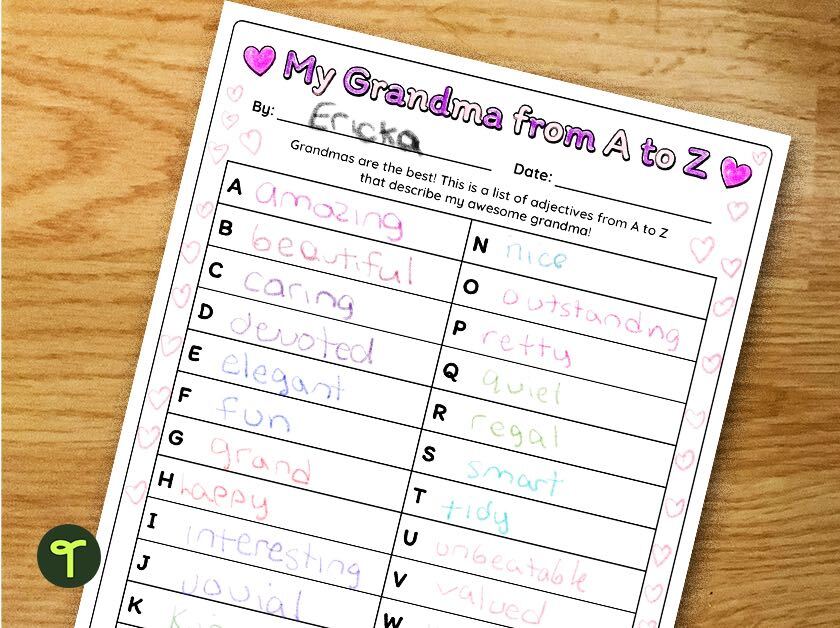 Get more Grandparents Day ideas here!  
---
Don't stop there! We've got more Grandparents Day gift ideas!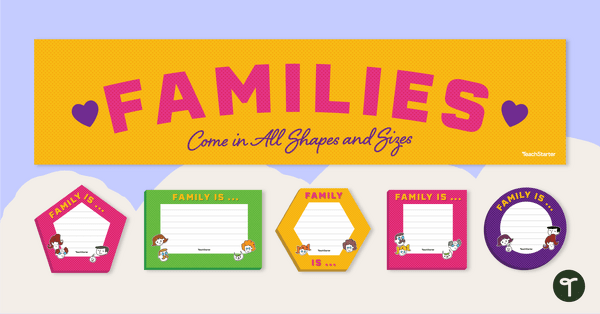 teaching resource
Create a classroom bulletin board of your students' families with this easy-to-use resource.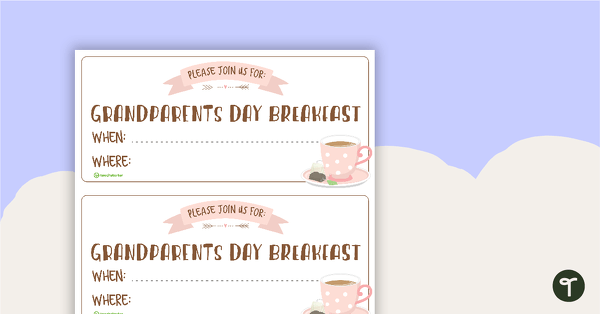 teaching resource
A selection of invitations that students can pass out to grandparents for school celebrations.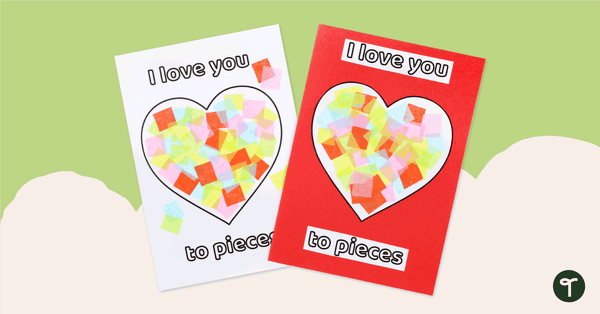 teaching resource
Print a unique "I love you to pieces" card template for students to hand out Valentine's Day or to make a card for someone special on Mother's Day, Father's Day or Grandparents' Day!