Help your students decide which type of mindset they currently have with this poster.
What Is Growth Mindset?
Do you teach your students about having a growth mindset? What do we mean when we say 'growth mindset'? Growth mindset describes the underlying beliefs people have about learning and intelligence. When students believe they can get smarter, they put in extra time and effort, and that leads to higher achievement.
This teaching resource provides a visual reminder for your students of the characteristics related to a growth mindset and a fixed mindset.
Ways to Use a Growth Mindset Poster
This poster can be more than "just a poster" for your classroom. Why not try one of these ideas:
Print the poster and display it in a prominent place in your classroom for students to reference when doing independent work.
Print several copies of the poster and slip each one inside a dry-erase sleeve to have on hand when working in small groups.
Print on a piece of cardstock and place it on a binder ring. Hang it up in a position where students can access it, such as in learning centers/stations, near your work turn-in station, etc.
Project on the screen at the front of the classroom when discussing growth mindset as part of your social-emotional learning lesson.
Before You Download
Use the dropdown icon on the Download button to choose between the English or Spanish PDF version.
Check out more posters here!  
---
Don't stop there! We've got more teaching resources we know your students will love: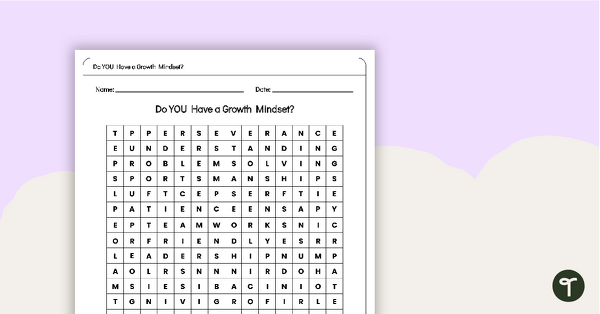 teaching resource
Use this word search activity to show students the qualities and characteristics of creating a growth mindset in the classroom.
teaching resource
Remind your students to have a growth mindset with this bulletin board display.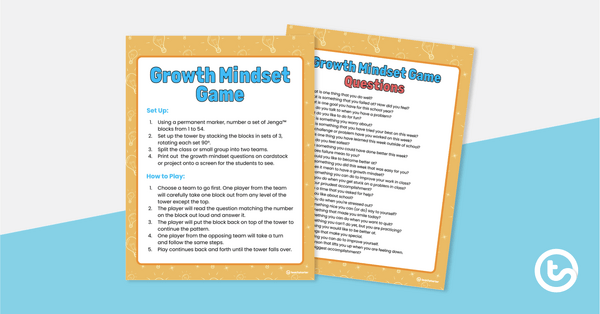 teaching resource
Practice self-reflection through a series of questions that allow students to actively participate in developing a growth mindset.