Make planning your guided writing lessons a cinch with this lesson plan template.
Use this template to plan out each part of your guided writing lesson for each group and store them in your guided writing binder.
Guided Writing Session Overview
A basic guided writing session can be broken up into three main sections:
Direct Instruction (~ 5 minutes) – During this time, the teacher reminds the students of their writing goals and provides some form of writing stimulus.
Shared Experience (~ 5 minutes) – During this time, the students and teacher have a rich conversation about the writing topic and/or writing stimulus, key vocabulary, and the possible text types and crafts that can be used.
Independent Writing and Sharing (~ 10 minutes) – During this time, the students write as much as possible in the allocated time. The teacher provides timely feedback and scaffolds key writing skills. Then, students share what they have written with the small group or the rest of the class.
How to Use This Resource
Print out a lesson plan form for each of your writing groups. Use the template as a guide, starting with your writing goal/focus and then planning out your direct instruction, shared experience, and independent writing. Question prompts are included in the template to guide your planning.
Keep each group's lesson plan forms in your guided writing binder as a point of reference to look back on.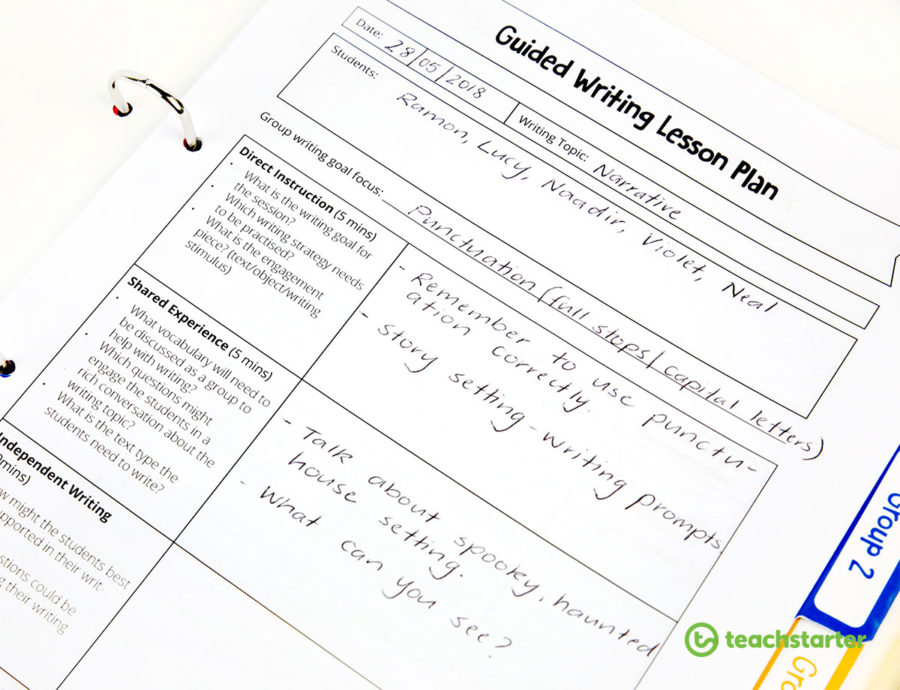 Easily Prepare This Resource 
Use the dropdown icon on the Download button to choose between the PDF or editable Google Slides version of this resource.
To differentiate between your writing groups, you might want to consider printing each group's lesson plan template on a different colored piece of paper, e.g., Group 1 = yellow, Group 2 = blue, Group 3 = orange.