Practice identifying letter sounds by working your way through each letter of the alphabet.
Exercise Students' Brains (and Fingers) with our Interactive Alphabet Game
Make learning the ABCs as easy as 1-2-3…
…or as easy as drag and drop! 
This alphabet sorting activity engages Kindergarten-Grade 1 readers when practicing letter-sound identification. 
To play, students work their way through each letter of the alphabet, clicking and dragging items that begin with each letter sound. 
Students will show they understand one-to-one letter-sound correspondences through this activity while simultaneously working on dexterity and computer skills!
Scaffolding + Extension Tips 
A team of dedicated, experienced educators created this resource to support your phonological awareness lessons. 
In addition to individual student work time, use this CVC word-building game to enhance learning through guided reading groups, whole class lessons, or remote learning assignments. 
For groups with a mixture of above and below-level learners and ELL/ESL students, we have a few suggestions for keeping readers on track: 
🆘 Support Struggling Students
For students needing fewer choices to sort from, delete an image or two from each slide before assigning.
Embed pre-recorded words into each slide and prompt students to listen to the beginning sounds for each.
➕ Challenge Fast Finishers
Encourage students to identify the letter sound for each word not sorted onto the letter slide.
🧑‍🏫 Class Activity
Project the slides onto a screen and work through them as a class using choral response, or have students come up to move the words into the boxes. 
Get our 10 Best Scaffolding Strategies here! 
Easily Prepare This Resource for Your Students
Use the dropdown icon on the Download button to choose between the PowerPoint, Google Slides, or PDF versions of this resource. 
Assign this interactive activity in Google Classroom. Please be sure to open in Edit mode, not Presentation mode.
Alternatively, print slides to use them for your: 
Lesson warm-ups

End of the day wrap-ups

Homework assignments
---
Master reading time with these fun, engaging activities and teaching resources: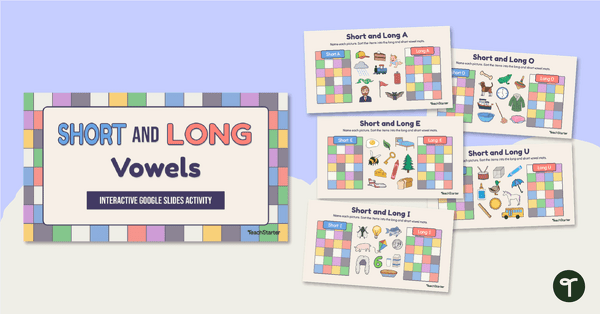 teaching resource
Read and identify short and long vowel sounds and place the pictures into the correct columns.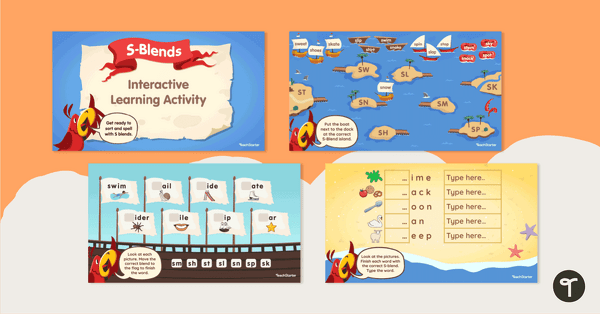 teaching resource
Decode and segment words by identifying the s-blend words with phonemes sp, sl, sm, sn, sc, st.
teaching resource
Practice applying letter-sound correspondence with a set of 20 BINGO game boards and cards.