Use this sorting activity when classifying objects as magnetic or not magnetic.
What Metals Are Magnetic?
Have your students been observing how some metals are magnetic while others are not? Some common metals that can attract and repel other objects include iron, nickel, and cobalt. These elements are strongly attracted to magnets and can be magnetized themselves. There are other metals that are also magnetic but to a lesser extent.
It is important to note that not all metals are magnetic. For example, metals like aluminum, copper, and gold are not magnetic at all. However they can be influenced by magnetic fields, but their magnetic properties are very weak and usually not noticeable in everyday life.
Magnetism Activity
Teach Starter has created a sorting activity that you can use with your students when studying different components of magnetism. This downloadable resource comes with 24 sorting cards that feature high-quality photographs of different objects.
To play, students should lay out the two headers and pick up a card. Then they sort the card into the correct category. After sorting, students should write magnetic or non-magnetic on their recording sheet for each card.
This resource should be used for students to practice identifying which materials are magnetic and which materials are not.
Tips for Differentiation + Scaffolding 
A team of dedicated, experienced educators created this resource to support your science lessons. 
In addition to individual student work time, use this sorting activity to enhance learning through science groups or whole class lessons.
If you have a mixture of above and below-level learners, check out these suggestions for keeping students on track with the concepts: 
🆘 Support Struggling Students
Students who need additional help should work on this activity with a teacher in a small group.
➕ Challenge Fast Finishers
Students who need a challenge can brainstorm 5 additional items and place them into a magnetic or non-magnetic category.
🏃 Relay Race
Divide students into two team lines and show a flashcard to the students at the front of each line. The student determining whether or not the object is magnetic first wins the flashcard. The team with the most flashcards at the end of the game wins!
Easily Prepare This Resource for Your Students
Use the dropdown icon on the Download button to choose between the PDF or Google Slides version of this resource. A recording sheet and answer key are also included with this download. 
Print on cardstock for added durability and longevity. Place all pieces in a folder or large envelope for easy access. 
Sustainability Tip: Print a few recording sheets on cardstock and slip them into dry-erase sleeves. Students can record their answers with a whiteboard marker, then erase and reuse them. 
---
This resource was created by Kaylyn Chupp, a teacher in Florida and a Teach Starter Collaborator.
Don't stop there! We've got more activities and resources that cut down on lesson planning time: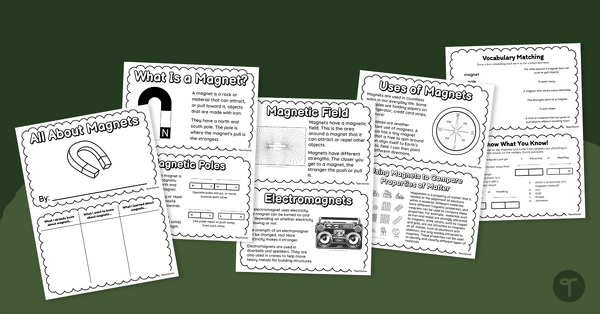 teaching resource
Learn about magnets, magnetic poles, magnetic fields, and more with this printable mini-book.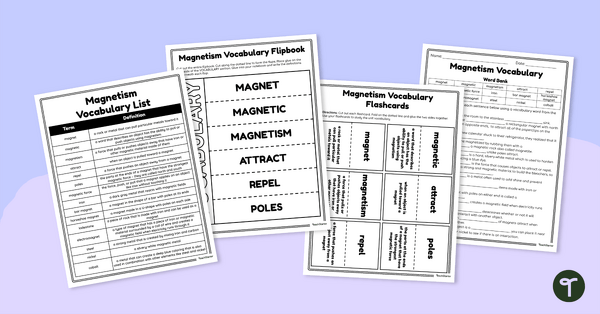 teaching resource
Review terms associated with magnetism with this science vocabulary worksheet pack.