Teach students how to find the main idea of a text using one of these one-page graphic organizers.
Main Idea Graphic Organizer Templates
Use these simple main idea graphic organizers when searching a piece of text for the main idea and its supporting detail. Printing this template and putting it in a clear plastic sleeve means your students can use a whiteboard maker and use the template repeatedly.
Each template includes a spot for the main idea and three spots for students to put in the supporting detail for the text's main idea. This encourages students to think about the main idea and show their understanding by writing down three details supporting the provided text's main idea.
The following templates are included:
3 x basic templates with boxes
3 x themed templates – spider web, ice cream and cloud and raindrops
Why Use a Graphic Organizer
Using a graphic organizer is an effective instructional strategy that can greatly benefit children in numerous ways. Firstly, graphic organizers help students visually organize their thoughts and ideas, providing a clear structure for their thinking process. This visual representation enhances their understanding of concepts, promotes critical thinking, and fosters meaningful connections between different pieces of information.
Free Download Now
Use the drop-down menu to choose between the PDF and editable Google Slide versions of this resource.
---
This resource was created by Lindsey Phillips, a teacher in Michigan and a Teach Starter collaborator.
More main idea resources: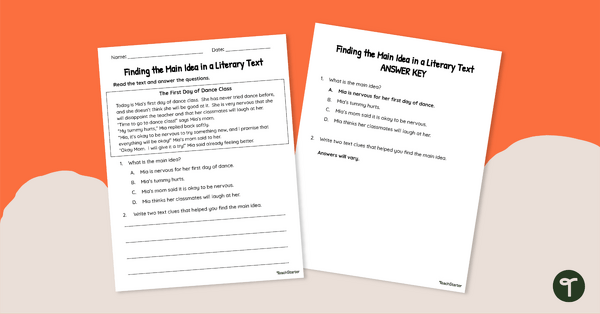 teaching resource
Find the main idea and supporting story clues of a literary text passage and answer the premise comprehension questions.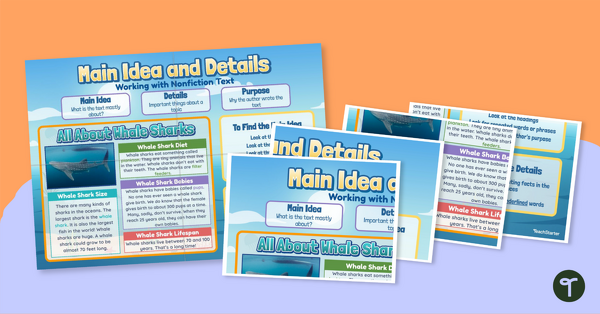 teaching resource
Build skills in identifying main idea and details in nonfiction texts with a main idea anchor chart for primary grades.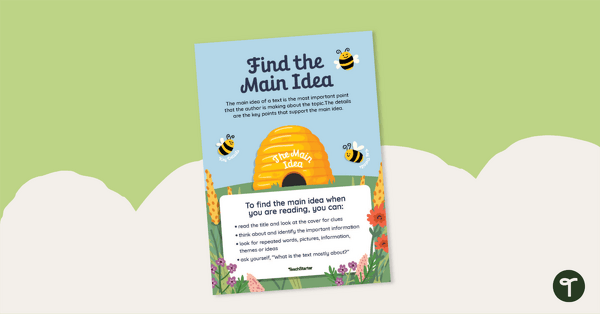 teaching resource
A poster highlighting how to find the main idea when reading a piece of text.