A logic-based Halloween-themed puzzle where students solve a mystery by reading clues.
This teaching resource can be used as a fun activity in the days leading up to Halloween. It works beautifully as a fast finisher activity or even a fun indoor recess activity.
Project the mini-mystery on your board, or provide a hard copy to students. Instruct your class to read the statements made by each character, and don't forget the 'Cold Hard Facts'!
Your students must use logic and reasoning to eliminate the "red herring" characters and solve "Who Scared the Black Cat?"
An answer sheet is provided.
For a whole-class activity, use the PowerPoint version of this resource: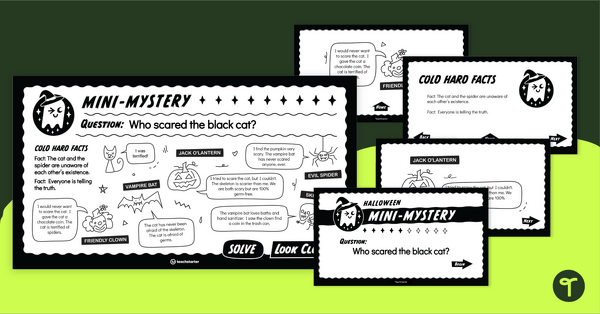 teaching resource
Download a Halloween brain game for kids with interactive elements that challenge your students to use logic to solve a spooky mystery!