Assess understanding of different objects in the sky with this set of 24 exit tickets.
Assess Understanding of the Sun, Moon, Stars, Clouds, and More!
Are you looking for easy ways to assess students during your space and solar system unit? We've got exactly what you need to check understanding in a snap!
We've created a collection of 24 exit tickets that cover objects in the sky to help you check for understanding on a daily basis. This resource provides quick formative assessments for the following concepts:
Labeling objects (sun, moon, clouds, stars, etc.)

Circling objects that are found in the day/night sky

Picture identification

Basic moon phases (full moon, new moon, crescent, gibbous)
This resource is a great tool to use as a formative assessment option after each day of instruction.
Tips for Differentiation + Scaffolding 
A team of dedicated, experienced educators created this resource to support your science lessons. 
If you have a mixture of above and below-level learners, check out these suggestions for keeping students on track with the concepts: 
🆘 Support Struggling Students
Help students who need help understanding the concepts by 
Completing the activity as a whole group or in a small group session.

Provide students with an anchor chart or reference sheet to use during the activity 
➕ Challenge Fast Finishers
For students needing an additional challenge, have them draw and label a picture showing the different objects in the sky.
Easily Prepare This Resource for Your Students
Use the dropdown icon on the Download button to choose between the PDF or Google Slides version of this resource. An answer key is also included with this download. 
After selecting the exit ticket(s) you would like to use, print and cut them out before distributing.
---
This resource was created by Lindsey Phillips, a teacher in Michigan and a Teach Starter Collaborator. 
Don't stop there! We've got more activities and resources that cut down on lesson planning time: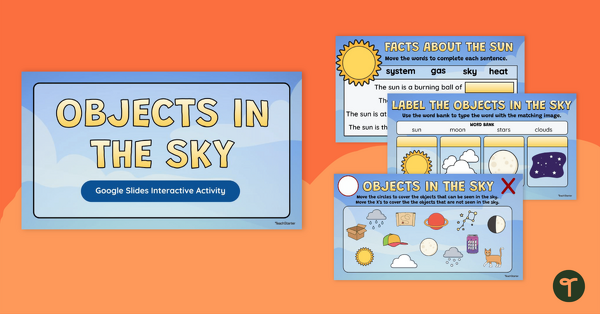 teaching resource
Demonstrate an understanding of the sun, moon, stars, and clouds with this interactive activity.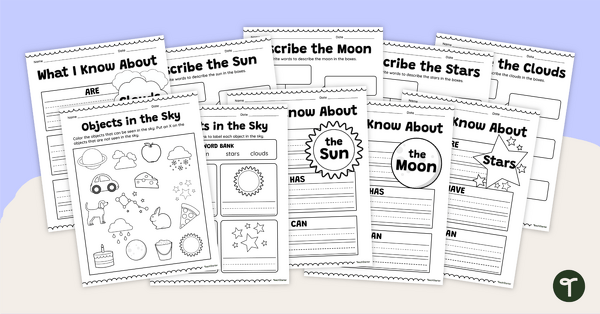 teaching resource
Use this set of worksheets to practice identifying and labeling objects in the sky as well as describing the moon, stars, sun, and clouds.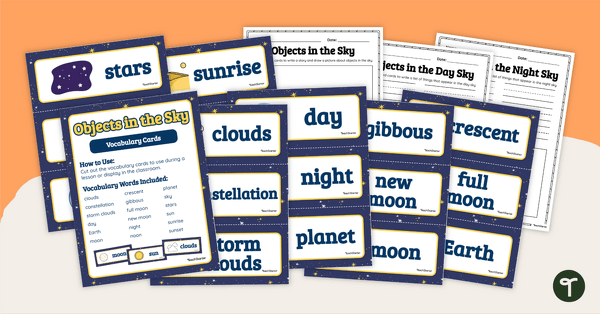 teaching resource
Create a vocabulary and writing center with a word wall and writing templates that cover objects in the sky.