Display different ways to save water with this water conservation foldable.
🚰 Water Conservation For Kids 
Are your students learning about how they can save water at school, at home, and in their community? Water conservation is an important science topic to discuss with your students as saving water helps us to conserve energy, maintain an adequate water supply in different ecosystems, and ensure there is enough water to go around (since fresh water is already limited). This template will help students organize their ideas and present them in a fun "lift-the-flap" display. 
Encourage your students to put on their thinking caps and think of ways that they can save water in different ways. This may be by turning off the faucet when brushing their teeth, collecting rainwater in a barrel for plant water, or taking shorter showers. Students can write 5 different ideas and draw a picture for each.
Download & Print 
Use the dropdown icon on the Download button to choose between the PDF or editable Google Slides version of this resource.
To assemble this foldable:
Have students cut around the dotted border and between each flap.

Fold along the solid lines to create 5 lift-up flaps.

Stack the first template on top of the second template and glue or staple the left side to secure.
This template can then be glued in a notebook, on a piece of construction paper to display, or used with just the two sheets of paper. 
---
While you're here, check out more activities and teaching resources that fill your lesson plans and students' brains:
teaching resource
A poster highlighting different ways to save water.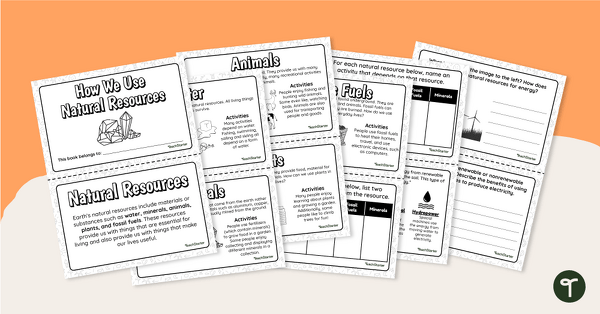 teaching resource
Read and learn about how we use natural resources with this 12-page mini-book.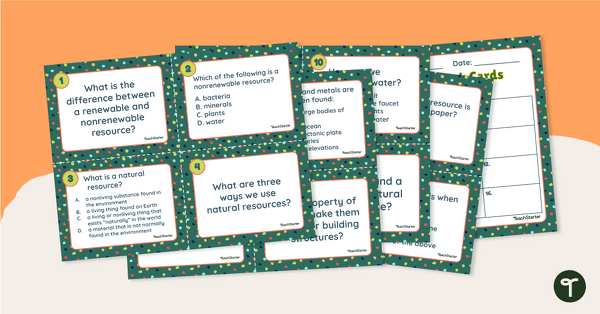 teaching resource
Answer questions about natural resources and their uses with this set of 16 task cards.