Find the missing side lengths when given the perimeter of rectangles and squares.
Practice Finding the Missing Side Length
Use this independent practice worksheet to support your perimeter lesson. Students will determine the missing side length of each figure.
This math worksheet includes ten questions across two pages. Students use addition, subtraction, and division skills to determine the missing length of a figure.
An answer key is included with your download to make grading fast and easy!  
Scaffolding & Extension Tips 
In addition to independent student work time, use this worksheet as an activity for:
For fast finishers, students can create different shapes with the same perimeter.
Support students who need additional help by providing grid paper to draw the same shape. Prompt the student to draw a rectangle with the given number of units as shown on the worksheet. Students can count to see how many additional units are needed to create the perimeter for each problem. 
Easily Download & Print
Use the dropdown icon on the Download button to choose between the PDF or editable Google Slides version of this resource. 
Because this resource includes an answer sheet, we recommend you print one copy of the entire file. Then, make photocopies of the blank worksheet for students to complete. 
Prepare This Resource with Sustainability in Mind!
No matter how you decide to use this teaching resource, there are many ways to incorporate efficient practices that save time, resources, and the planet!
♻️ Print Double-Sided
To save paper, we suggest printing this 2-page worksheet double-sided. 
♻️ Reuse It!
Turn this teaching resource into a sustainable activity by printing on card stock and slipping it into a dry-erase sleeve. Students can record their answers with a whiteboard marker, then erase and reuse them. 
Get more worksheets to have handy!
---
Check out alternate versions of this resource: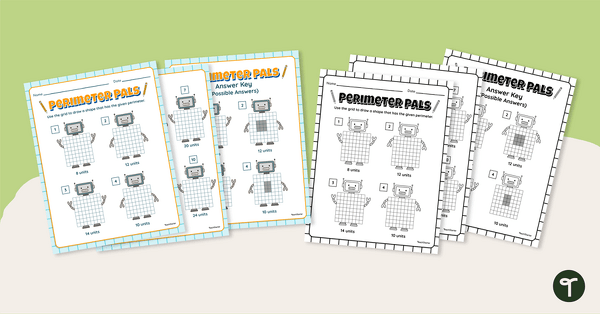 teaching resource
Draw matching figures when given the perimeter of rectangles and squares.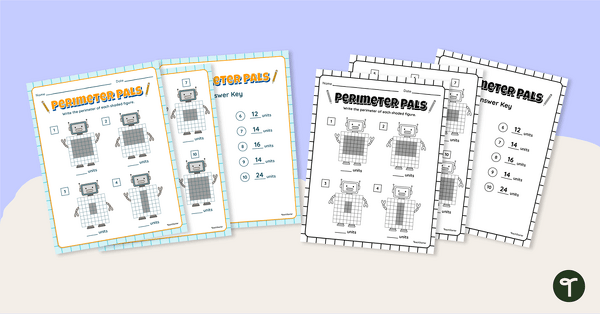 teaching resource
Practice finding the perimeter of rectangles and squares.