Test your students' long and short vowel sound knowledge with this phonics assessment kit.
Using a Phonics Diagnostic Assessment
A phonics diagnostic assessment is an informal evaluation that identifies mastered and missing phonics skills in the early stages of learning to read. With phonics assessments, teachers can quickly assess and group students based on their skill deficits.
Use this assessment kit to assess students' awareness of vowels and their ability to identify long and short vowel sounds.
This assessment kit includes:
vowel flashcards
picture flashcards (short and long vowel sounds)
instructional guide
student data collection form
Easily Download & Print
Use the Download button to download the PDF version of this resource.
Because this resource includes instructions, recording sheets, and flashcards, we recommend you print one copy of the entire file. Then, make photocopies of the recording sheets for each student in your classroom.
You will want to print the flashcards on cardstock for added durability and longevity. Place all pieces in a folder or large envelope for easy access.
---
Don't stop there! We've got more phonics activities to shorten your lesson planning time:
teaching resource
Print a complete Sound Wall designed to help you enhance your phonics program by displaying the phonemes your students are currently mastering.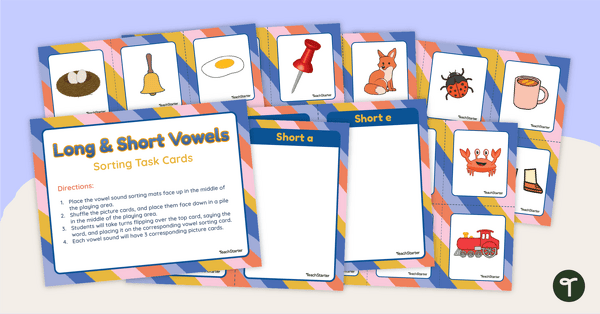 teaching resource
Distinguish between long and short vowel sounds with a short and long vowel sorting center activity.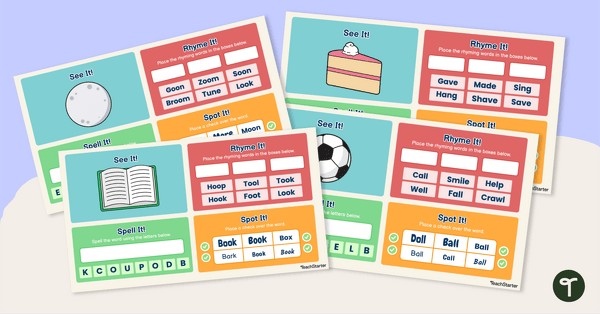 teaching resource
Build skill with word families, rhyming words, and more with a Google Slides Interactive Word Family Activity.