Practice building, reading, and understanding the meaning of words with prefixes with fun literacy centers!
Printable Puzzles for Kids – Prefixes
Introducing our newest addition to our collection of vocabulary-building resources: the 3-piece puzzle cards for learning about prefixes! As a teacher, you know how important it is for students to have a firm grasp of language and vocabulary. With these puzzle cards, students can have fun while learning important concepts.
This resource includes 15 puzzles, each with three pieces. The first piece features a prefix, the second features a base word, and the third features an image representing the word's meaning. Once printed and cut apart, students match the prefix with its base word and corresponding image.
List of Prefixes Included in this Resource:
| | | | | |
| --- | --- | --- | --- | --- |
| re- | un- | sub- | pre- | over- |
| mid- | in- | dis- | de- | bi- |
| micro- | tri- | tele- | auto- | mis- |
Skip the Prefix Worksheets! Print Your Puzzles!
You're just a click away from getting your new resources! Use the dropdown arrow on the Download button to select this resource's black-and-white or colour version.
---
Need more? Check out these fantastic Prefix and Suffix resources!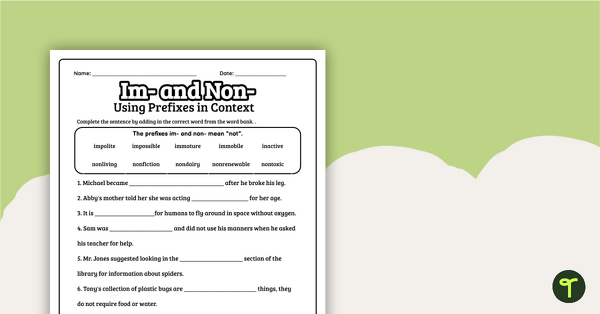 teaching resource
Consolidate students' understanding of im- and non- prefixes with a printable prefix worksheet.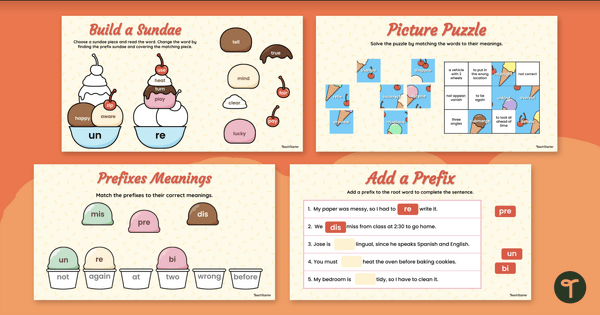 teaching resource
Practice adding prefixes to words by identifying, defining, and matching them in context.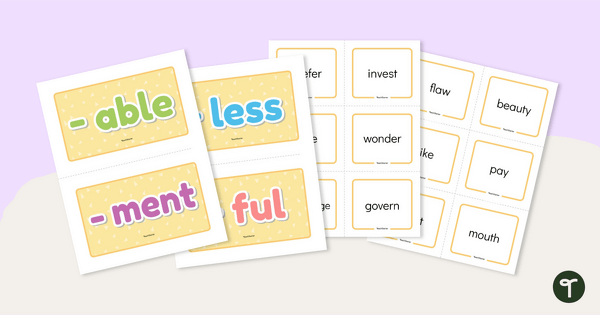 teaching resource
Build words by matching the root word to suffixes, recording the new words on the answer sheet.