Practice recognizing and using end punctuation with this set of pizza game boards and pepperoni phrase cards with missing punctuation.
How to Play Our End Punctuation Game
Use this resource in your reading center, as a guided group activity, or a whole class exercise (see below) to practice recognizing and using end punctuation.
To play, students will choose a pepperoni, identify the end punctuation needed, and cover the matching mark on the game board.
An answer key is included so that students can self-check throughout the game if needed. 
Scaffolding + Extension Tips 
Challenge students who already understand the concept to use the blank pepperoni cards to write sentences to match the ending punctuation on the game board.  
Support students who need help understanding the concepts by using a visual reminder for end punctuation, such as a classroom poster or anchor chart.
Get our 10 Best Scaffolding Strategies here! 
More Activities for Fun with Punctuation
Use this resource as independent practice for fast finishers, and full-class learning opportunities like scoot activities, lesson reviews, formative assessments, and more.
Scoot Activity
Number each pepperoni and place them around the room in numerical order. Students number a sheet of paper 1-24 to use as a recording sheet. Assign each student a number to start and set them loose. Give students an appropriate amount of time to read the phrase and write the corresponding missing punctuation on their recording sheet, then say, "SCOOT." At this time, the students will rotate to the next card. Continue in this manner until students have made it through all of the cards. 
Show Me!
Give each student a mini dry-erase board and a dry-erase marker. Project a pepperoni card and have your students write the missing punctuation on their board. When everyone has written down their answer, say, "Show Me." Students will flip their boards, allowing you to see who needs extra support identifying end punctuation. 
End Punctuation Relay Race
Split the class into two teams and have them line up in their group on one side of the room. Place 3 pizza punctuation cards per team in a central location between teams. Give each group 18 pepperoni cards (divided into 6 phrases that need periods, 6 that need exclamation points, and 6 that need question marks) stacked face down at the front of their line. When you say, "Go!" the first player in each line will grab a pepperoni card, run to the other side of the room, and place the card face-up on the matching punctuation. Then they'll run back to their group and tag the next person in line. That player will grab the next pepperoni card, run to the other side of the room, and place their card where it belongs. Play will continue until either group has put all their cards in the correct spots.
Easily Prepare This Resource for Your Students
Print on cardstock for added durability and longevity. Place all pieces in a folder or large envelope for easy access. 
Before You Download
Use the dropdown icon on the Download button to choose between the PDF or Google Slides version of this resource. An answer key is also included with this download.
---
This resource was created by Lindsey Phillips, a teacher in Michigan and Teach Starter Collaborator. 
Have more fun with end punctuation and fill out your lesson plans too!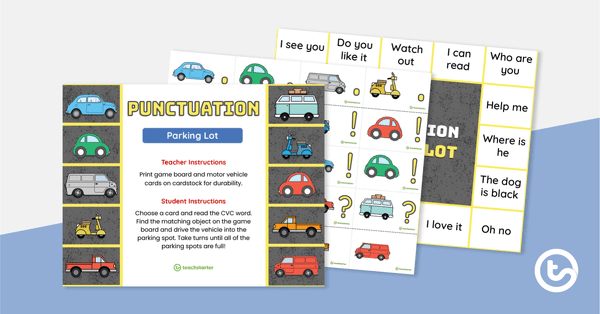 teaching resource
Practice recognizing and using end punctuation with our set of punctuation cards and matching game board.
teaching resource
A set of 20 BINGO game boards and cards to practice recognizing and naming end punctuation.
teaching resource
A set of 20 task cards, directions, and answer key to practice forming end punctuation.