Teach your students about push and pull forces with this comprehensive and age-appropriate teaching presentation for elementary school science lessons.
Explore Facts About Pushes and Pulls
If you're delving into the world of pushes and pulls with your students, you'll be looking for an age-appropriate and visually appealing resource to explain this fundamental physics concept to your students. Enter Teach Starter's teaching slide deck filled with facts about pushes and pulls!
This 15-slide teaching presentation has been created by our experienced teacher team to help you explain push and pull forces to your students. Your students will be presented with all they need to know in an informative and appealing way.
The slide deck addresses the following content:
What are forces?

How do forces affect objects?

Push forces

Examples of push forces

Pull forces

Examples of pull forces

Making forces stronger

The importance of forces
To keep your students engaged throughout, some movement breaks have been scattered through the slide deck. 
Push and pull forces help humans do so many things. By engaging with this resource, your students will understand how push and pull forces work and how we can use them to make our lives easier. 
Observe Pushes and Pulls in Action
While it's helpful to read about pushes and pulls and how they work, it's even more helpful to see these forces in action!
The final slide in this presentation links to a student-led investigation that will enable students to explore how playground equipment requires push and pull forces in order to work. The resource also includes two worksheets where students can test out their favorite playground equipment and analyze the push and pull forces that work upon them.
We highly recommend that you use this demonstration in conjunction with this slide deck. Click on the link below to download!
Download This Push and Pull Forces Slide Deck
Use the Download button to access the Google Slides version of this resource. (Note: You will be prompted to make a copy of the Google Slides presentation before accessing it.)
Project the resource onto your screen and work through the slides as a class for a paperless science lesson!
More Resources for Exploring Push and Pull Forces
If you're loving the look of this push and pull forces resource, then we have good news for you… we have plenty more! Click below to browse more teacher-created, curriculum-aligned resources!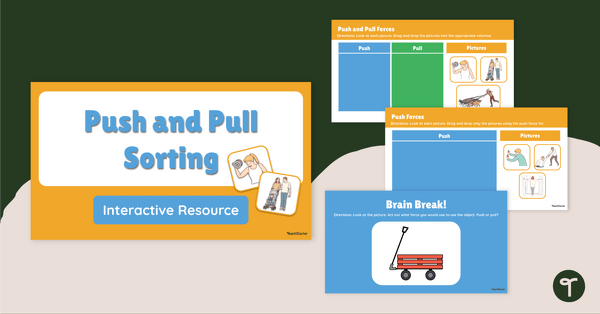 teaching resource
Explore push and pull forces with your students by playing this interactive sorting game for lower elementary students.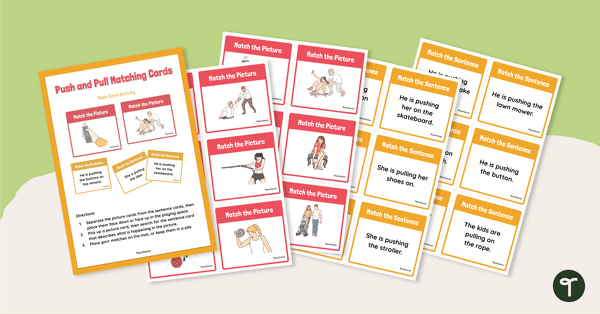 teaching resource
Have students explore examples of push and pull forces with this matching game to use during your forces and motion science unit.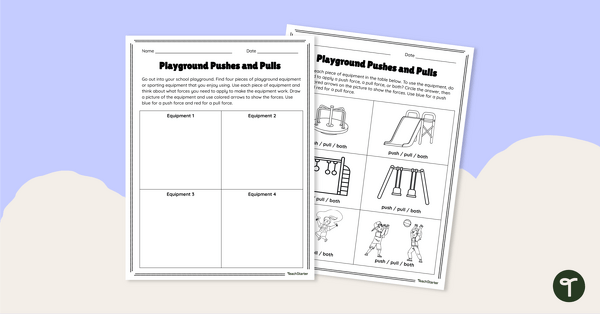 teaching resource
Download this forces in the playground worksheet to help your students explore the pushes and pulls that make playground equipment fun!