Have some Christmas fun without the mess with a Roll-to-Create Gingerbread House Art activity.
Create a Gingerbread House Without the Mess
What do you get when you take a drawing activity and add in dice? Serious holiday fun for kids! In this Christmas printable, students roll a die and follow the directions to draw their very own gingerbread house. This free Christmas craft is all the more fun because every child's creation will look completely different. All the gingerbread house fun with none of the mess!
How to use our roll-to-create Christmas resource:
Roll the die. Match the number rolled to a row on the chart, and see which feature is in the '1st Roll' column. Draw it onto a blank piece of paper.
Roll again. Match the number to a row on the chart, and see which feature is in the '2nd Roll' column. Add this element to your drawing.
Continue this way until you have all six elements of your gingerbread house in the setting.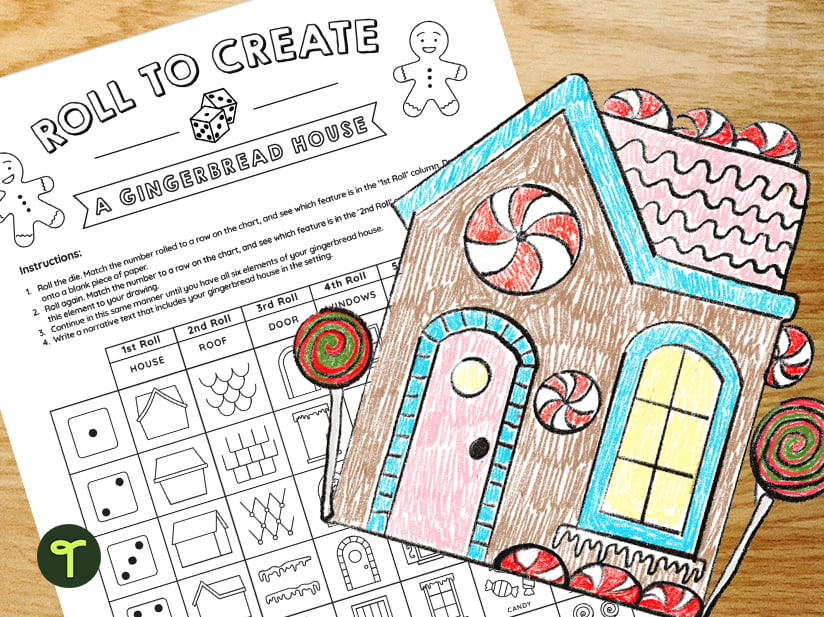 Ways to Incorporate This Activity into Your Curriculum
Looking for a way to bring some learning into this fun Christmas activity? Our teacher team at Teach Starter has come up with a few ideas to help:
Writing:
Have your students write a short story about their gingerbread house. Encourage them to describe the house's history, inhabitants or adventures that might happen inside.
Practice descriptive writing by having students write detailed descriptions of their gingerbread houses, focusing on adjectives, adverbs and sensory language.
Social Studies:
Discuss the cultural significance of gingerbread houses during the holiday season in different parts of the world. Explore how different countries and cultures celebrate with gingerbread treats.
Have students research and present on the history and traditions of gingerbread houses, incorporating elements of cultural awareness.
Math:
Have students create gingerbread house blueprints that include measurements of different components (roof, walls, windows, etc.). This can teach them about measurements, proportions, and basic geometry.
Download and Start Creating TODAY!
This resource is a breeze to get and even easier to use. Simply click on the download button to get your PDF download. Print, copy, and you're ready to start creating without the mess!
More Roll to Create Activities at Your Finger Tips
Have you seen our other Christmas Roll to Create Activities?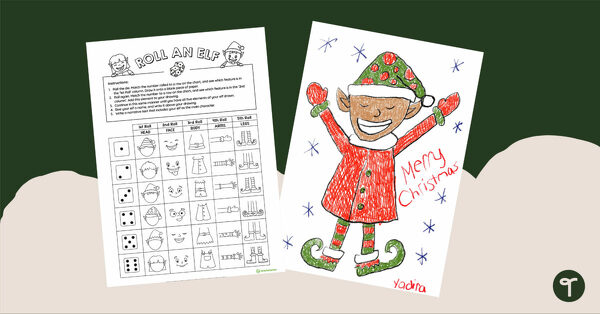 teaching resource
Use a die and directed drawings to create a unique elf drawing for Christmas!