This phonological awareness activity awards points for correctly identifying the words with short vowel sounds.
There's a reason why a child's first words are usually short ones. 
Words like daddy, mommy, dog, and nana (along with many long vowel words) are simple for children to hear, dissect, and repeat.

In teaching short vowel sounds (ă, ĕ, ĭ, ŏ, ŭ), more often than not we return to these staple short vowel sound words because they are easily recognized from the child's earliest days developing their foundational language skills. 
In our Short Vowels or BUST! game, students will read words out loud and decide which have the short vowel or long vowel sound, earning points for correctly identifying short vowel sounds. 
How to Set up Short Vowels or BUST! For Your Students
This vowel sounds game can be used as a station activity for your reading center, with a teacher-guided small group, or as part of your full-class lesson. We recommend printing the game pieces on cardstock for added durability. 
To play the game, split the players into 2–4 teams and choose the appropriate scorecard. Player 1 draws a card, reads it out loud, and decides if the word has a short vowel sound. If it does, they earn a point. If it does not, it is a BUST, and no points are given. Play continues until all of the cards have been used. The player (or team) with the most points at the end wins! 
Add Extra Challenges to Test Your Students' Short Vowel Understanding 
Looking for ways to take this short vowel card game to the next level? Here are a few ideas to go deeper into phonological awareness:
Show & Tell
For an extra point, ask the student to point out the vowel on the word card. Then ask them if they can tell you the long sound for that vowel. Did they make a new word? How do you spell the new word with the long vowel sound?
Warm Up/Exit Game
Put a random assortment of cards (using both long and short vowel sounds) and project them on the board for the whole class to see. Have each student pick 3 words with short vowel sounds and write them on a sticky note along with their name for an easy formative assessment. 
Prepare This Resource for Your Students
Print this game using cardstock for added durability and longevity. 
Cut out the cards and put everything into a folder or envelope as a center activity, or for your classroom games area. 
Before You Download
Use the drop-down icon on the Download button to choose between the PDF or Google Slides version of this resource. 
---
This resource was created by Lauren Piper, a teacher in Illinois and a Teach Starter Collaborator. 
Before you go—we've got additional short vowel sounds activities your students are going to love: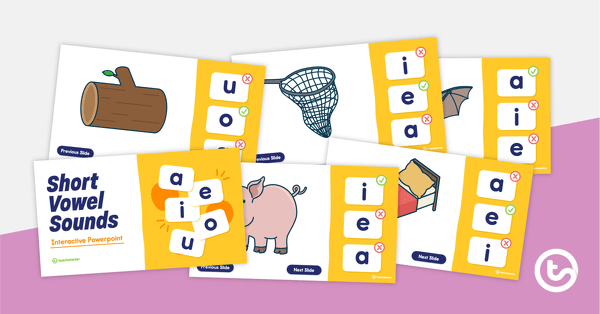 teaching resource
An interactive quiz to practice identifying short vowel sounds in words.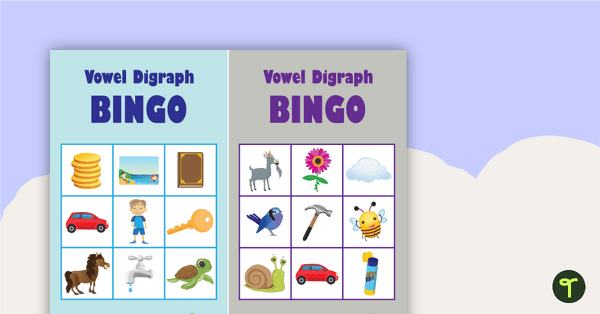 teaching resource
30 different bingo cards using vowel digraph graphemes.