Combine literary plot diagrams and Social Studies standards with a French and Indian war story map worksheet.
Cross-Curricular Social Studies for the Win!
After talking with our teacher friends, we've uncovered a stark truth about Social Studies instruction across the country. Many teachers are forced to blend all of their History standards into their reading instruction due to lack of time. We understand your woes, and we're here to help you bring Social Studies across the curriculum!
Plot Elements, Story Mountain, and War? A Blended Approach
This printable story map template provides young historians with an organized and graphically pleasing plot diagram to uncover the "story" of the French and Indian War. It takes the same concepts and terms as a traditional plot diagram (exposition, rising action, climax, falling action, and resolution) and applies them to a historical context. It is the perfect way to blend Reading and Social Studies in the classroom!. With this activity, students will discover
Who fought in the French and Indian War?

When did the first battle in the French and Indian War occur?

What caused the French and Indian War?

And more!
Tips for Differentiation + Scaffolding 
In addition to independent student work time, use this worksheet as an activity for:
Cross-Curricular

reading groups

 

Lesson warm-up

Lesson wrap-up

Fast finishers

 

Homework assignment

Whole-class review (via smartboard)
To challenge your accelerated students,
Provide your students with reading materials, and have them create a French and Indian War

anchor chart

or poster for the classroom.

Provide your students with trade books and other informational reading materials to use in the classroom.
To help your struggling readers,
Complete the activity in a small group or 1:1 learning session.

Provide your students with differentiated reading materials to reference while completing the project.

Provide students with an anchor chart, poster, or other French and Indian War resources to reference during the activity.
Easily Download & Print
Use the dropdown icon on the Download button to choose between the PDF or Google Slides version of this resource. 
Additionally, project the story mountain worksheet onto a screen and work through it as a class by having students record their answers in their notebooks.
Grab more resources to teach the French and Indian War for kids!
---
Don't stop there! We've got more activities to shorten your lesson planning time: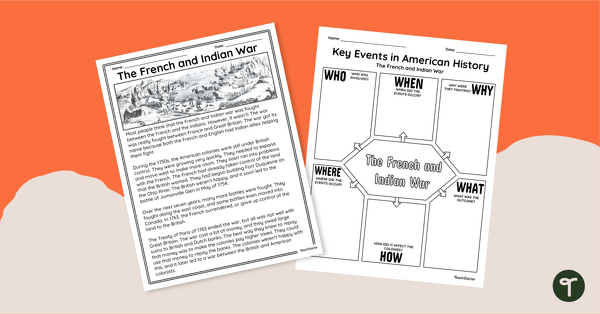 teaching resource
Reveal another chapter in American History with a reading passage and graphic organizer worksheet on the French and Indian War.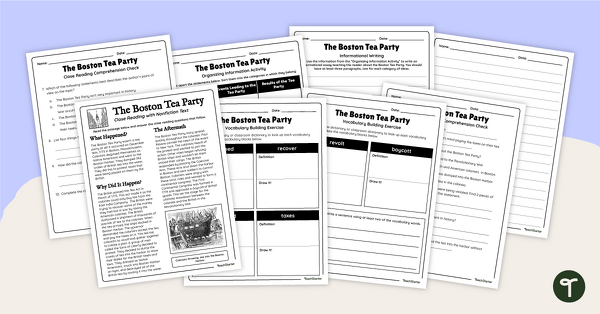 teaching resource
Enhance your students' close reading strategies, vocabulary, and writing skills with a Boston Tea Party reading passage and accompanying activities.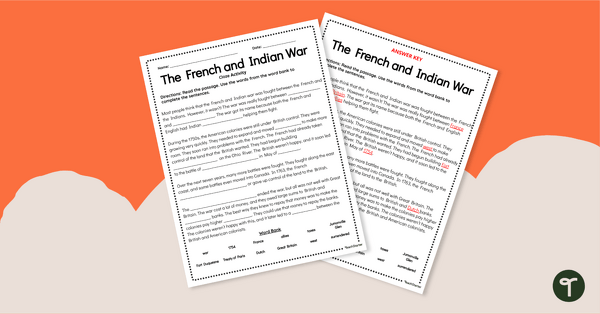 teaching resource
Build vocabulary and understanding of the French and Indian War with a cloze reading passage worksheet.