Practice identifying the 4 kinds of sentences by sorting all 30 cards by their sentence type and missing punctuation marks.
They say "variety is the spice of life."
It's also the spice of writing! 
By changing up the kinds of sentences we use, we make our conversational speech much more natural, and more interesting! For that reason, your students' writing composition practice includes learning the 4 different types of sentences that give us that variation. 
In our Sort it Out! game, students will classify cards into the 4 kinds of sentences by their missing punctuation:
Imperative 

Declarative 

Interrogative 

Exclamatory 
How to Play Our Types of Sentences Game
This resource supports your writing conventions lesson on punctuation and the types of sentences. It can be used as a writing center game for independent practice distinguishing the 4 types of sentences. It can also be used with your guided writing group.
To play, students sort the picture cards with their matching sentence type mat.
As a 2-player game, shuffle the picture cards and split them equally between players. Students then take turns placing one of their cards on the word mat that matches the type of sentence.
Get More Out of Our Types of Sentences Game
Turn this resource into multiple activities that get your whole class involved, or challenge fast finishers! 
Human Card Sorting
With your whole class, provide each student with a card from the deck. Challenge the students to find their 'sentence team'; that is, they must gather in a group with all the other students who have the same type of sentence as them. For an extra challenge, make the activity a race, or ask the students to complete the task in silence!
Memory Match
Bonus points for this version of the game as it helps students with their memorization skills! As a game for 2 players, students will shuffle the sentence cards and lay them all face down. Each player takes their turn flipping 2 cards at a time until either finds 2 of the same kinds of sentences and sets the pair aside to keep score.
Scoot Activity
Place each of the 30 sentence cards around the room. Ask students to stand up with their recording sheet. Assign one card to each student to start, having students rotate through each of the cards, writing the missing punctuation on the recording sheet provided. 
Change the Difficulty Level if Needed
Because 2 minds are better than 1, assign students to work with partners. 
You might also modify the number of cards in each section, or use the sentences as task cards and focus on one type at a time.
Easily Prepare This Resource for Your Students
Print the task cards on cardstock for added durability and longevity. Place all game parts in a folder or large envelope. 
Before You Download
Use the drop-down icon on the Download button to choose between the PDF or Google Slides version of this resource. A recording sheet and answer key are also included with this download.
---
This resource was created by Heather Chambers, a teacher in Texas and a Teach Starter Collaborator. 
Get more writing conventions practice in our English Language Arts and Reading area! We think your students will especially like these: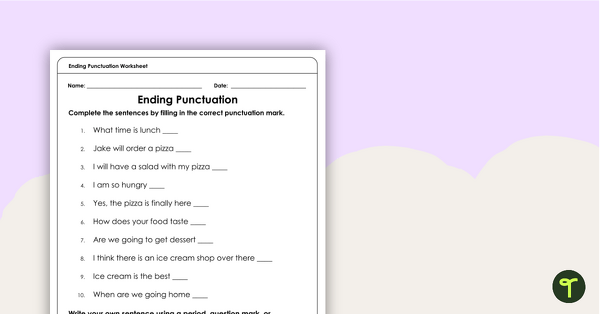 teaching resource
A worksheet to practice ending punctuation.
teaching resource
A 14-slide editable PowerPoint template that introduces the attributes of the different types of sentences.
teaching resource
A set of 20 task cards, directions, and answer key to practice forming end punctuation.