A set of 20 task cards, directions, and answer key to practice forming end punctuation.
Periods. Question marks. Exclamation points. OH MY!
These are the ways we complete written sentences, and teaching end marks to your students is made fun with this interactive punctuation activity.
Students will have a blast getting crafty with play dough, yarn, buttons—anything you've got in your classroom—to create the punctuation mark that best completes the sentence.
Some examples of sentences your kindergarten or 1st-grade students will see in this pack of task cards include:
What time is it ___
My party is today ___
Don't throw me in the pool ___
This activity includes an answer key for students to check their own work.
What is an End Mark?
As excitable and playful as children are, there comes a time when kids learn that not all of their statements will end in an exclamation point.
Punctuation activities teach students the proper end mark to complete a sentence, which is crucial to building their writing skills. We use end marks to properly convey meaning and feeling when reading and writing. Understanding the correct end punctuation to use in their own writing gives students the confidence to communicate their ideas and emotions.
Get Your Students Excited About Punctuation!
These end punctuation task cards can be used as an independent game in your writing center, or as a group activity (see below for ideas). As a center activity, the student will read a sentence and determine which end punctuation best fits. Then they will use household items like cotton swabs, yarn, modeling clay, or buttons (whatever you've got on hand) to mold the end punctuation mark.
Check Out Our List of Additional Punctuation Activities.  
Looking for group games for teaching end punctuation to kindergarten and first graders? Try these:
Group Charades
Ask students to stand up, push in their chairs, and create some space to move between their classmates. Using either the Google slides version of this game or the printed task cards, read one sentence at a time out loud and ask students to make the corresponding movements with their bodies to tell you which end punctuation mark they would use:
Exclamation point: Students stand perfectly still, hands at their sides and feet together
Question mark: students wiggle their bodies
Period: Students crouch down into a ball
Don't worry too much if your kids are copying each other. They'll have a blast just getting their bodies moving and it's a great way to encourage listening skills.
Mirror Game
This activity is a spin on the classic "Newlywed Game" and works best with small groups because you'll need enough dry erase boards and markers for each student. Divide the students into 2 groups, and have the students sit down in 2 lines facing each other. Recite a sentence from one of the task cards. Students will get 10 seconds to write the corresponding end punctuation on their board. On your cue (for example, you say "Ready, Set, Go!") the students turn their boards around so their partner can see their answer. If both students in a pair have the correct answer, they get 2 points. If one has the correct answer, the team gets 1 point.
You may find that some students master end punctuation quickly, and some need additional help with the concept. Below are strategies for teaching punctuation that give early readers a deeper understanding of how to end sentences.
If students have mastered identifying the end punctuation, have them change the sentences and rewrite them on a sheet of paper with a different punctuation mark.
If students are struggling to identify the ending punctuation, read the sentence aloud to them and help them identify key words that explain which punctuation mark to use. You can also just focus on one punctuation mark at a time by taking out certain cards from the deck.
Preparing This Resource for Your Students
Print the task cards on cardstock for durability to use in small groups or centers.
Select "File" from the navigation bar, and click "Print" from the drop-down menu
From the dialogue box that pops up, click on "More settings"
Pages per sheet should be set to "1"
Make sure the box next to "Print on both sides" is unchecked
Click the "Print" button
Cut out the task cards, punch a hole in the corner of each card, and attach them to a binder ring. Gather supplies needed for crafting the end punctuation marks. Put the cards, supplies, directions, and answer key in a labeled box or bag to make grabbing the end punctuation game easy from your classroom writing center.
Before You Download
Use the drop-down menu to choose between the PDF or Google Slides.
---
This resource was created by Lauren Piper, a teacher in Illinois and a Teach Starter Collaborator.
Don't forget to browse additional activities and resources for teaching end punctuation!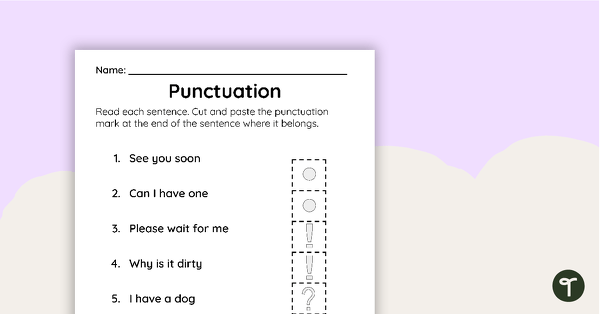 teaching resource
A cut and paste worksheet to practice adding the correct punctuation marks.
teaching resource
A 14-slide editable PowerPoint template that introduces the attributes of the different types of sentences.
teaching resource
An active PowerPoint game to practice ending punctuation.