Sheets of square dot paper templates.
Are you tired of boring blank paper? Do your students dream of pages covered in over 400 dots? Well, let me introduce our sensational Square Dot Paper!
This extremely versatile resource has many uses in the classroom. From drawing shapes to creating data displays, the opportunities are endless!
Draw 2-D Shapes and 3-D Figures
Have students demonstrate their ability to draw 2-D shapes without the use of digital technologies. They can fill the page with as many shapes as they can and label each one.
Students can also use this dot paper to create oblique drawings of 3-D figures. (Make sure they use a ruler!)
Create Displays Using Graphs
Task students with displaying data using simple column graphs. They can use the dots to assist them with the creation of each axis and their chosen scale.
Fun Dots!
There are many fun ways to use this resource too!
Create an intricate maze for a partner to solve.
Play an epic Dots and Boxes-style game.
Draw a treasure map with a grid reference.
The paper is available in landscape and portrait – each with 2 sizes. Chose your preference using the drop-down menu.
Looking for isometric dot paper? Check out our incredibly Isometric Dot Paper below: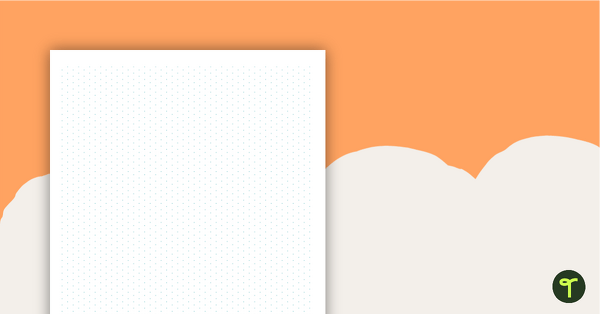 teaching resource
A sheet of isometric dot paper.