Encourage your students to write and draw about story settings with this set of differentiated graphic organizers.
Explore Story Settings
Once upon a time, in a classroom not dissimilar from your own, there was a teacher exploring story settings with their students!
Sound familiar? Of course, it does! One of the most fundamental story elements for young students to grasp is the idea that stories have a setting. Stories unfold in a certain place, at a certain time.
This differentiated set of graphic organizers has been designed to support you in teaching story settings to your little learners using a combination of words and pictures. Each graphic organizer is slightly different to help you cater to the individual needs of the students in your class. And the beauty is, these templates can be used with any picture book, guided reader or comprehension text!
The graphic organizers included in the resource download are:
Write to describe the setting, then draw a picture of it.

Draw the setting, then write words to describe it.

Draw the setting, then use the senses to describe it.

Draw the time and place of the setting, then write details about it.

Compare and contrast the settings of two stories.

Describe the time and place of the setting using details from the text.
Choose the graphic organizer that best meets the needs of your lesson and your class, or provide different graphic organizers to different groups of learners based on their ability.
Multiple Uses for These Story Settings Graphic Organizers 
This versatile resource can be used in various ways in your early years classroom. Why not try some of the following activities:
Whole-class activity (via smartboard)

Reading group task

Individual practice

Homework task

Summative assessment
Download to Get Started!
Use the dropdown arrow next to the Download button to choose between the editable Google Slides file or the easy-print PDF.
---
This resource was created by Samantha Rose, a teacher in Florida and a Teach Starter collaborator.
Click below to explore more great story elements resources!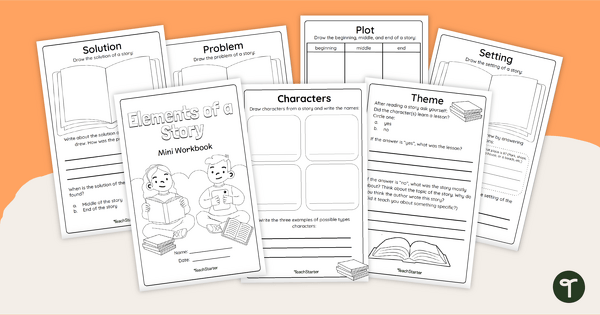 teaching resource
Explore the different elements of a narrative story with this student mini workbook.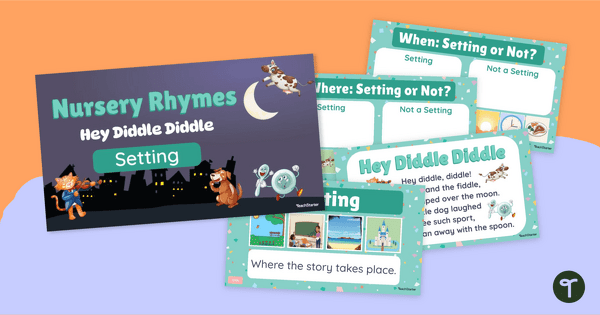 teaching resource
Engage young readers in texts and learn about setting with an instructional slide deck featuring the Hey Diddle Diddle rhyme.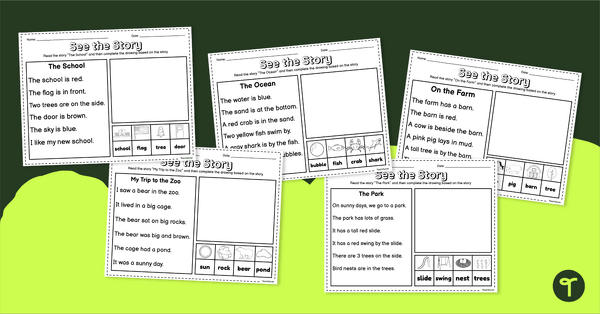 teaching resource
Practice reading comprehension with kindergarten and first-grade students with a set of Read and Draw comprehension worksheets.