Prepare for sick days ahead of time with a customizable and printable substitute teacher binder template.
Building a Sub Folder, Binder, or Sub Tub? We Can Help!
Even the most organized and well-prepared teachers rarely have their sub binders ready to go! It's not that they don't plan ahead, but life happens. Instead of waiting until you wake up sick to put together a sub-binder, make it easy on yourself, and do it now!
A substitute teacher folder is the foundation of your class and can keep your substitute feeling prepared with all the information they need to be successful. Creating your sub binder and including your classroom plans and information helps ensure classroom continuity when you are absent. We've created an editable and printable Substitute Teacher Binder Template to help keep your classroom on track while you are away.
What Should Go in a Sub Binder? 
Coming up with everything to include in your sub tub is a daunting task, and we've done that part for you! This resource includes the following printable substitute teacher forms:
Sub Binder Cover and Table of Contents

Classroom Roster Sheet

Daily Classroom and Activity/Specials Schedule Template

Important School Contacts and Student Assistants Template

Emergency Procedures for Fire, Tornado, Lockdown Drill Template

Procedures in the Classroom

Information Form

Dismissal Information for Substitute Teachers

Behavior Management

Plan (Rules, Behavior System)

Classroom Allergies and Medication Note Page

Other Important Information

Substitute Teacher End-of-Day Report
How Do I Use This Sub Folder Template?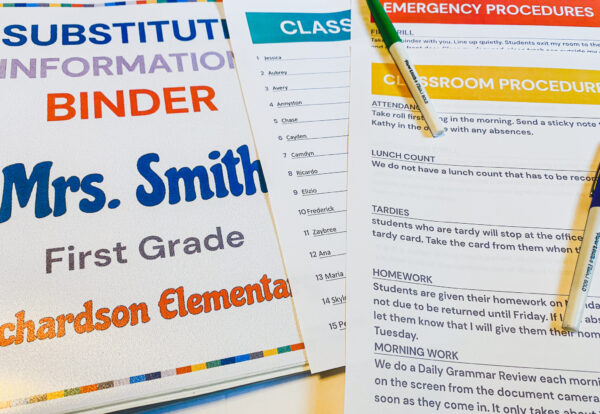 ⬇️Download the Color or Blackline version of the editable Google Slides resource.
⌨️ Customize your sub binder template with your name and substitute binder forms. Add text, word art, or even graphics to your beautiful template.
🖨️ When you've finished customizing your sub binder forms, print them on good-quality paper. Hole punch the pages, or insert them into protective sleeves. Place them in your binder and you are ready to go! 
🎇Really want to make your planner shine? Check out our Substitute Teaching Folder Cover and Dividers!
If you don't already have one in place, grab this printable substitute binder template and prepare yourself for going back to school in the fall. It will save you time, keep your subs organized, and make life easier for everyone.
---
While you're here, check out more teacher tools to make your teacher life a bit easier!
[resource:4821030]   [resource:4820492]   [resource:4813592]