Segment and count up to 4 syllables with this game board and set of 33 picture cards.
Counting Syllables in Words
Use this resource in your reading center, as a guided reading activity, or a whole class exercise (see below) to practice segmenting and counting syllables.
To play, students will choose a picture card to count the syllables. Then they'll refer to the game board and move to the next space with that number.
Scaffolding + Extension Tips 
Challenge students who already understand the concept to keep a written list of words that have the same number of syllables.
Support students who need help understanding the concepts by showing them how to clap as they count the number of syllables.
Get our 10 Best Scaffolding Strategies here! 
More Syllable Activities
Use this resource as independent practice for fast finishers, and for full-class learning opportunities like scoot activities, lesson reviews, formative assessments, and more.
🛴 Scoot Activity
Place each of the 33 picture cards around the room. Ask students to stand up with a blank sheet of paper numbered 1-33 to use as a recording sheet. Assign one card to each student (or pair) to start, having them rotate through each of the cards to write on their recording sheet how many syllables each word on the picture cards contains. 
(NOTE: We suggest printing a second set of cards for this activity that you can number.)
🖍️ Draw it out
Show students a picture card from this resource. Then, challenge students to think of a different word that has the same number of syllables as the picture card and ask them to draw a picture of their word. 
🧮 Syllable Sort
Have students sort the cards into piles of 1-, 2-, 3-, and 4-syllable words. 
Easily Prepare This Resource for Your Students
Print on cardstock for added durability and longevity. Place all pieces in a folder or large envelope for easy access. 
Before You Download
Use the dropdown icon on the Download button to choose between the PDF or Google Slides version of this resource. 
---
This resource was created by Lindsey Phillips, a teacher in Michigan and Teach Starter Collaborator. 
Count on us for more syllable activities to put the finishing touches on your lesson plan!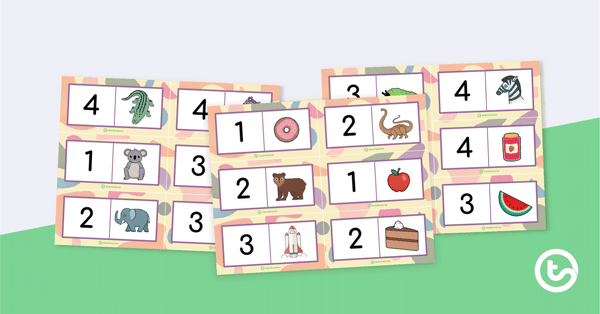 teaching resource
Segment and count syllables in words with a set of 28 image and number dominoes.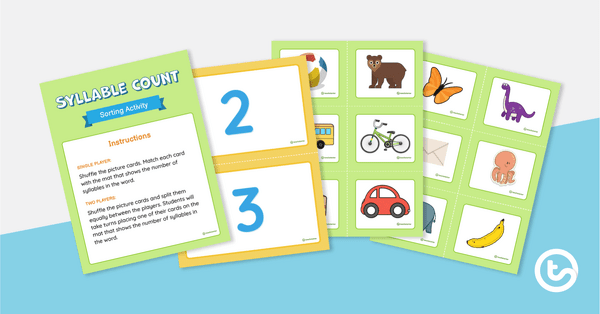 teaching resource
Practice segmenting and counting syllables in words with this set of 24 picture sorting cards.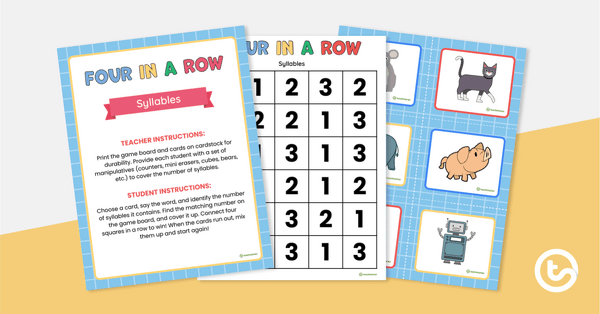 teaching resource
Segment words into syllables as you count them with this set of 24 picture cards and syllable-count gameboard.