Challenge students to create a food web and explain how energy flows between organisms with this cut-and-paste worksheet.
Food Web Worksheet for the Tundra
What exactly is a food web? A food web is a graphical representation of the flow of energy through a community of organisms in an ecosystem. It shows the relationships between different species of plants and animals and how they rely on each other for food. The food web typically includes both primary producers (such as plants) and consumers (such as herbivores, carnivores and omnivores), as well as decomposers (such as bacteria and fungi). 
The food web is a useful tool for understanding the complex interactions between different organisms in an ecosystem and how changes in one part of the web can affect the entire ecosystem.
With this cut-and-paste worksheet, students will create and explain a food web for the tundra biome. The steps are as follows:
Cut out the ten pictures provided with the resource.

Organize the pictures to create a food web.

Draw arrows to show the flow of energy within the food web.

Write a paragraph to explain how energy flows through the food web.
Note: Students may come up with many different food web possibilities; however, it is important for them to focus on the correct order of producers and consumers. 
An answer key is included with your download to make grading a breeze!  
Tips for Differentiation + Scaffolding 
In addition to independent student work time, use this worksheet as an activity for:
Whole-class review (via smartboard)

Collaborative group activity

Homework assignment

Summative assessment
Why not challenge your more-confident students by having them research organisms that live in the tundra, then expand the food web on the worksheet by adding additional organisms?  
Choose Your Preferred Version of This Food Web Worksheet
Use the dropdown icon on the Download button to choose between the PDF or editable Google Slides version of this resource. 
Because this resource includes an answer sheet, we recommend you print one copy of the entire file. Then, make photocopies of the blank worksheet for students to complete. 
---
This resource was created by Kaylyn Chupp, a teacher in Florida and a Teach Starter collaborator.
Click below for more engaging food web resources to simplify your Science planning!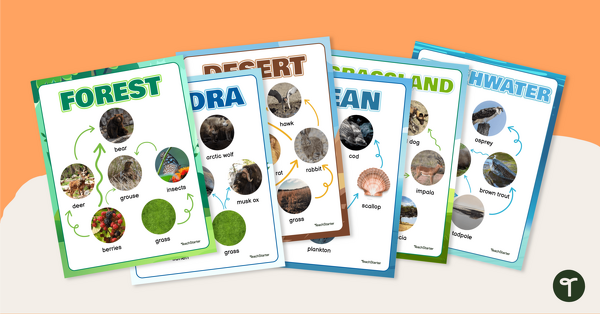 teaching resource
Learn how energy flows through food webs in different biomes with this set of classroom anchor charts.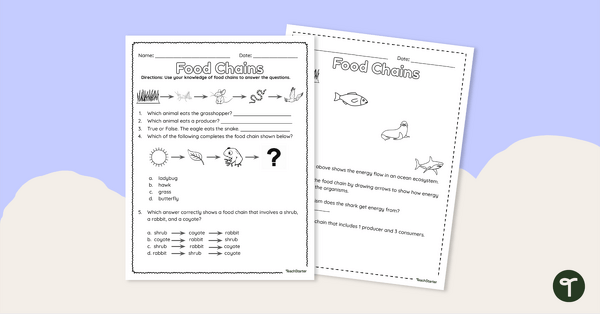 teaching resource
Use this worksheet to identify and describe the flow of energy in a food chain.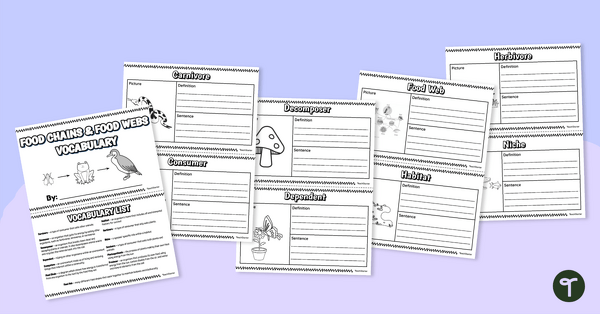 teaching resource
Reinforce science vocabulary by creating a booklet to reference when studying food chains and food webs.