Use this teacher-created weather resource to teach weather vocabulary. Build a word wall with your students during your weather lessons.
Use these weather words and weather terms to unlock the study of weather for your elementary students, and help them build their vocabulary relating to different types of weather and weather science.
This resource was teacher-created to support your elementary science lessons.
Easily Prepare This Resource for Your Students
Download the PDF of this teacher-created resource. Print on cardstock for durability, and place all pieces in a folder or large envelope for easy access after your weather unit is complete!
Display and use the included Weather Word Wall Vocabulary cards to immerse your students in the content-specific vocabulary when learning about the weather and different climates around the world. There is a blank sheet provided at the end for any extra weather words that your students may want to add.
Weather words in this classroom word wall include:
weather, rain, cloud, rainbow, temperature, pressure, overcast, shower, sunrise, dry, tornado, sunset, humidity, cold, heat, wind, cloudy, heat wave, and more!
Explore thousands of science printables, worksheets, digital activities and more vocabulary word walls!
More Weather Vocabulary Activities
Looking for more ways to incorporate weather words into your lessons? We've got more weather vocabulary puzzles, weather activities, weather games for kids, and teacher-created resources about what's going on in our atmosphere to check out: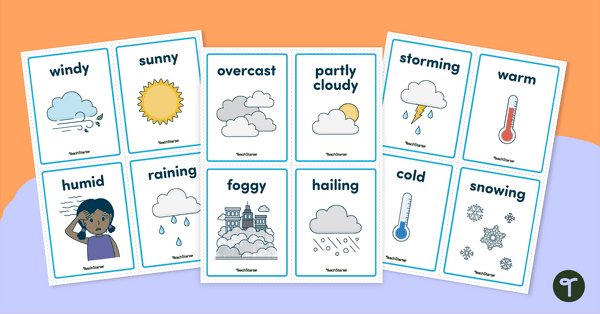 teaching resource
A set of 12 vocabulary cards used to describe the weather.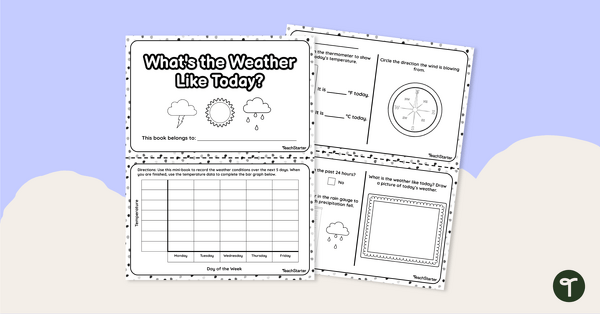 teaching resource
Measure, record, and graph weather information with a printable mini-book.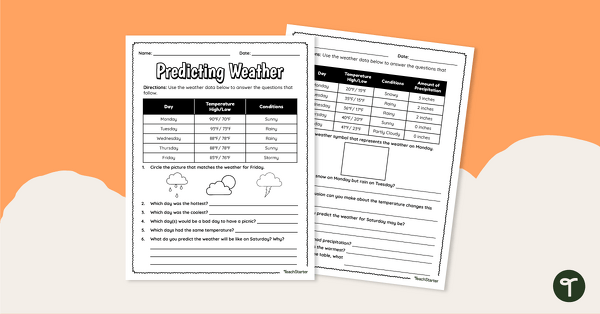 teaching resource
Use data tables to answer questions and make predictions about temperature and precipitation with this weather worksheet.