Test knowledge about the water cycle with these fun and engaging task cards.
Water Cycle Activity – What Am I? Task Cards
This set of task cards has been designed to reinforce students' understanding of the water cycle through a fun and challenging question-and-answer format. These task cards provide an exciting opportunity for students to apply their knowledge by deciphering clues and identifying different stages and processes of the water cycle.
The task cards include a series of "What am I?'" questions describing a specific water cycle stage or process. Students will read each question carefully, analyse the provided clues, and determine the correct term that matches the description. They can record their answers on the recording sheet and discuss their responses in small groups or as a whole class.
Other Water Cycle Activity Ideas
If you're looking for a slightly different use for these water cycle task cards. Here are a couple of other activity ideas:
🛴 Scoot Activity 
Place the cards around the room numerically and give each student a recording sheet. Assign students or pairs to a starting point card. Give students time to review the card and record their answers in the corresponding space on their paper. Students will rotate to the next card when you say, "SCOOT!" Continue in this manner until students return to their starting point. 
👋 Exit Ticket 
Use these cards as a formative assessment after your lesson. Pick a random assortment of cards and project them on the board for the whole class to see. Students can record their answers on paper, sticky notes or notebook. 
Become Water Cycle Experts Now
Use the dropdown icon on the Download button to choose between the PDF or Google Slides version of this resource. A recording sheet and answer key are also included with this download.
Print on cardboard for added durability and longevity. Place all pieces in a folder or large envelope for easy access. 
To keep the task cards out of pockets or under desks, punch a hole in each corner to place them on a binder ring. 
Sustainability Tip: Print a few recording sheets on cardboard and slip them into write-and-wipe sleeves. Students can record their answers with a whiteboard marker, then erase and reuse them. 
---
This resource was created by Lindsey Phillips, a teacher in Michigan and a Teach Starter collaborator.
Don't stop there! We've got more activities and resources that cut down on lesson planning time: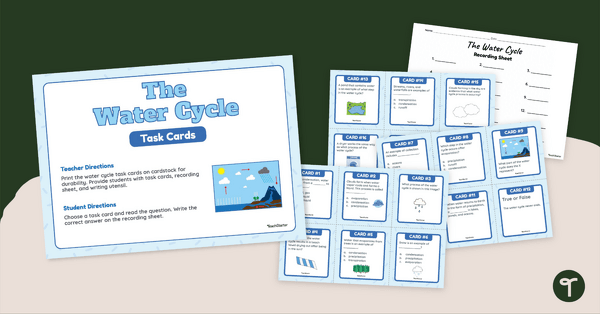 teaching resource
Determine which stage of the water cycle is represented with this set of task cards.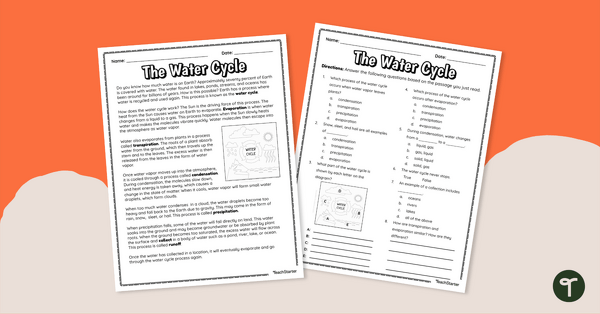 teaching resource
Enhance your students' comprehension and science vocabulary skills with this water cycle worksheet.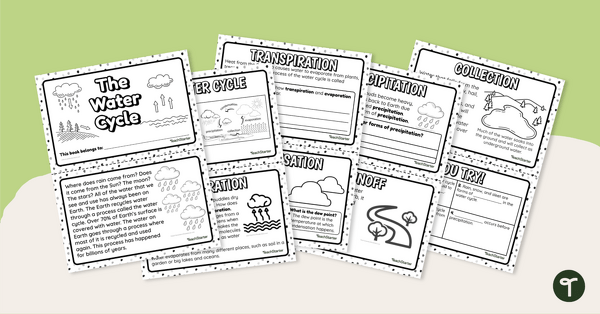 teaching resource
Use this 10-page mini-book when learning about the water cycle.