An editable 20-slide PowerPoint to use when teaching your students about hyperbole.
Use this presentation to teach your students about the figurative language technique of hyperbole.
The presentation starts with literal and nonliteral meanings so your students can better understand what hyperbole is and why an author uses it in their writing. The PowerPoint offers built-in check-for-understanding slides, making it easy to see which students need extra support while keeping your students engaged throughout the presentation. It also ends with an "exit ticket" activity and a link to a worksheet, allowing your students to put their learning into action!
Use the drop-down menu to choose between the PowerPoint or the Google slides version. Please note that both versions contain animations and are best used in presenter mode.
---
This resource was created by Jennifer Hall, a teacher in North Carolina and a Teach Starter Collaborator.
This presentation links to the following Hyperbole Worksheet for independent practice: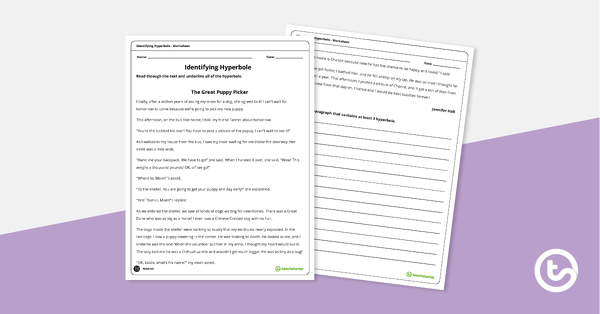 teaching resource
A worksheet to practice identifying hyperbole in a piece of text.