Identify literary genres through a set of 12 task cards with short text passages and multiple-choice questions.
What do you like to read?
Sci-fi and fantasy stories dive into the creative realms of otherworldly beings and unexplored expanses of lands, space, and even time. 
Adventure tales take us to far-off places where heroes dare to go head-to-head with unimaginable foes. 
Historical fictions retell familiar stories of events and people with imagined details that bring us closer to real-life experiences. 
Indeed, you can't judge a book by its cover. 
But you can determine what you might be inclined to read by knowing the specific characteristics that set each genre on its course. 
Practice Identifying the Genre of a Text
Use this resource in your reading center, as a guided reading activity, or a whole class exercise (see below) to practice identifying texts by their genre-specific characteristics, structures, and purposes.
As a reading center activity, we recommend first punching a hole in the corner of each task card and placing them on a binder ring. This helps keep them organized and together, so you never lose a card in a pocket or under a desk. 
Each task card contains a short reading passage in which students will look for context clues and decide whether the text is:
Realistic Fiction

Historical Fiction

Fantasy

Science Fiction

Adventure

Mystery

Biography
Scaffolding + Extension Tips 
Got fast finishers? Challenge students who already understand the concept to make a list of texts they've read and note which genre those texts are. What characteristics within those texts can they identify that lead them to their conclusions? 
Help struggling students by assigning these task cards in partner work or small group instruction with a teacher. 
More Task Card Activities for Identifying Genres
Aside from using task cards as a single-student reading center game, this learning aid can also be used as a partner activity or for group learning like scoot activities, lesson reviews, comprehension assessments, and more!
🖼️ Gallery Walk (Scoot Activity)
Hang the cards around the room and provide students (or pairs) with a recording sheet to write the answer for each text card. When you say "Scoot," students will move to the next card, completing all of them. 
✍️ Group Lesson 
No need to break out the scissors yet with this activity! Using your smartboard or another projection device, present the cards and have students record their answers on a recording sheet or in their notebooks. They can work through the task cards individually or in pairs/teams. 
👋 Exit Activity
After you go through your literary genres lesson, pass out cards to students as a Language Arts exercise they will answer independently. Provide them with a sticky note so that they can turn in their answer as a formative assessment, making sure to write their name on the sticky note (or use our Sticky Note Printing Guide + Template). 
Get our 10 Best Scaffolding Strategies here! 
Easily Prepare This Resource for Your Students
Print on cardstock for added durability and longevity. Place all pieces in a folder or large envelope for easy access. 
Keep the task cards together by punching a hole in the corner of each to place them on a binder ring. 
To turn this teaching resource into a sustainable activity, print a few recording sheets on cardstock and slip them into dry-erase sleeves. Students can record their answers with a dry-erase marker, then erase and reuse.
Because this activity includes an answer sheet, we recommend first printing one copy of the entire file. Then, make photocopies of the blank recording sheets for students to complete. 
Before You Download
Use the dropdown icon on the Download button to choose between the PDF or Google Slides version of this resource. A recording sheet and answer key are also included with this download.
---
This resource was created by Heather Chambers, a teacher in Texas and Teach Starter Collaborator. 
Hold it right there, pardner! Check out these reading exploration activities for cowboys, astronauts, wizards, and more: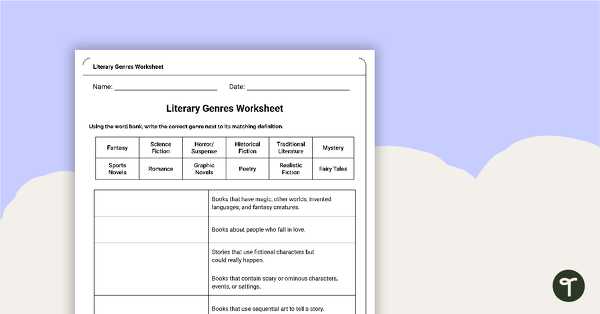 teaching resource
A worksheet to practice identifying the characteristics found in different literary genres.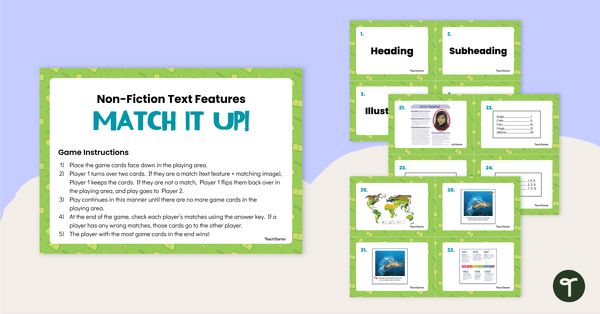 teaching resource
A set of 36 match-up cards to practice identifying nonfiction text features.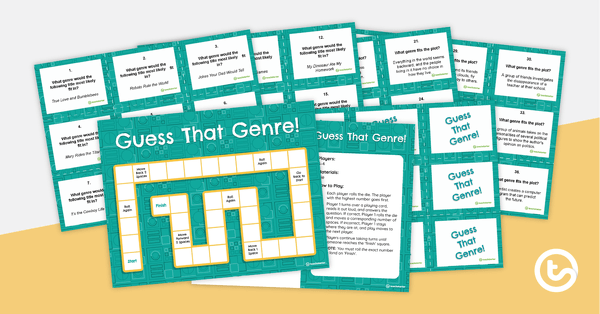 teaching resource
A board game to practice identifying different fictional genres.