An interactive PowerPoint to practice decoding words using onset and rime.
Are your students bored with using letter tiles and worksheets to practice their word-building skills? Or maybe you are just looking for a fresh, new way to work on onset and rime! Then look no further!
This interactive PowerPoint includes 15 photographs that are hidden behind letters. The subjects of the photographs may not be what your students expect – and this adds another layer of intrigue to the activity!
Each slide focuses on one particular grapheme as the onset for a word. Students are presented with 8 rime choices to build words onto the onset, but only 6 of them will build a real word. Every time the student successfully forms a word (by clicking on a rime), a portion of the photograph is revealed.
This activity not only promotes word-building skills but also encourages enthusiastic discussion about the gradually emerging image.
What Sounds are Explored?
This word-building resource explores CVC words only.
The onsets include the following consonants:
s
t
p
n
m
d
g
c
r
h
b
f
l
j
w
Make sure you view the presentation in 'Slide Show' mode in order to reveal the picture.
If you're looking for other word-building resources, try one of these: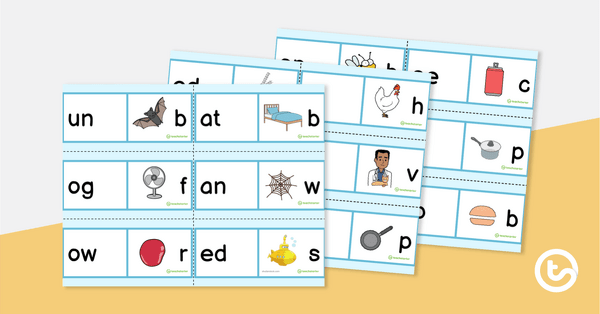 teaching resource
Form words by blending onsets and their rimes with this set of 28 dominoes.