Display a fun onomatopoeia word wall in your classroom with printable cards containing onomatopoeia examples.
What is Onomatopoeia? Let's Find Out!
Onomatopoeia is a word or group of words that imitates or suggests the sound of the thing being described. It is a figure of speech that creates a sensory experience for the reader or listener by using words that sound like what they represent. For example, words like "buzz," "crackle," "murmur," and "hiss" are all examples of onomatopoeia because they imitate the sound of a bee, a fire, a whisper, and a snake, respectively. Onomatopoeia is often used in poetry, literature, and advertising to create vivid and memorable descriptions.
Create a Wall of Onomatopoeia Examples!
This printable resource is the perfect way to introduce and encourage your students to use onomatopoeia in their writing and speaking. This resource download includes a printable word wall display of onomatopoeia words designed in a bright, fun, comic-book-themed layout. This resource includes a total of 45 onomatopoeia words, and is fully editable within Google Slides, just in case you'd like to add your own!
Print and display these onomatopoeia words in your classroom when studying sound play in poetry. You can also pair your display with these fun activities!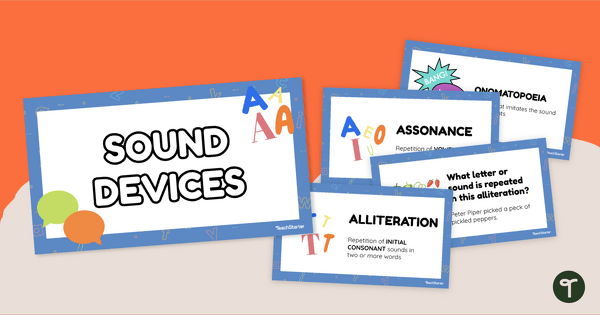 teaching resource
Teach the different sound devices used in poetry with this Google Slide Deck.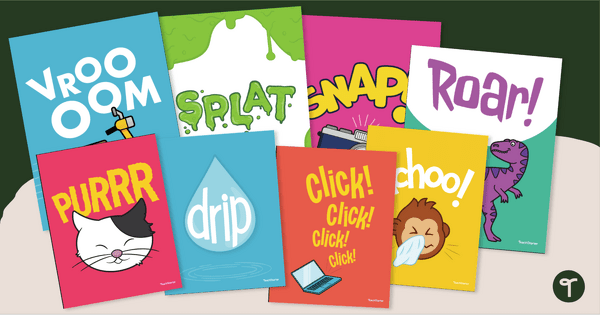 teaching resource
Help young readers and writers recognize figurative language and onomatopoeia with a set of onomatopoeia anchor charts.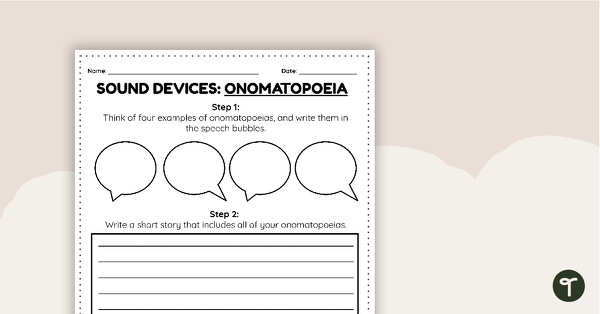 teaching resource
A template to practice using onomatopeias in a piece of text.
Examples of Onomatopoeia Include:
achoo,
bash,
beep,
bang,
buzz,
clank,
crash,
crunch,
click,
ding,
and more!
Before You Download
This resource is available in multiple formats to meet your needs. Color, black and white, PDF, and editable Google Slides have all been provided for you to choose from. Use the dropdown arrow on the download button to select the file you prefer.