A template to use when planning a narrative text.
Use this template to help your students plan their next narrative writing piece.
The template adheres to the following narrative structure:
title
orientation (introducing the characters and setting)
complication (introducing the problem)
series of events (what happens while trying to solve the problem)
resolution (solution).
There are two print options available for this template:
Print on tabloid paper and laminate. Then, write on it with a dry erase marker in the classroom when planning a narrative text as a class.
Print on letter-size paper and have the students use it to plan a narrative text.
We have also made a Google Slide for this resource to use with students virtually. Use the drop-down menu to choose the format that works best for you and your students.
This resource pairs nicely with our Narrative Writing Stimulus Wheels.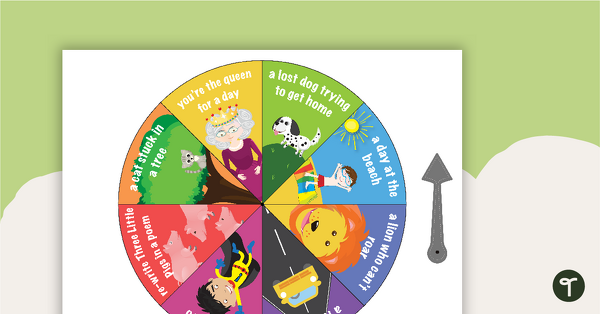 teaching resource
5 writing wheels that provide stimulus ideas for narrative writing.