Teach students how to draw a girl with a directed drawing video that leads kids step-by-step through the instructions. Print companion cards that kids can use at their desks.
How to Draw a Girl Step-By-Step Instructions
Walk your elementary students through the process of drawing a girl, including the face, body, and hands with a directed drawing activity that can be easily followed by young learners. The tutorial makes use of familiar basic shapes such as circles and rectangles, as well as various curved lines to give shape to the girl.
Follow the steps, line by line, and see how you and your students can create drawings that are sure to impress while improving their dexterity and concentration as well as practicing their listening and instruction-following skills. Most importantly, you can pause and replay the kids' drawing video as many times as you need.
Drawing is a form of visual communication, and learning how to draw a girl can help your students develop their ability to communicate their ideas through visual means! By teaching your students to draw young people, you are enabling them to tell social stories through visual representation.
Give students instructions they can keep right at their desks — use this video tutorial in conjunction with our How to Draw a Girl for Kids – Task Card: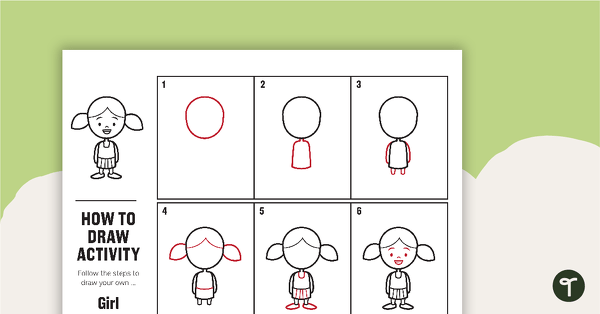 teaching resource
A task card that helps students draw an illustration of a girl.