Teach students how to draw a monster with this directed drawing activity for the classroom. The video covers step-by-step instructions and can be paired with printable task cards.
How to Draw a Monster Step-by-Step Instructions
Bring directed drawing into the classroom with this monstrously fun tutorial video — it covers all the instructions your students need to learn how to draw a monster!
Share this video with your students on an interactive whiteboard. Remember, take it slowly! Pause, and replay the video as much as you need to.
You can also print out How to Draw a Monster task cards for students to keep at their desks or take home with them to practice drawing in their own bedrooms. There's even a template they can trace to help get a handle on the process.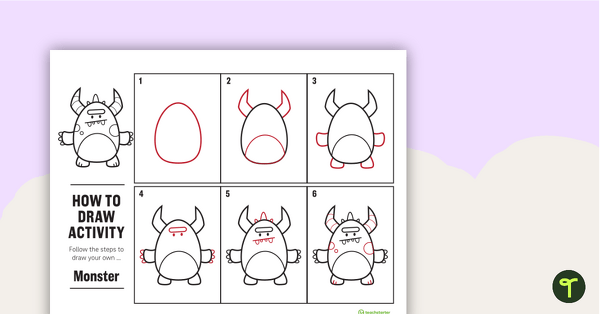 teaching resource
A task card that helps students draw an illustration of a monster!
Benefits of Directed Drawing
Curious about using our directed drawing videos in your classroom? Here are just a few of the benefits that can come from these activities!
Improved Fine Motor Skills: Directed drawing exercises help students develop the fine motor skills necessary for writing and other activities that require dexterity.
Enhanced Visual-spatial Skills: Directed drawing activities help students develop their visual-spatial skills, which are important for tasks such as reading maps, understanding graphs, and solving math problems.
Improved Confidence: By providing step-by-step instructions, directed drawing helps children understand that they can create something complex and beautiful with their own hands, giving them a sense of accomplishment and confidence.
Creativity Boosted: Although the steps of a directed drawing may be predetermined, our students can still add their own unique touches and personal interpretations to the final product, encouraging creativity and self-expression.
Problem-solving Skill Building: Our directed drawing activities require students to think critically and problem-solve in order to complete the task at hand. This helps to develop important cognitive skills that can be applied to other areas of life.