Do you have Plastic Free July on your classroom calendar for sustainability lesson planning? Plastic Free July is a fantastic initiative to make kids aware of plastic pollution and its impact and encourage them to contribute to real change in protecting the environment.
Environmental issues like plastic pollution can be complex for primary school students to wrap their heads around, but we're here to make the topic fun and educational. The teacher team here at Teach Starter has rounded up a bunch of activities to spark inspiration and get your class involved in reducing plastic waste. Keep reading to learn more about the history of the month and how to implement actionable ways to become plastic-free in the classroom!
What is Plastic Free July?
Plastic Free July is a global movement that aims to combat plastic pollution by encouraging individuals to opt for recyclable materials rather than single-use plastics in their daily lives for a month. Whether at home, work or school, anyone can participate in the initiative and pledge to ditch plastic to protect our planet for future generations.
Who Started Plastic Free July?
So, how did Plastic Free July become a global movement? It all started in 2011 as a campaign run by the Plastic Free Foundation and has since been adopted by millions worldwide, reducing plastic use for the entirety of July and beyond. The movement is driven by the belief that small changes add up to a big difference — a fantastic lesson for primary school kids to instil a sense of accomplishment from their positive actions.

Plastic Free July Ideas for Kids
Brainstorm Ways to be Plastic Free in the Classroom
An excellent way to get kids thinking about how they could directly contribute to the movement is by brainstorming ways to be plastic-conscious in the classroom. The whole class can contribute to the brainstorming by identifying objects around the school made of plastic and developing alternative solutions. Then, work as a team to implement as many suggestions as possible and explain how each student's contribution plays an essential role in broader change.
Create a Plastic Free Advertising Campaign
After brainstorming Plastic Free July ideas, why not challenge your students to make an advertising campaign to persuade their peers to go plastic-free? Students can research plastic pollution, its impact on the environment and actionable solutions and present their findings on a poster to hang up in the school hallway.
We know just how daunting public speaking can be, but each student could present their poster to the class with a persuasive pitch to help develop their reasoning skills and show their knowledge of the topic.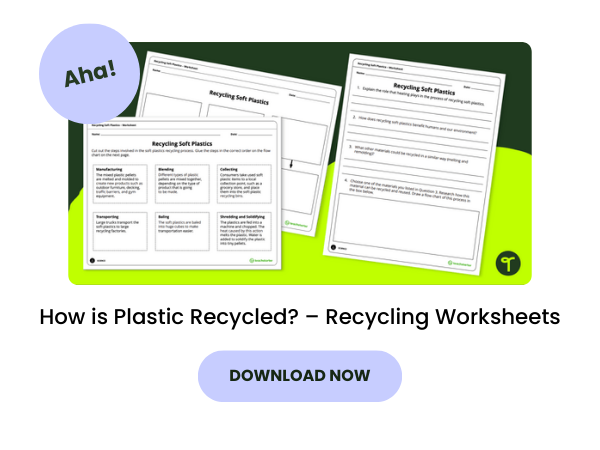 Conduct Plastic Free Experiments
Some kids may have seen or heard of bamboo toothbrushes or stainless steel straws, but encouraging students to experience the tools first-hand is a great way to introduce alternatives to everyday household items. A fun way to explore these tools is to conduct experiments, comparing plastic products with eco alternatives, focusing on differences in the look and feel, the usage and the outcome. Students can present their findings in a Venn Diagram or design their own experiment worksheet to share with the class and discuss.
Run a Plastic Free Lunchbox Challenge
Lunchboxes are a gold mine for single-use plastic packaging, but thankfully there are many eco-storage solutions and alternatives for parents to consider. So, why not challenge your students to a plastic-free lunchbox initiative this July?
Teachers can encourage students to bring their lunch wrapped in plastic alternatives such as reusable containers, beeswax wraps and reusable bamboo cutlery for a week. Each day, students can track their progress on a chart set up in the classroom and reflect on the challenges and advantages of the initiative. To build enthusiasm, small prizes or rewards such as tuck shop vouchers can be given to students who successfully participated.

Create a Plastic Free Reading List
Expand your students' knowledge with a curated reading list if you're looking for a downtime activity. Collate books and articles related to plastic pollution to read as a class or individually before discussing what they learned from the text. After discussing as a class, students can complete a reading comprehension lesson to test their understanding of the matter and interpret the text in their own words.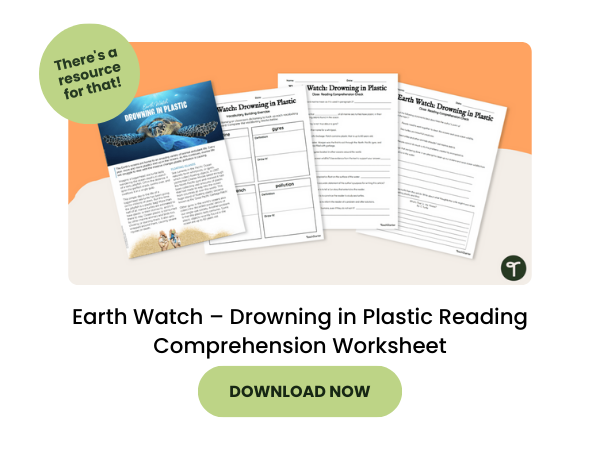 Conduct Weekly Plastic Audits
An eye-opening way for students to visually see their impact is by conducting a weekly plastic audit and collecting all plastics used around the classroom. Whether you have a recycling station in your classroom or not, you can make a dedicated spot to manage all plastic waste and watch how quickly it accumulates.
At the end of the week, you can have a class discussion about how you can work towards reducing plastic consumption and how everyone has the power to make small contributions that amount to large change.
Invite a Guest Speaker to the School
A great way to get kids excited about a topic and give you a little break is to invite a guest speaker to the school! The guest could be a local environmentalist or sustainability expert to share their knowledge and emphasise the importance of reducing plastic waste by opting for recyclable materials. A Q&A segment could follow the session to allow students to ask burning questions and start group conversations.
Freebie alert! Teach you class about the issues facing the Great Barrier Reef with a comprehension and note taking worksheet.
Looking for more resources about plastic pollution and other environmental issues? Check out our Sustainability collection full of comprehension worksheets, lesson plans and crafts!