When you think of Christmas door decorations, you think of a Christmas wreath, don't you?
I, personally, am a huge fan of the traditional Christmas wreath. Holly, burlap, pine needles and ribbon galore – I go crazy for Christmas!
Here at Teach Starter, we thought our teachers and students might like their classroom doors to be decorated by something a little more personalised.
A lot of the time you can get away with just hanging a festive wreath and calling it a day, but sometimes that just doesn't cut the Christmas cake…err, mustard.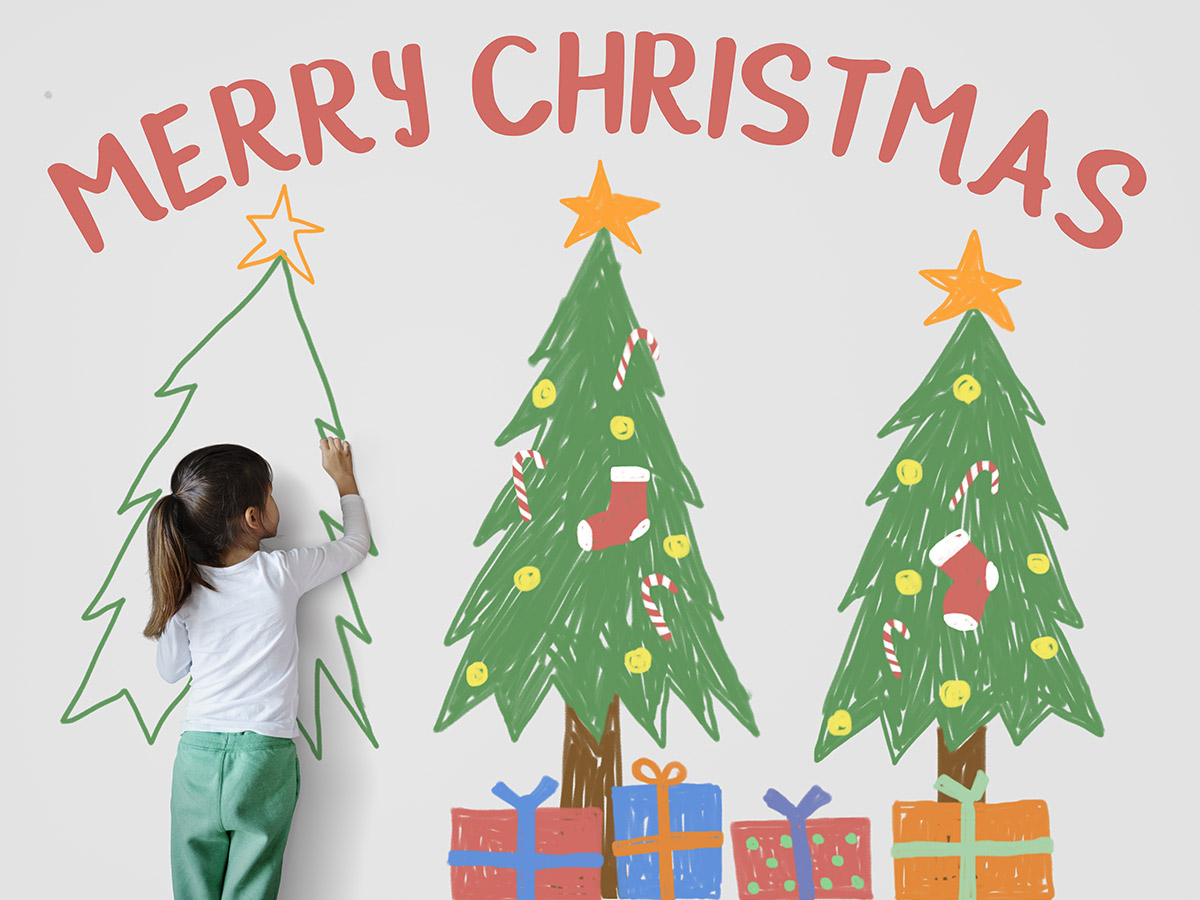 We've featured 9 of our favourite merry and bright seasonal door decorations to help you and your students bring the spirit of Christmas to your classroom!
Christmas Door Decorations to Jingle Up Your Classroom
Don't restrict these to the classroom door – if curious little hands are likely to undo the hard work you and your class have put into building these door displays, why not create a feature wall inside your room?
There's something here to bring the Christmas cheer to everyone!
---
Santa's Nice List
Let your students know just how beautiful they are by putting them on Santa's nice list! Each student can write their own name on the door to make themselves feel proud of their positive behaviour.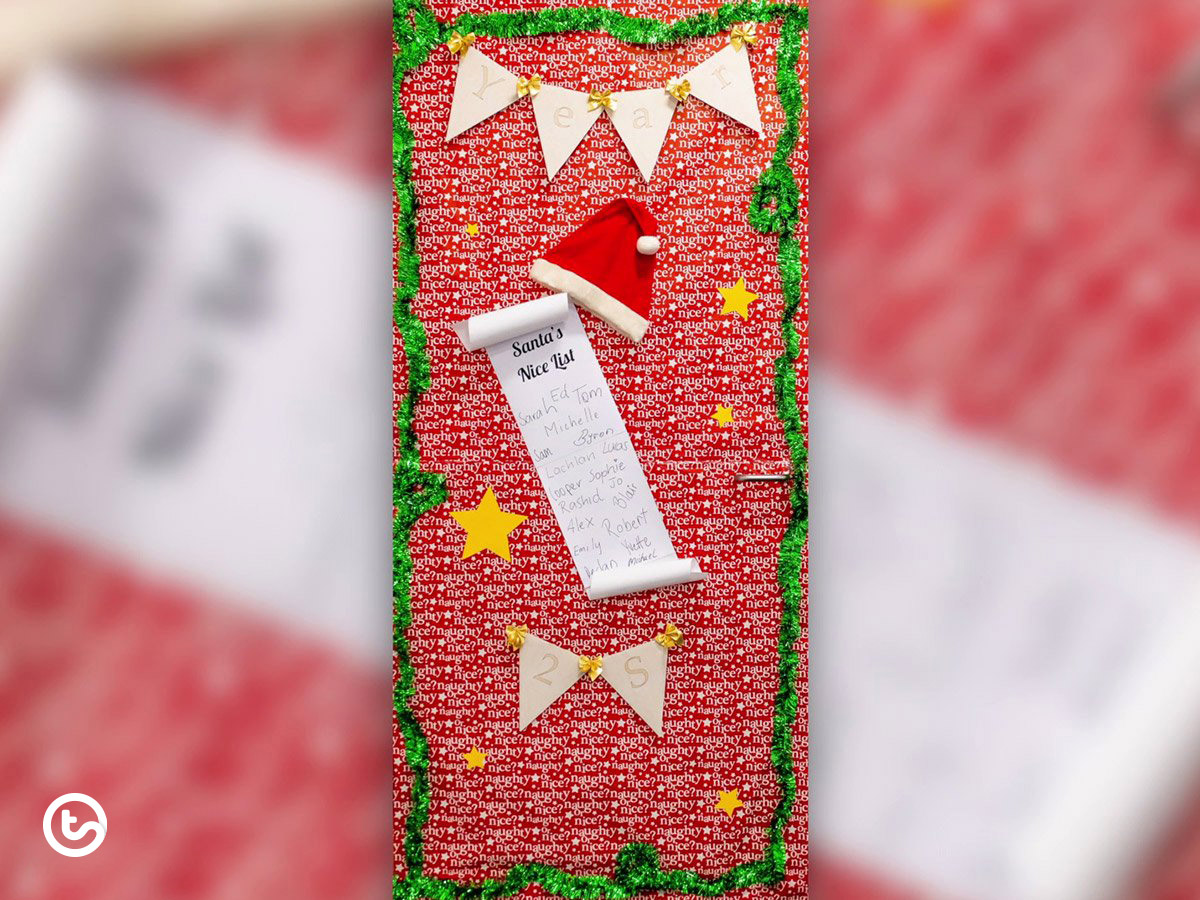 You will need:
To make Santa's 'Nice List' we used Word to print a title on a plain piece of paper and stuck it to the second piece of paper end to end. We rolled up two sheets for the curly ends and with a little sticky tape magic – voila!
A Santa-worthy scroll.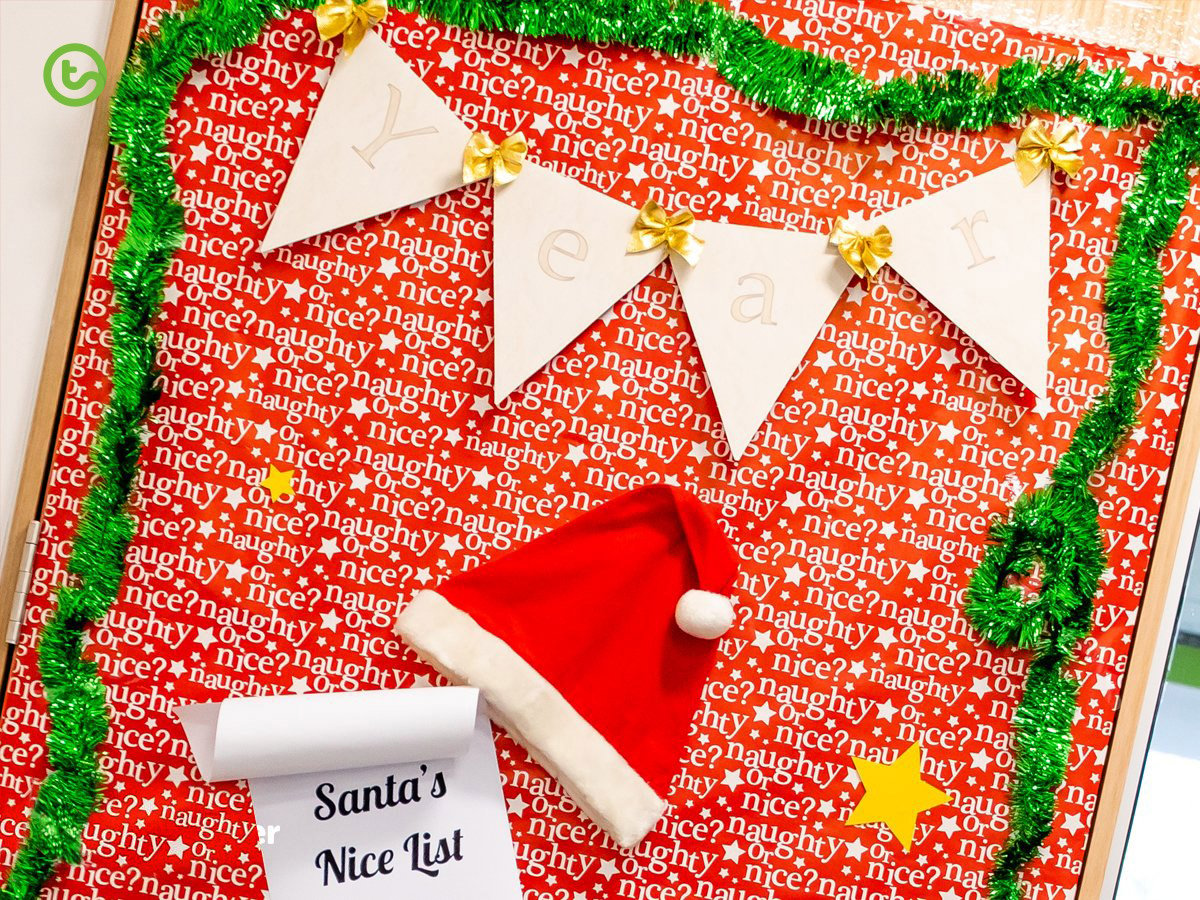 Combine this with your class behaviour management strategy to push your students to reach their goals.
Once a goal is reached, their name is added to the list!
---
Oh, Christmas Tree!
We've repurposed a number of our Christmas resources as door decorations to help you and your students dress up this jolly Christmas tree!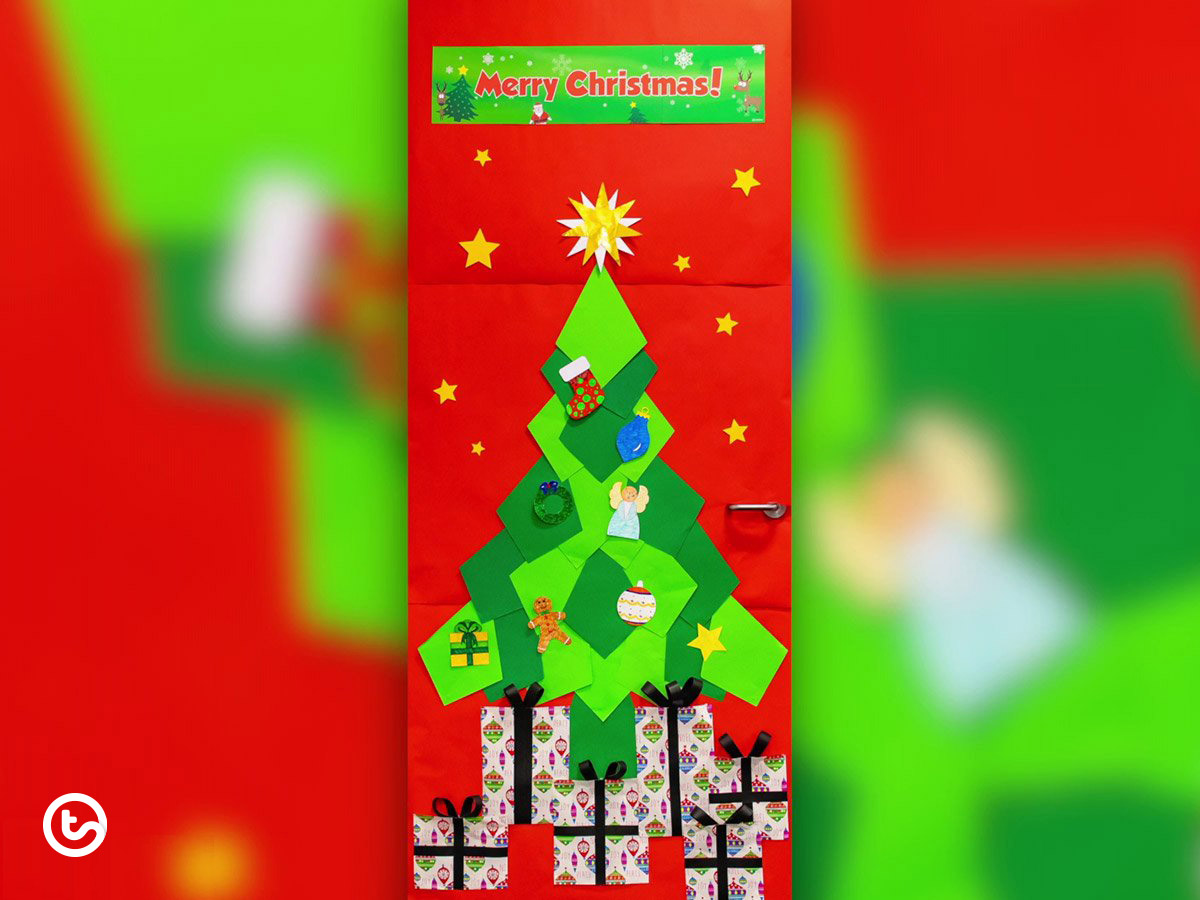 You will need: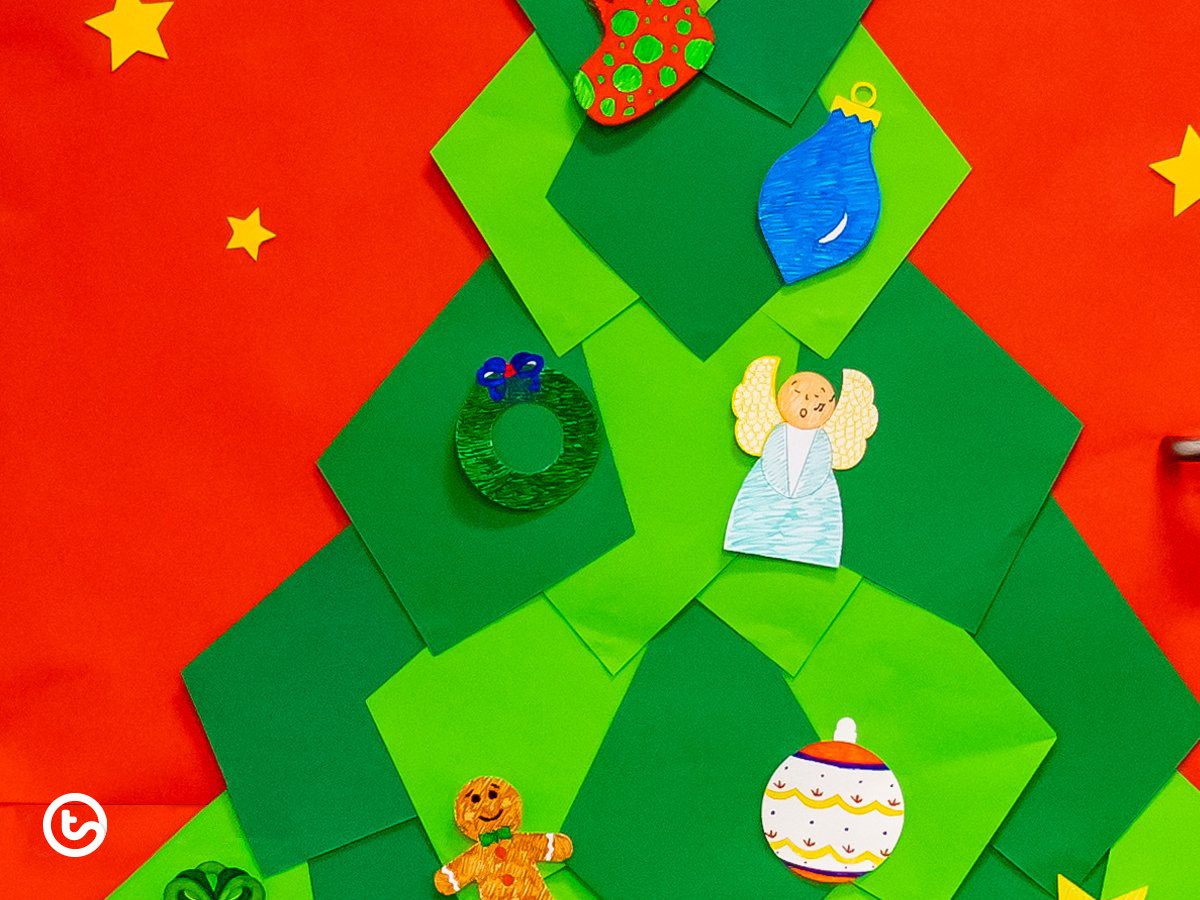 This tree would make a great display for any wall in your classroom! Use it to gather your class's Secret Santa gifts if you're short on space and don't have room for a real tree in the classroom.
---
Letters to Santa
Combine literacy with your Christmas display with our Letter to Santa Writing Page. Santa's elves will love helping collect his mail from this classroom door decoration!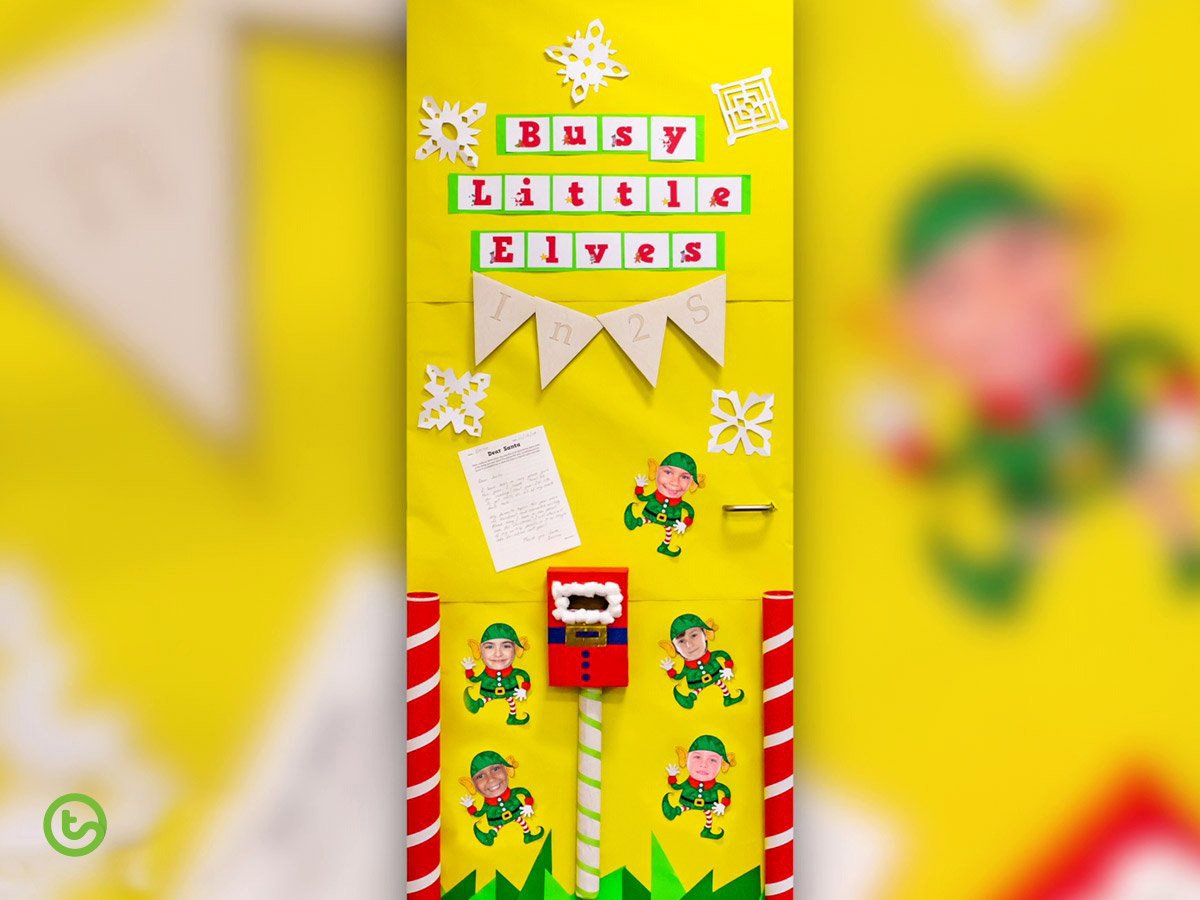 You will need:
large coloured paper roll for backing
up-cycled cardboard box for a mailbox (we used an old cereal box, some crepe paper and cotton balls!)
cardboard roll for a mailbox post (ours has been decorated with crepe paper and some ribbon)
Busy Little Elves heading using our Christmas – Letter, Number and Punctuation Set
class name using Historical Cream – Letter and Numbers Bunting
elves – ask your students to colour these adorable Create an 'Elfie Selfie' templates and attach a photograph of their faces! (alternatively, have students play our Roll an Elf Activity to create their own hilarious elf character)
green triangles to make grass (we used scraps of paper left over from our Christmas tree door decoration!)
scrap paper snowflakes.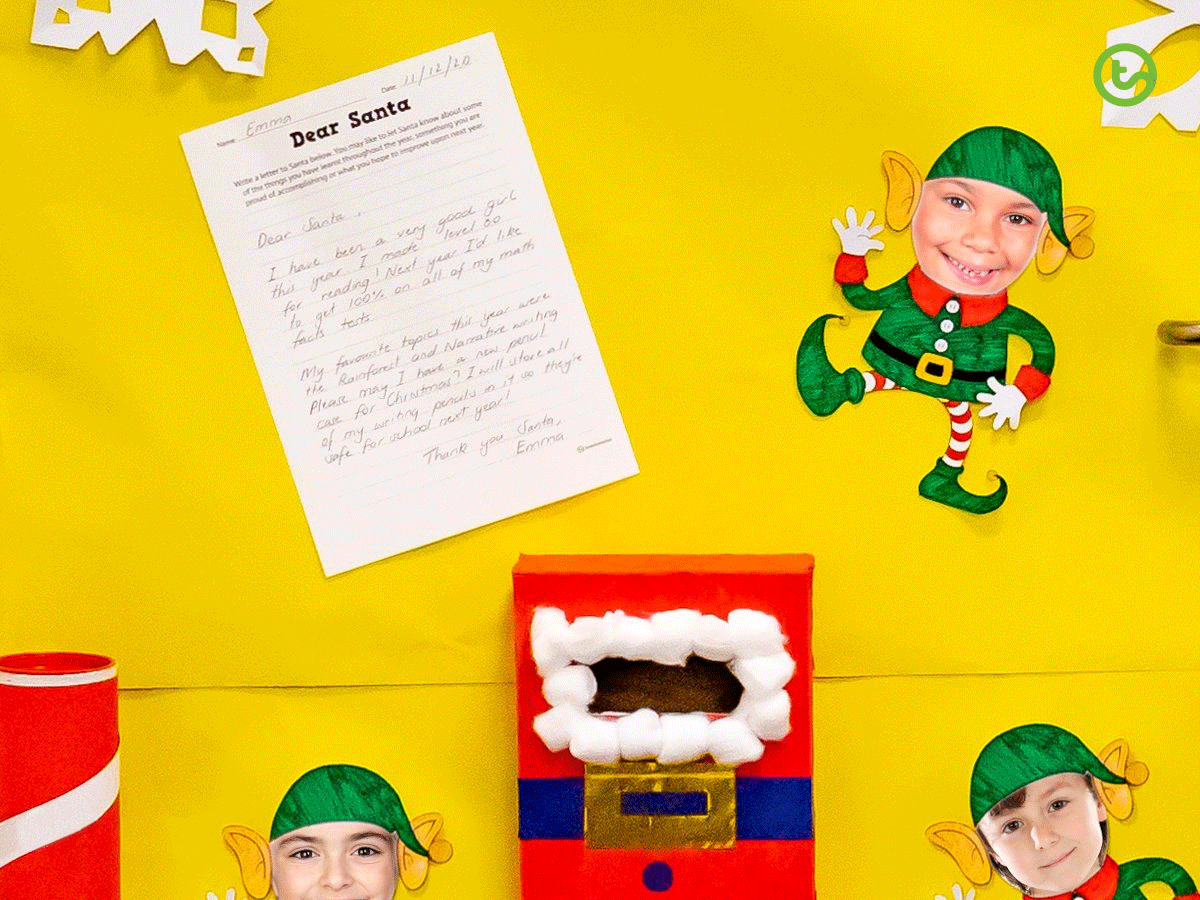 Why not use our Santa in a Chimney Writing page, Christmas Present Writing Page and  Reindeer Writing Page for other Christmas-based writing activities?
Older students will love writing letters to Santa about the meaning of Christmas on these resources.
---
More Christmas Door Decorations Inspiration
It doesn't stop there! We trawled the internet to bring you our top 5 Christmas Door Decorations.
Decorate every door in the school with something unique!
Santa's Stuck in the Chimney!
Ask your students to make cute handprint cut-outs for this fun display by @food_for_taught_!
Surround Santa with student work – our Christmas Presents Graphing Activity and Season's Greetings Word List make great Christmas themed additions.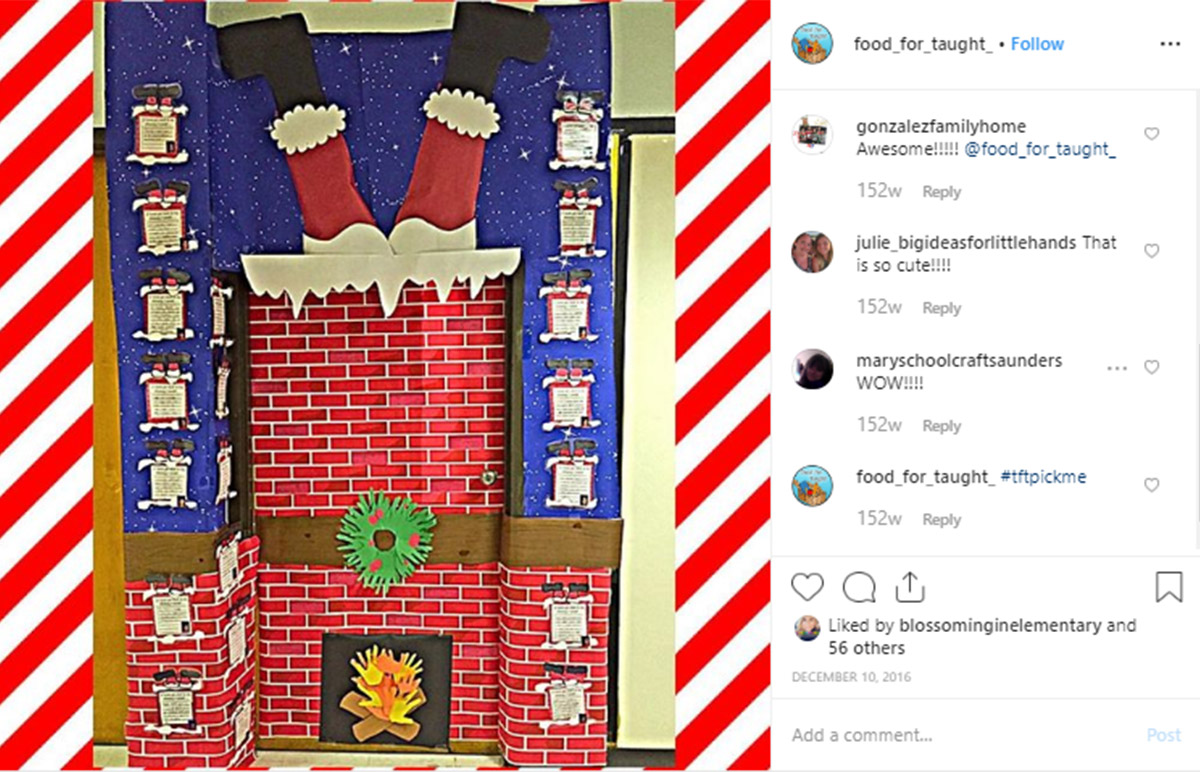 We Wish You a Minion Christmas
Your little school minions will love decorating this one – just as much as @misstexas_teachingadventures and her students!
A really simple design with large coloured paper cut-outs.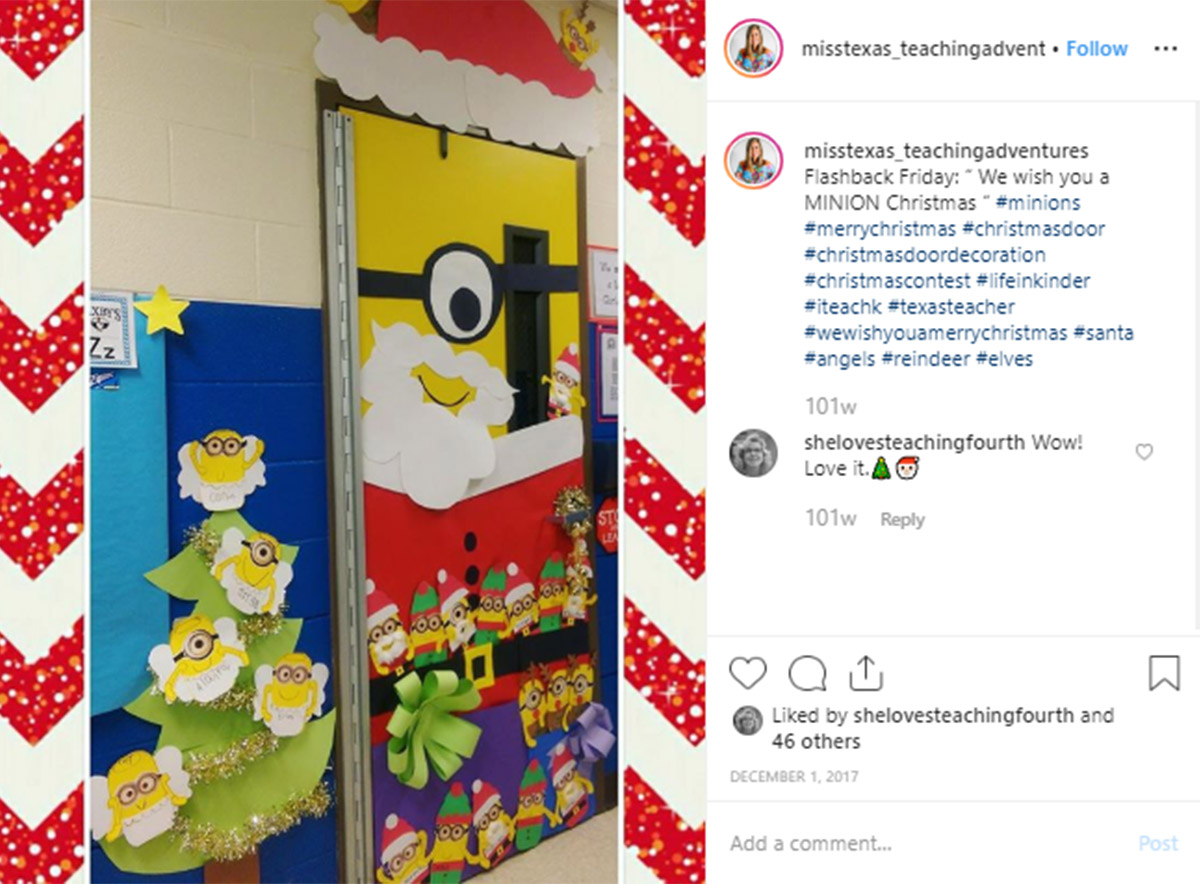 Bringing Christmas and Learning Together
Why not tie in your Christmas door decorations with your current topic of learning? @thepaisleyteacher has tied it in with her class's love for the Cincinnati Zoo!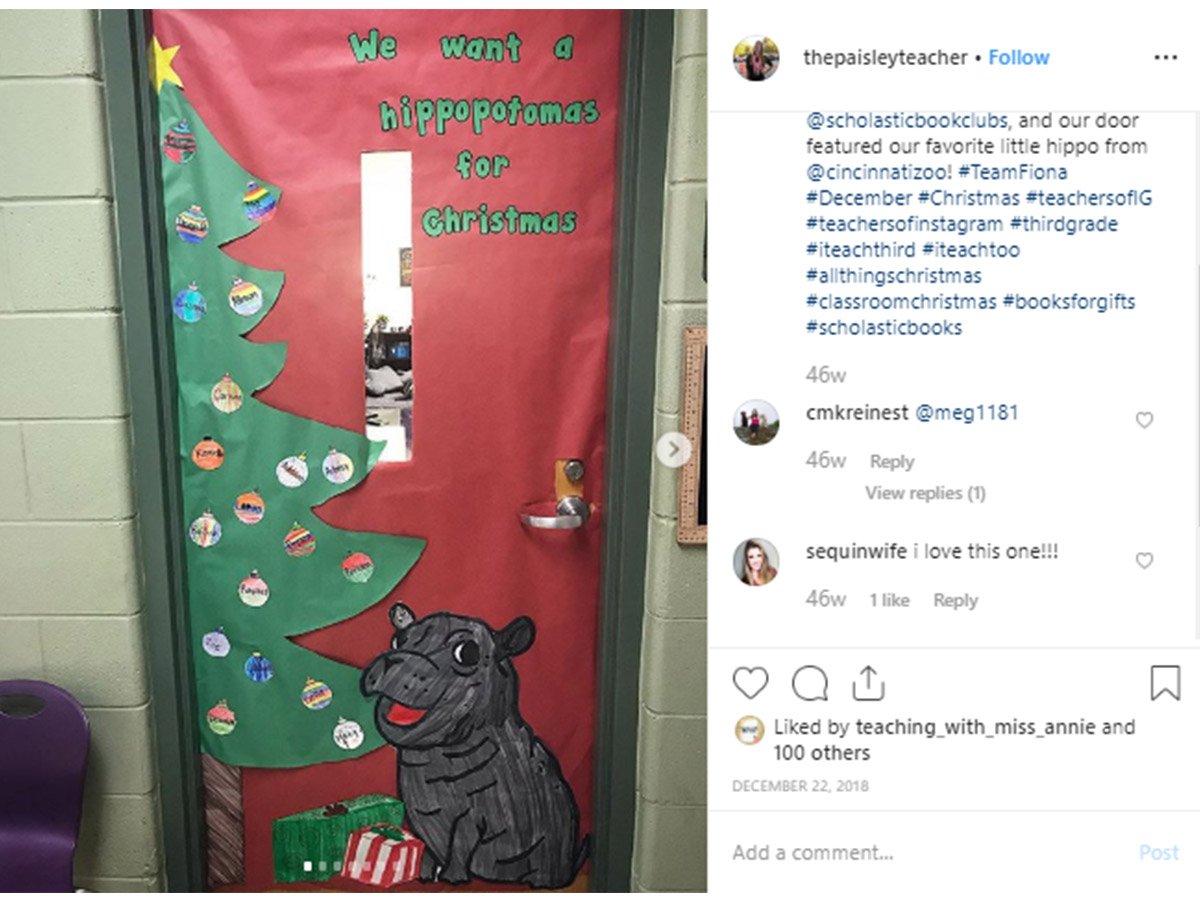 The Gift of Learning
Door decorations like this beautiful 'gift' themed display are incredibly effective, yet so simple to create! Just ask @weezyw.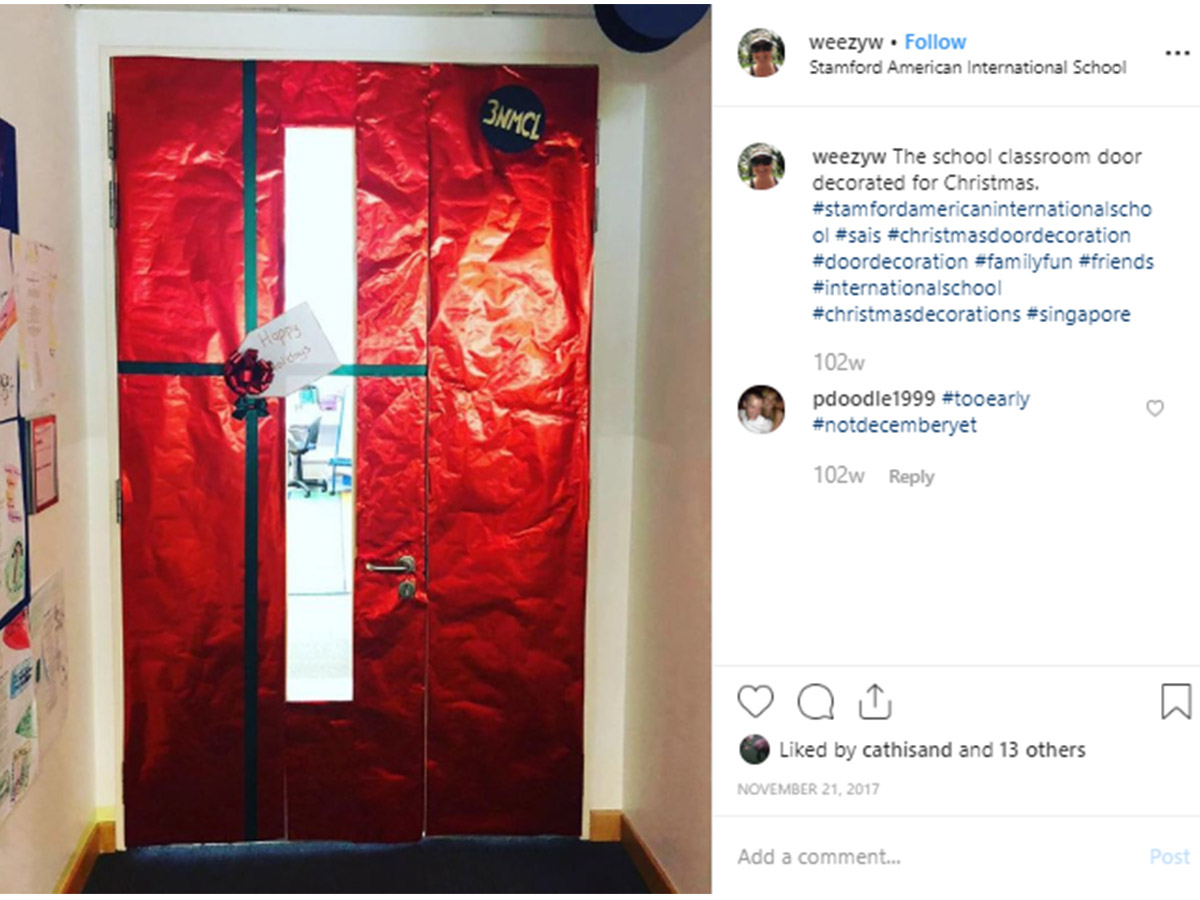 Gingerbread Delight
Create some colourful fun with cellophane, coloured card and bouncy balls in this drool-worthy display by @theprioryschool!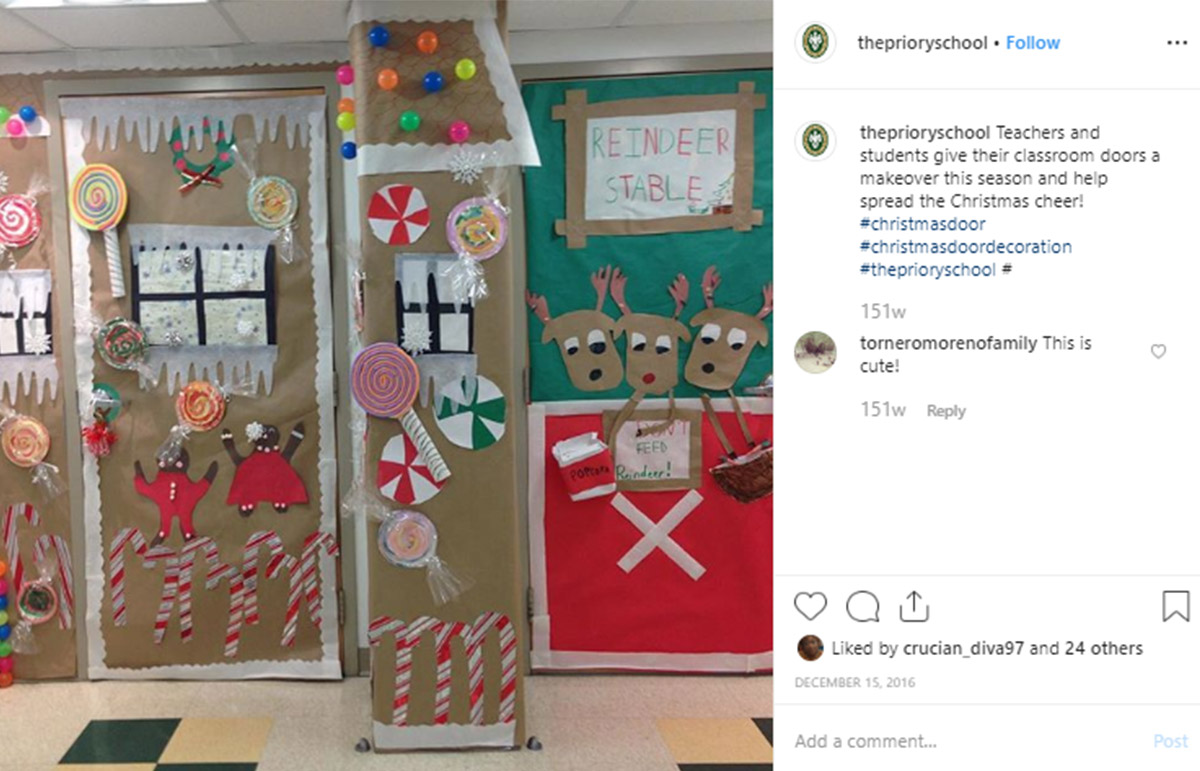 Rudolph the Singing Reindeer
Christmas doesn't have to be red, white and green!
Door decorations like this are easy to make and do a great job of bringing bucket loads of Christmas cheer! Just ask @winda_lie86!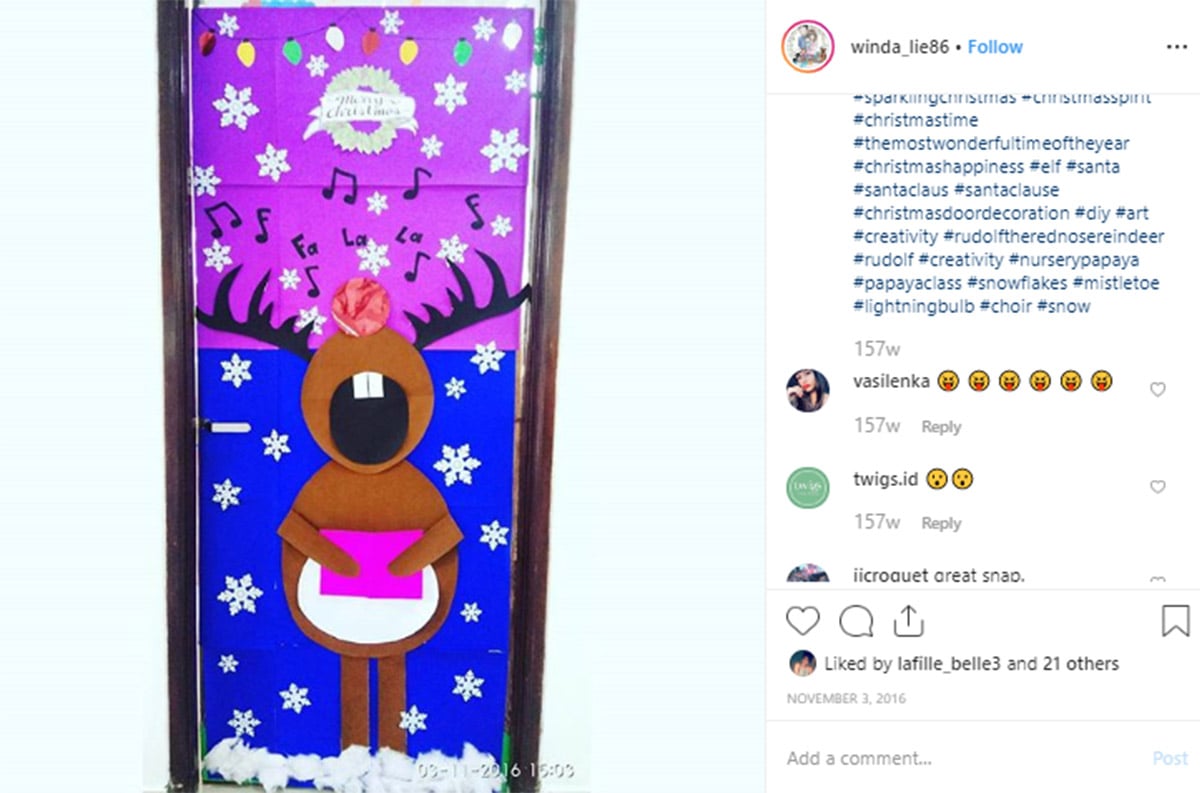 Did I mention, we LOVE Christmas here at Teach Starter?
We would love to see how you decorate your classroom this Christmas season! #teachstarter on Facebook, Twitter or Instagram to spread the joy!