It's beginning to look a lot like Christmas, but what about your classroom door? Looking for ideas to make your door display a holiday hit in the hallway that all the kids ooh and ahh over? Hey, the best way to spread Christmas cheer isn't just by singing, you know!
Here at Teach Starter, we thought our teacher fans might need some fresh ideas for that perfect holiday doorway! A lot of the time you can get away with just hanging a festive wreath and calling it a day, but sometimes that just doesn't cut the Christmas cake…err, mustard.
We've featured some of our favorite merry and bright holiday classroom door decorations to help you and your students bring the spirit of the holidays to your school hallway.
Christmas Classroom Door Decoration Ideas
Don't restrict these to the classroom door – if curious little hands are likely to undo the hard work you and your class have put into building these door displays, why not create a feature wall inside your room?
There's something here to bring the Christmas cheer to everyone!
---
The Holidays Are Among Us
We'll start off as easy as a classroom door decoration for the holidays can get — this "The Holidays Are Among Us" door from teacher Liz Gutierrez (@teachingtotheteks on Instagram) is about as easy as it can get — and it works if you're trying to avoid the word "Christmas" to include more kiddos too!
We love the little crewmates from Among Us!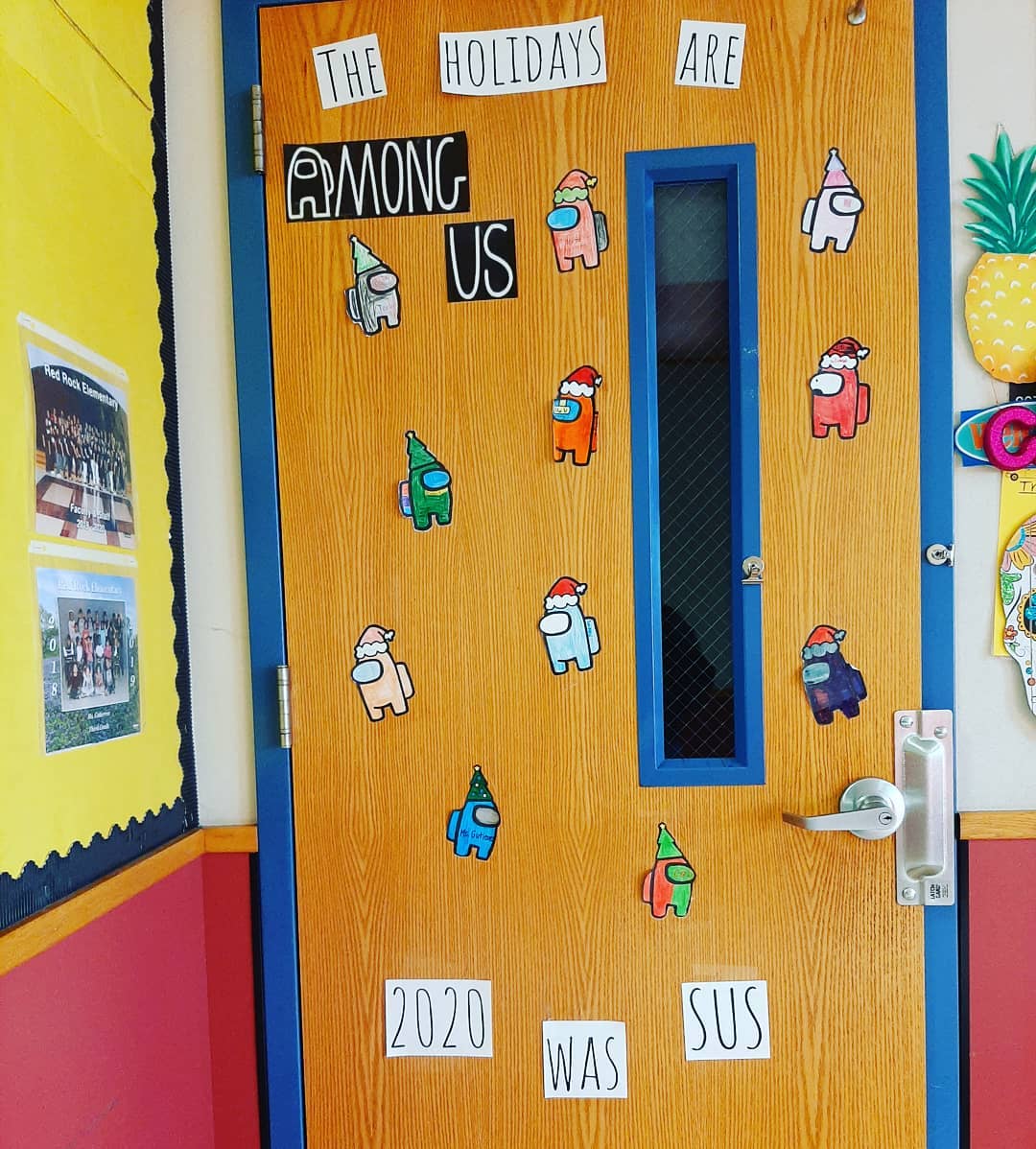 See more fun Among Us ideas for the classroom!
Oh Deer!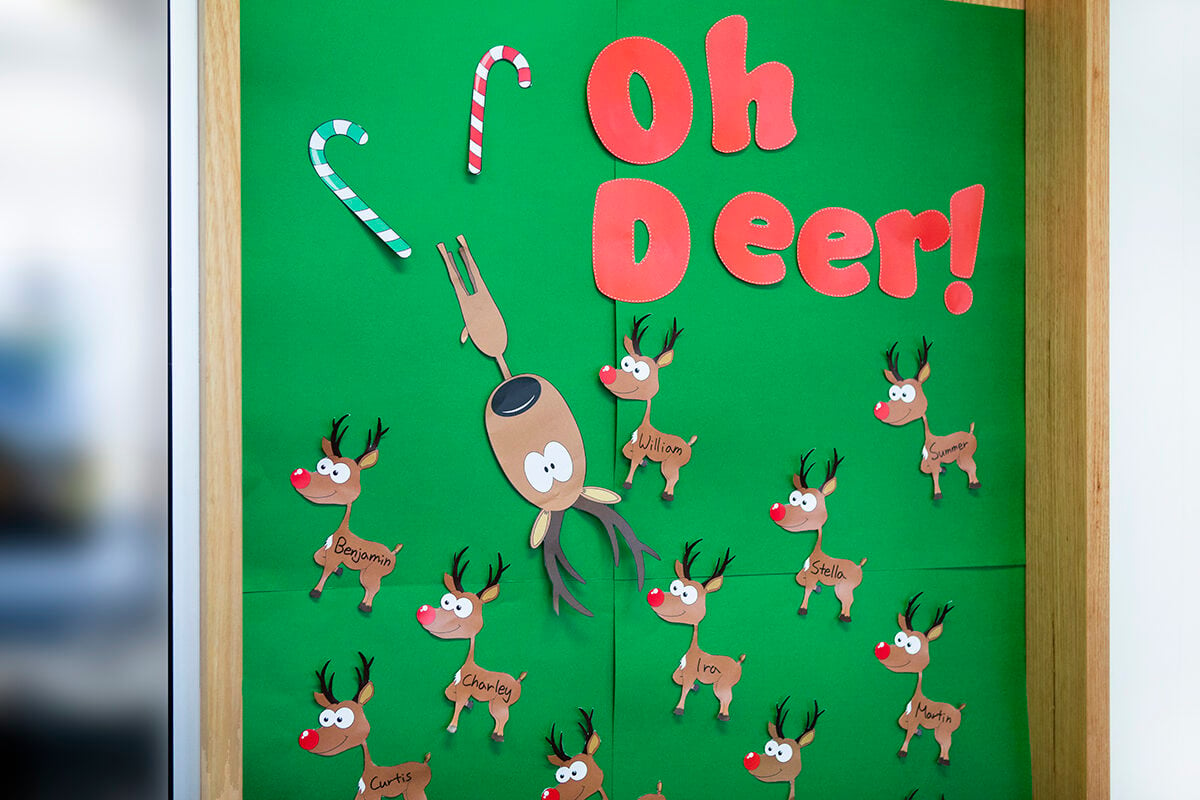 We love that this holiday door plays on the holiday spirit with a fun pun while also being inclusive of students who don't celebrate Christmas. After all, reindeer are simply animals!
For an easy door display, grab these fun little reindeer and add your students' names!
Having Snow Much Fun
Set up a holiday door you don't have to take down after winter break — Having Snow Much Fun works for all the winter months!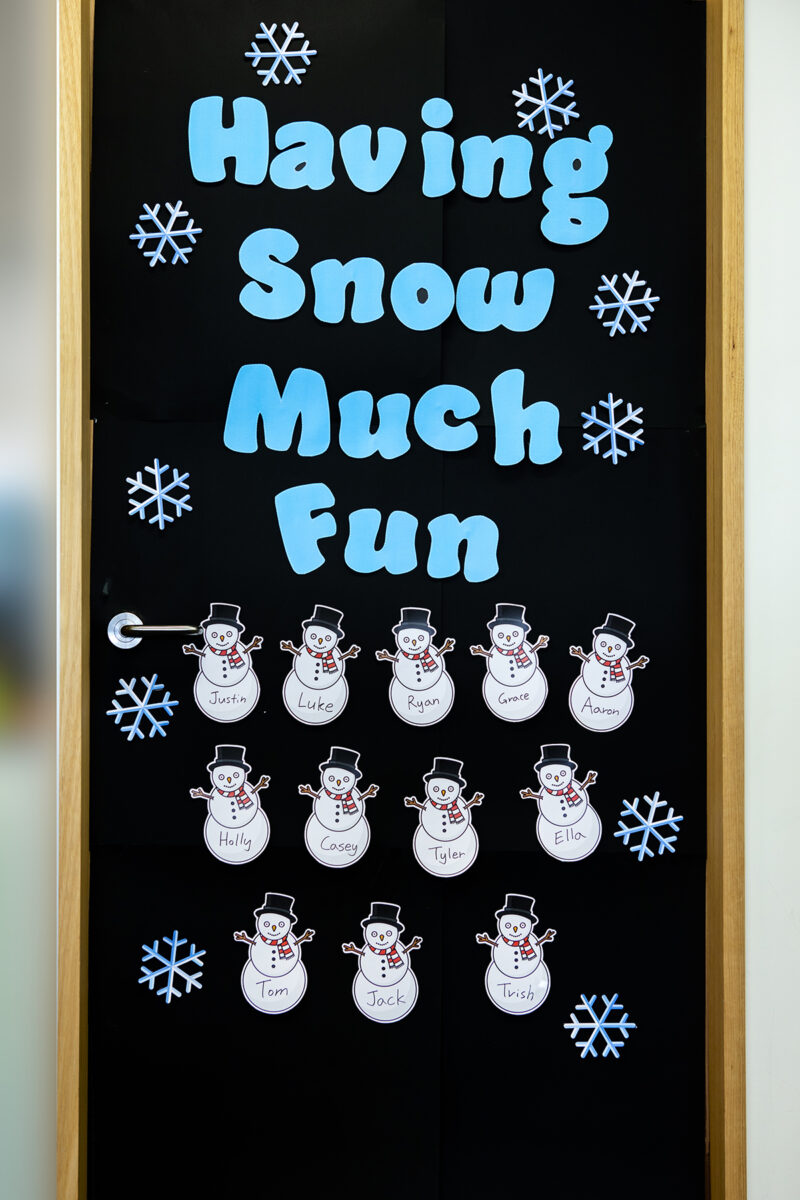 We love these little snowpeople too; just write each students' name on them! (Grab the snowman template from our fun snowglobes!)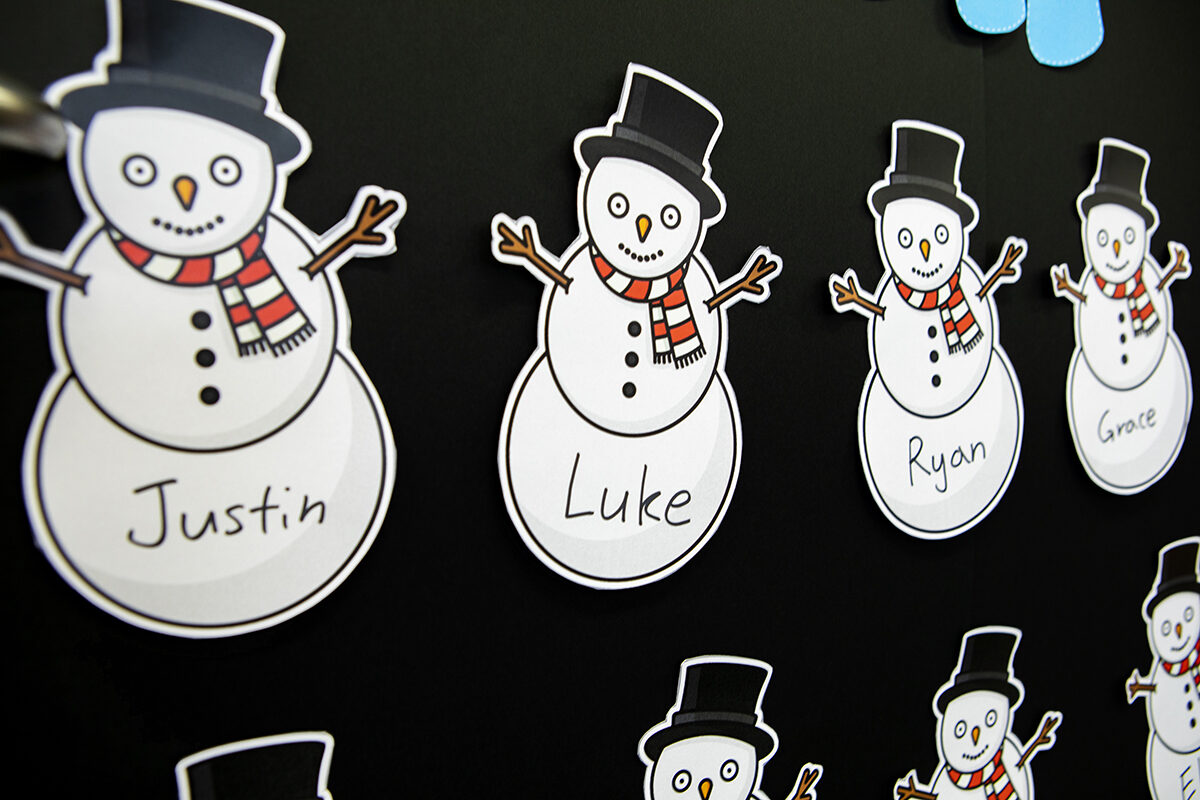 Snowman Special
Remember when Olaf wanted to experience summer? Middle school teacher Stephanie let that happen with this fun classroom door display created by her students to show what would happen if snowmen hit the beach! Do we love it because it reminds us of our holiday card template featuring Santa on the beach? Maybe!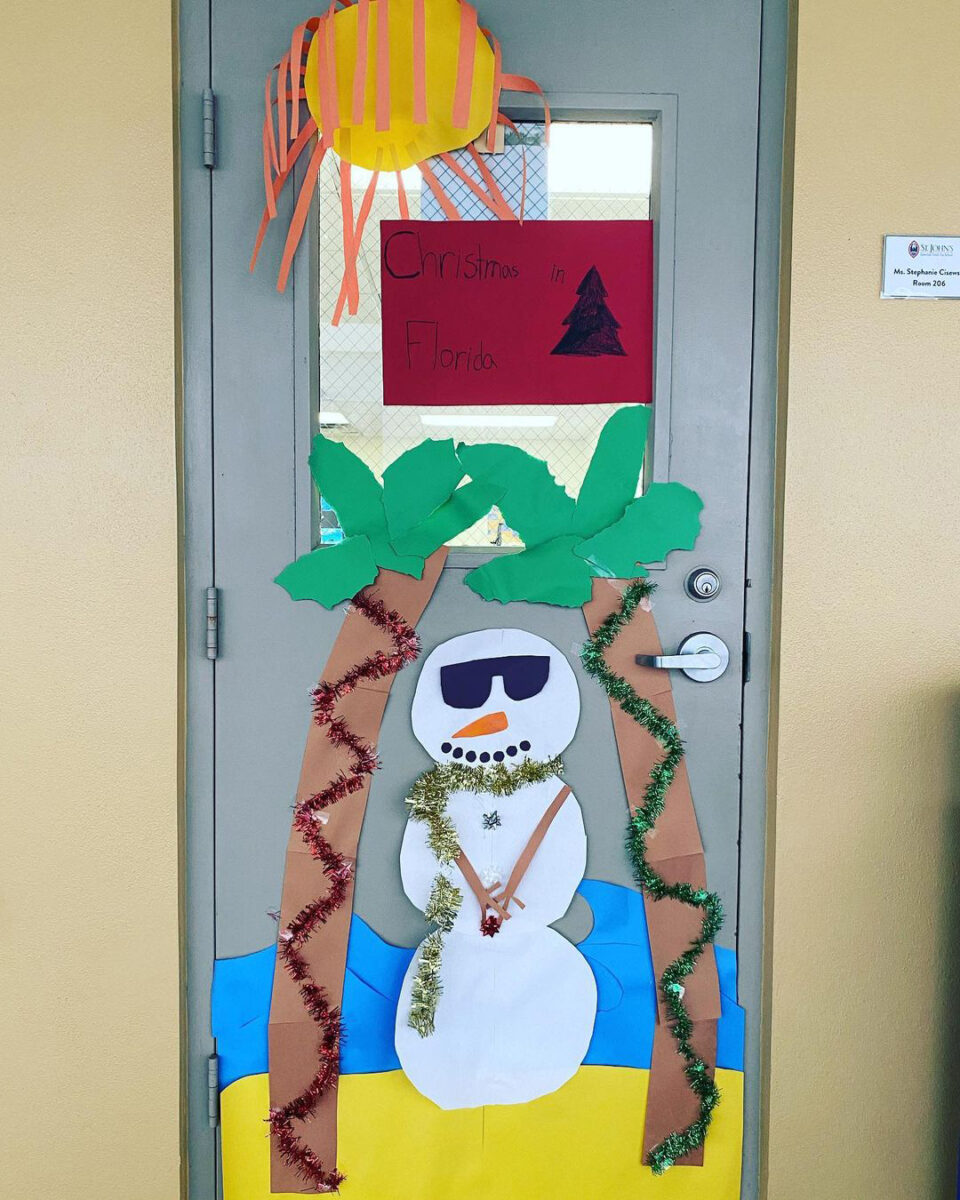 Santa's Nice List
Reward your students for making it through these past few months with something to smile about: A place on Santa's nice list! Each student can write their own name on the door to make themselves feel proud of their positive behavior.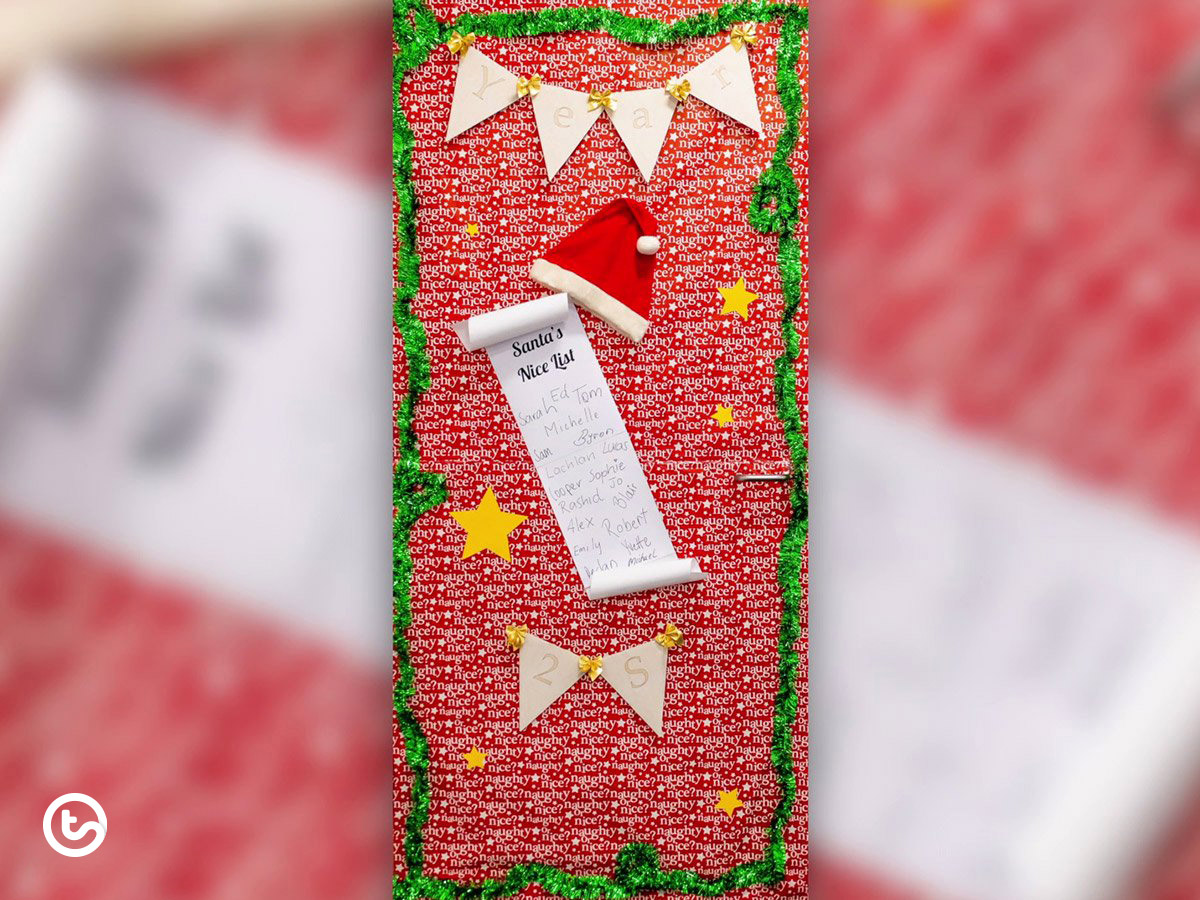 You will need:
To make Santa's 'Nice List,' we used Word to print a title on a plain piece of paper and stuck it to the second piece of paper end to end. We rolled up two sheets for the curly ends and with a little scotch tape magic, and voila!
---
Oh, Christmas Tree!
We've repurposed a number of our Christmas resources as door decorations to help you and your students dress up this jolly Christmas tree!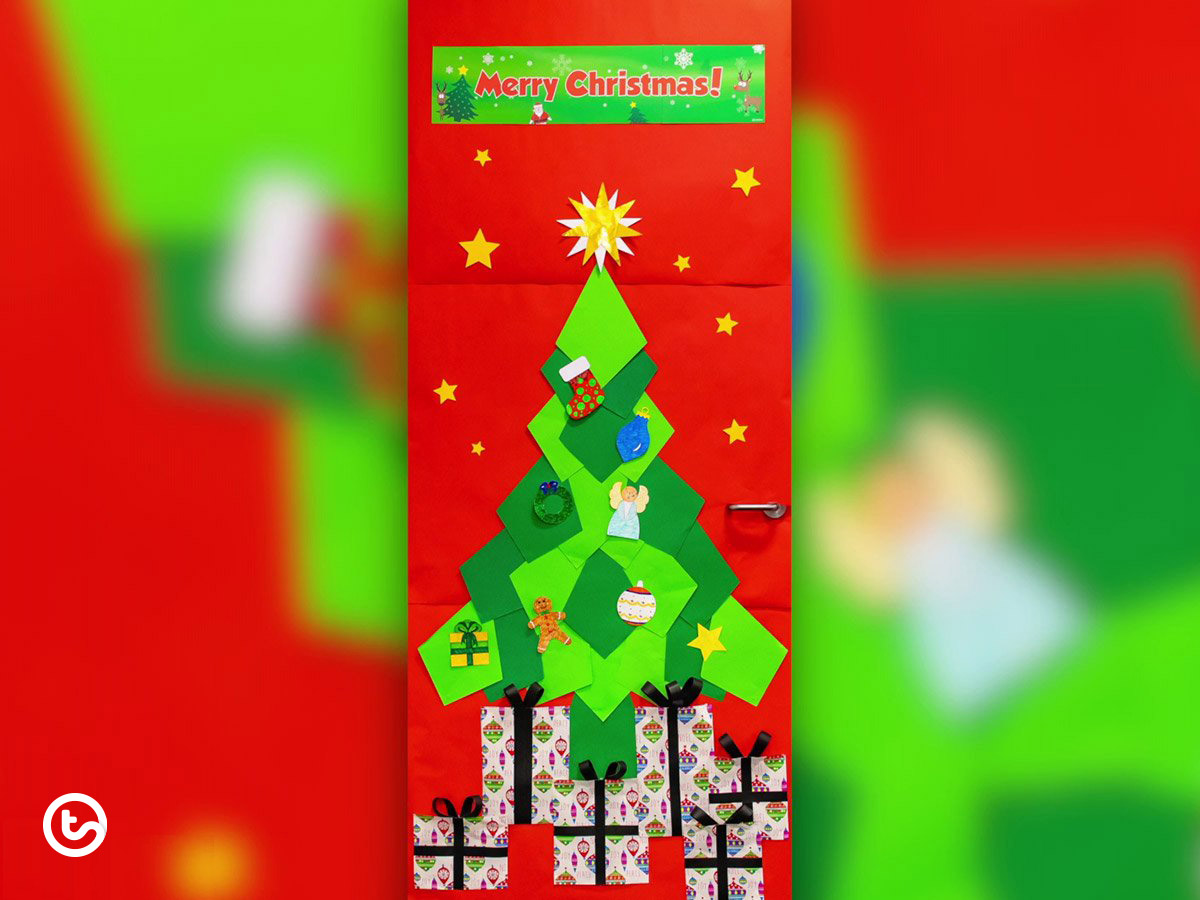 You will need:
This tree would make a great display for any wall in your classroom! Use it to gather your class's Secret Santa gifts if you're short on space and don't have room for a real tree in the classroom.
---
Letters to Santa
Combine literacy with your Christmas display with our Letter to Santa Writing Page. Santa's elves will love helping collect his mail from this classroom door decoration!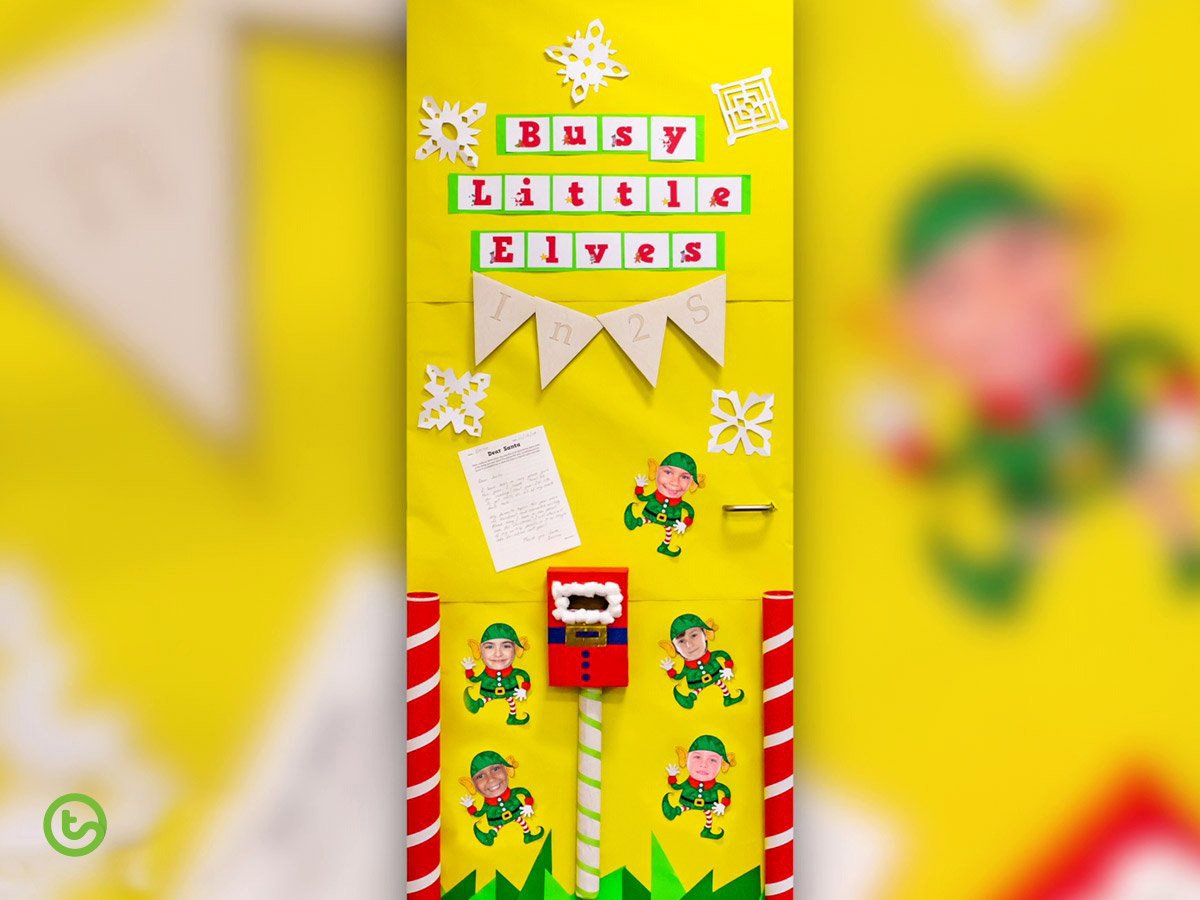 You will need:
large colored paper roll for backing
up-cycled cardboard box for a mailbox (we used an old cereal box, some crepe paper and cotton balls!)
cardboard roll for a mailbox post (ours has been decorated with crepe paper and some ribbon)
Busy Little Elves heading using our Christmas – Letter, Number and Punctuation Set
class name using Historical Cream – Letter and Numbers Pennant banner
elves – ask your students to color these adorable Create an 'Elfie Selfie' templates and attach a photograph of their faces! (alternatively, have students play our Roll an Elf Activity to create their own hilarious elf character)
green triangles to make grass (we used scraps of paper left over from our Christmas tree door decoration!)
scrap paper snowflakes.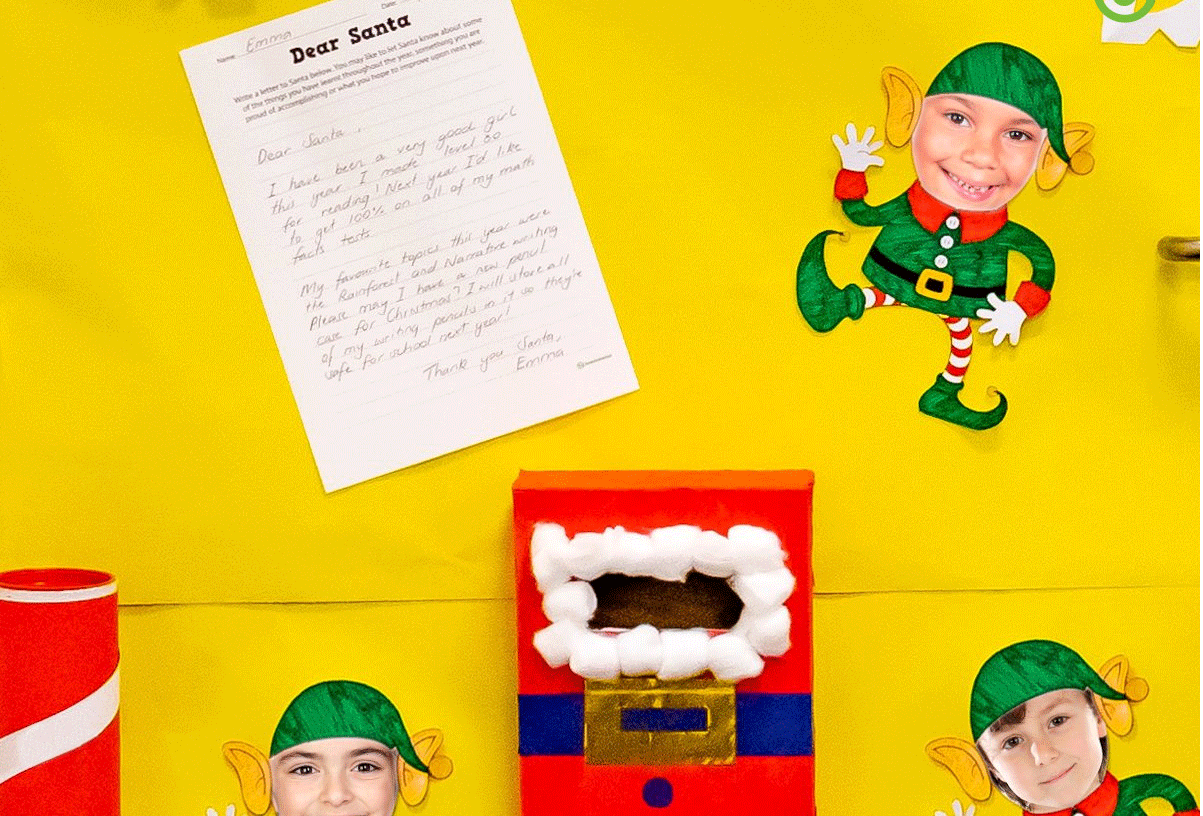 Your Light Makes the Season Bright
New Jersey teacher Ms Melfi (@msmelfieducates on Instagram) shared this holiday-themed classroom door idea that's perfect if you're trying to steer clear of being blatantly "Christmas." These holiday lights are printable and easy to recreate her door!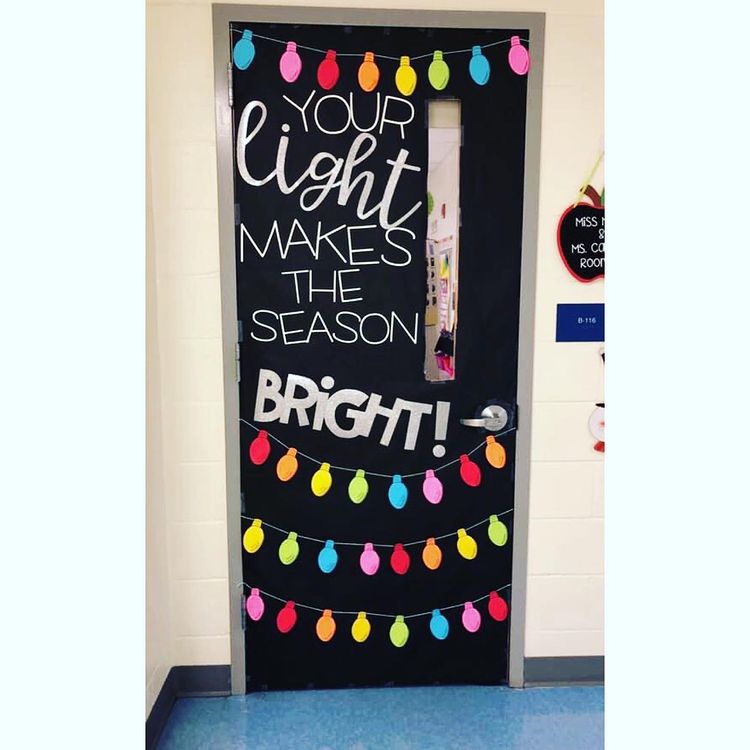 We Are a Bright Bunch
Use the same lights template, and put a small twist on the classroom door with this fun idea!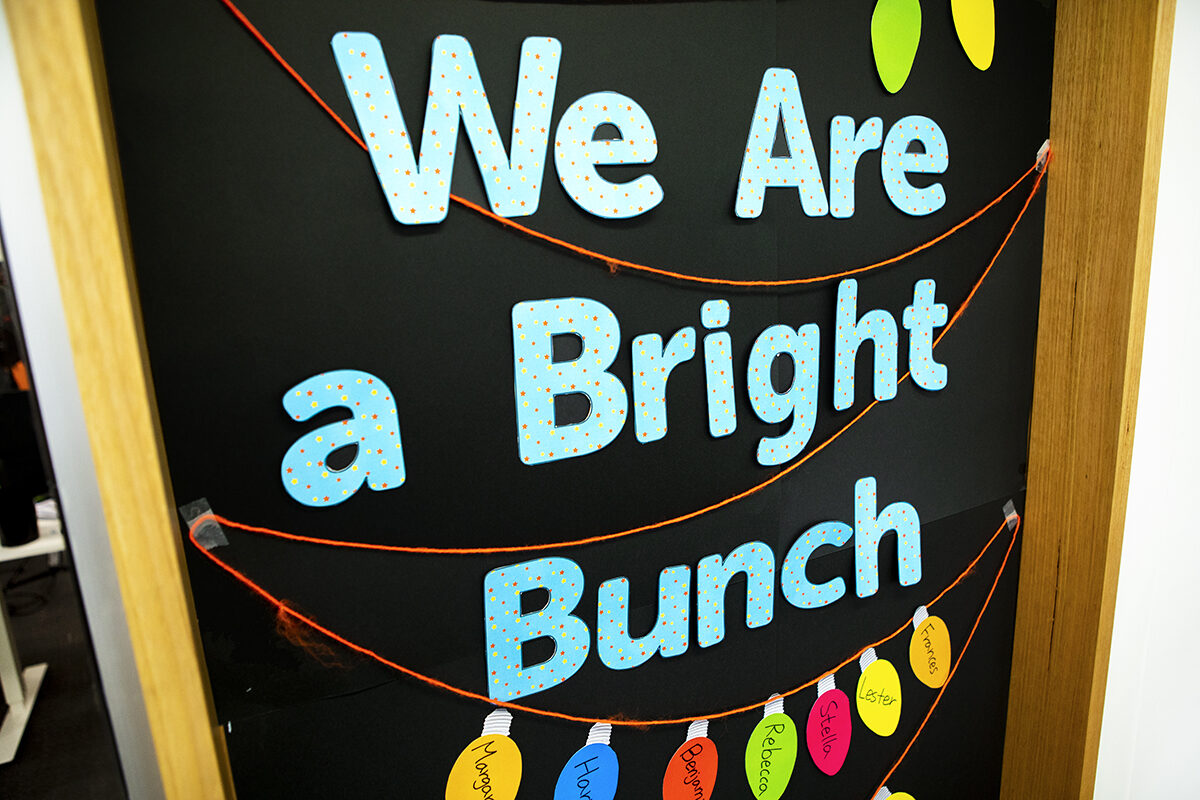 Whoville
The Grinch came out to play in this fun Christmas classroom door from teacher Connie Dorosky (@cldorosky on Instagram).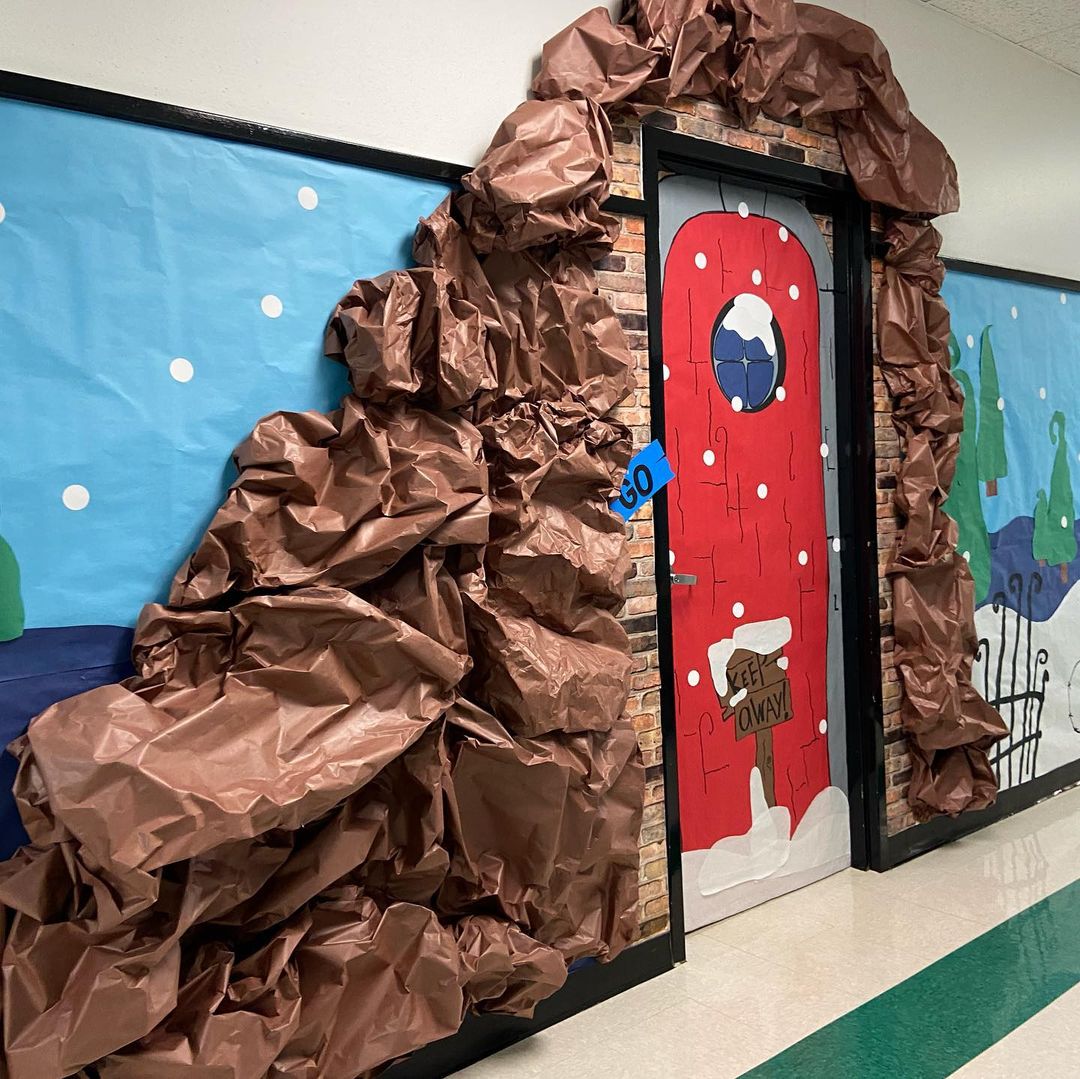 Take a peek at how some of our favorite doors are made!
Show us your holiday door! Tag #TeachStarterUS on Instagram!