There are few things that captivate Aussie kids' attention quite like slime. It's ooey, it's gooey, it's fluffy and it's surprisingly calming when your students sit and play with it. Best of all? Making slime with your students is a great science lesson — introducing kids to chemical reactions, the concepts of liquids vs. solids, molecules, and more.
Needless to say, we're big fans of making slime here at Teach Starter, whether it's as a classroom science activity or to make gifts for your students — can you think of a better treat than a small tub of fluffy slime to take home? Aside from maybe a fun bookmark, we can't! Our Australian teacher team has tested dozens of slime recipes, and we came up with the easiest way to make slime with your students!
How Do You Make Easy Slime?
With just five ingredients in this easy slime recipe, this is all you need to read to discover how to make slime for kids, but we didn't stop with the instructions.
Our teacher team has also put together a complete list of ways to use slime in your classroom, from using it as a DIY fidget tool to introducing informative writing, charting observations and a whole lot more. Read on for our favourite fluffy slime recipe, which uses glue and contact lens solution, then explore our ideas for implementing this kid-favourite in the classroom!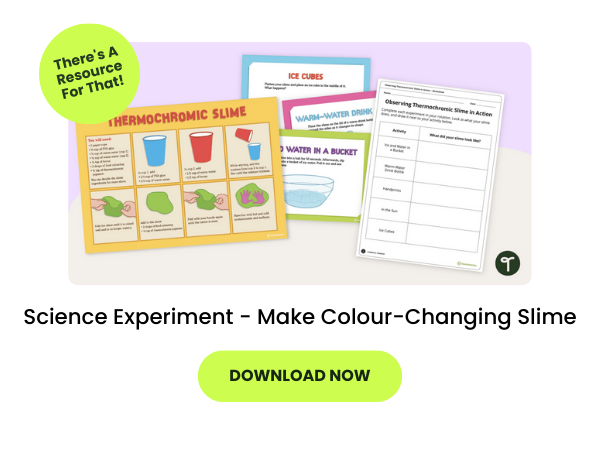 How to Make Slime for Kids in Your Classroom
Let's start off with what you'll need to gather for your class.
This fun slime recipe is glue-based — specifically, Polyvinyl Acetate (PVA) glue, aka the white glue you're probably already using in the classroom — score! You may also need to hit the local chemist for a few other items on the slime recipe list.
This recipe makes enough slime for one student — you can increase your amounts for additional students, but we've got an even better idea. Why not ask your students to do the maths for you as a skills-building challenge?
Slime Recipe Ingredients
1/2 cup of PVA white glue
1/2 teaspoon of baking soda
2 drops of food colouring
1 tablespoon of eye contact solution (must contain boric acid)
Baby oil
Spoon (for mixing)
Bowl
Slime Recipe Instructions
Step 1: Mix the PVA glue and 1/2 a teaspoon of baking soda.
Step 2: Choose the colour of food colouring you like — we went with green for that classic slime look — and drop a couple of drops into the mixture. Mix well!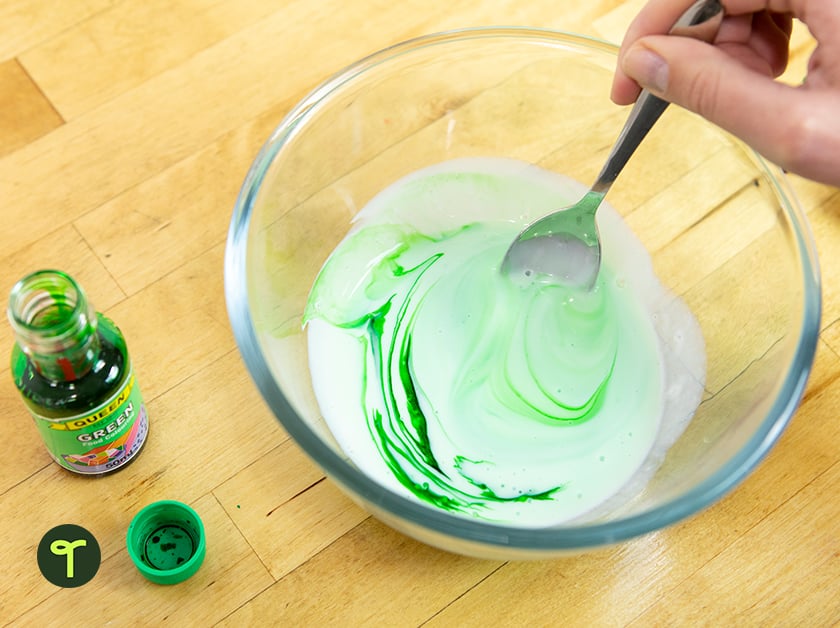 Step 3: Now for the magic solution! Mix in 1 tablespoon of eye contact solution — this is the activating ingredient. If you want to keep your costs down, you can buy saline solution rather than the more expensive contact solution. Just make sure there's boric acid and sodium borate in the ingredient list.
Step 4: Add a few drops of baby oil to prevent the slime mixture from being too sticky. The oil will help to make the slime shinier as well!
Using slime in science class? This science investigation process guide will come in handy!
Voila! After mixing the ingredients together … that's all you need to do!
How to Use Slime in the Classroom
Now that you have our favorite slime recipe, what are you going to do with it? Here are just a few ways our teacher team uses this recipe with students!
Introduce Procedural Writing — Plan slime-making as an activity to complete prior to learning about procedural (how-to) writing.
Practise Comprehending Non-Standard Informational Texts – Share this slime recipe to allow your students to practise synthesising learning from a set of instructions given in a nonfiction/how to text.
Chart Observations and Make Comparisons — Your students can add different items to their slime to see if they can make it bounce, float and more! Make more fluffy slime and compare it to slime that's liquidy and stringy, add Silly Putty to the mix and more so students can make comparisons about different characteristics.
Fun Friday Activity — Looking for a simple Fun Friday activity or an activity for the last few days of the term? Making slime with your kids is almost sure to fit the bill, and it can then be used as an in-class fidget toy.
Let us know what you do with slime in your classroom!