Wondering how to mark Easter in your classroom? We've pulled together some of our favourite bunny craft activities for the classroom, created by the Teach Starter teacher team to make for a very "hoppy" kick-off to the Easter season (hey, we had to). From crafts that help students better understand patterns to some zentangle fun to enhance their ability to focus, we've got every class covered. So let's hop to it!
Easter Bunny Craft Activities Perfect for the Classroom
Funky Bunny Craft Activity
This is far and away a favoyrite here at Teach Starter — it even spurred us to create a half dozen more "funky" creatures for teachers to use throughout the year. These activities make use of zentangle patterns to spur kids' creativity and double as a mindfulness activity.
Here's how to do it:
Download our free Fun Easter Bunny Craft template, and print it on white paper.
Trace the outline of the bunny with a black marker.
Choose either straight lines in each section or different patterns (It's best for kids to start with pencil, then trace over their work with a marker after they're satisfied)
Color the bunny's sunglasses — the brighter, the better!
Cut out the sunglasses and each section of the bunny.
Glue each section of the bunny onto construction paper so that you can see a gap between each section. Glue the sunglasses over the top.
You can also grab extra accessories for this bunny craft, and check out how classrooms around the US have put this bunny to work!
From Emmanuel Emmanzer's third-grade classroom in California (left) and  Martha Rawls Smith Elementary in Jessup, Georgia: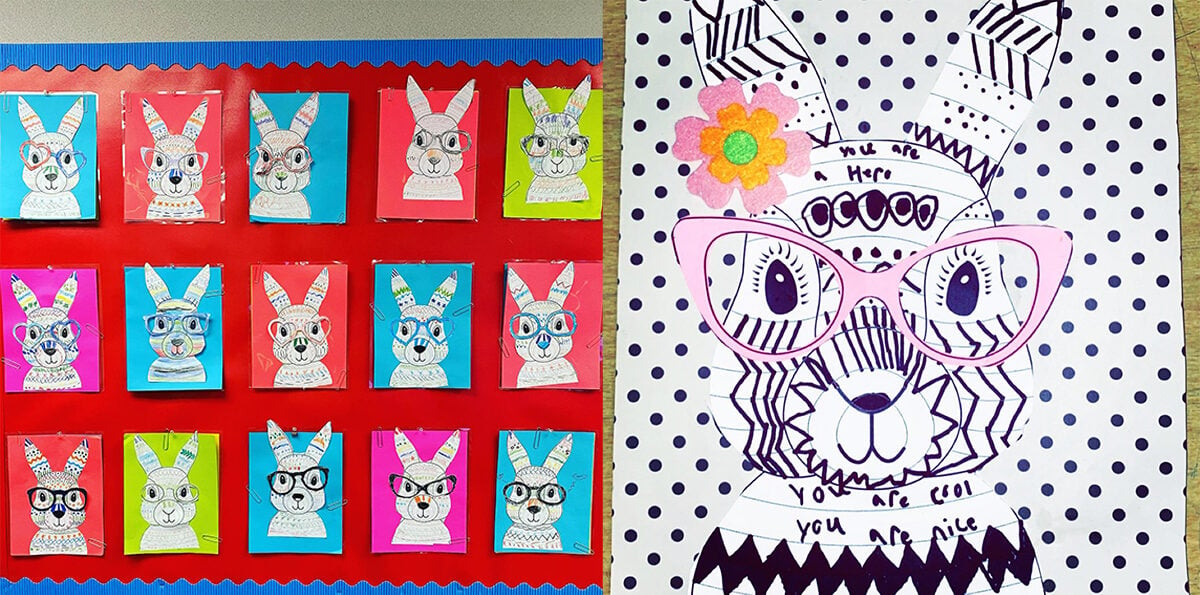 Bunny Cups
Do you have a ton of cups left over from classroom parties or parties at home? Put them to work in this bunny craft activity for kids using some standard classroom supplies.
Glue
Pompoms
Pipe cleaners
Paper
Markers or paint
The cups act as the bunny's face, and students can create ears with the construction paper or form them with pipe cleaners. Feeling fancy? Add extra bits of fabric to your little artists' supplies, and they can cut pieces to fit into their pipe-cleaner ears, gluing the fabric in place.
Pompoms are glued on as noses, pipe cleaners for whiskers, and eyes can be drawn or painted on. Simple, right?
Best of all, this bunny craft can be created with the lip of the cup on the bottom or flipped over – let your students get creative!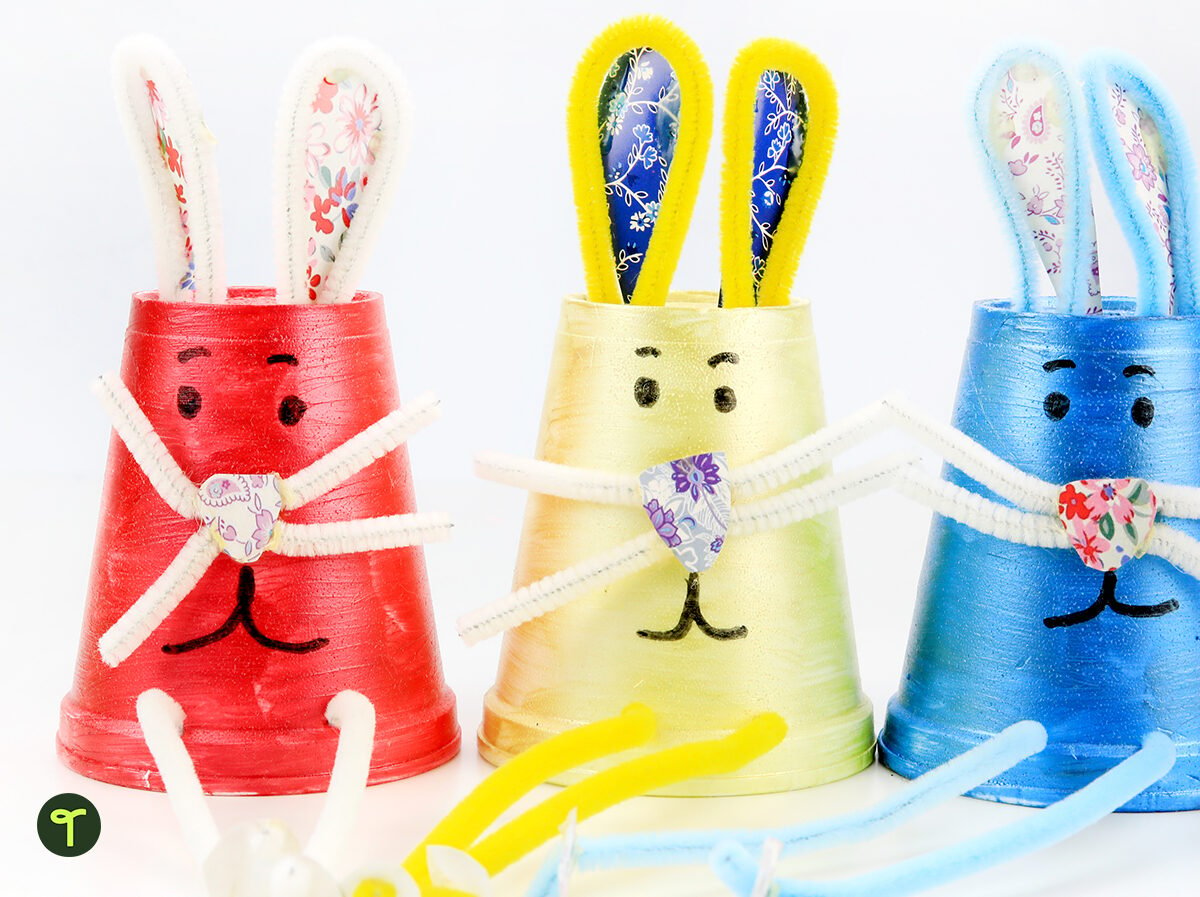 Teach Starter Teacher Tip: If you don't have leftover cups, you can use this as a sustainability activity by upcycling toilet paper rolls into fun bunny crafts!
Bunny Mosaic Craft
Did you know the word mosaic comes from the Latin museum? You may not have time to visit an art museum this spring with your class, but setting aside an hour for this mosaic bunny craft can help them practice counting, sorting, and hone those focusing skills while they're at it.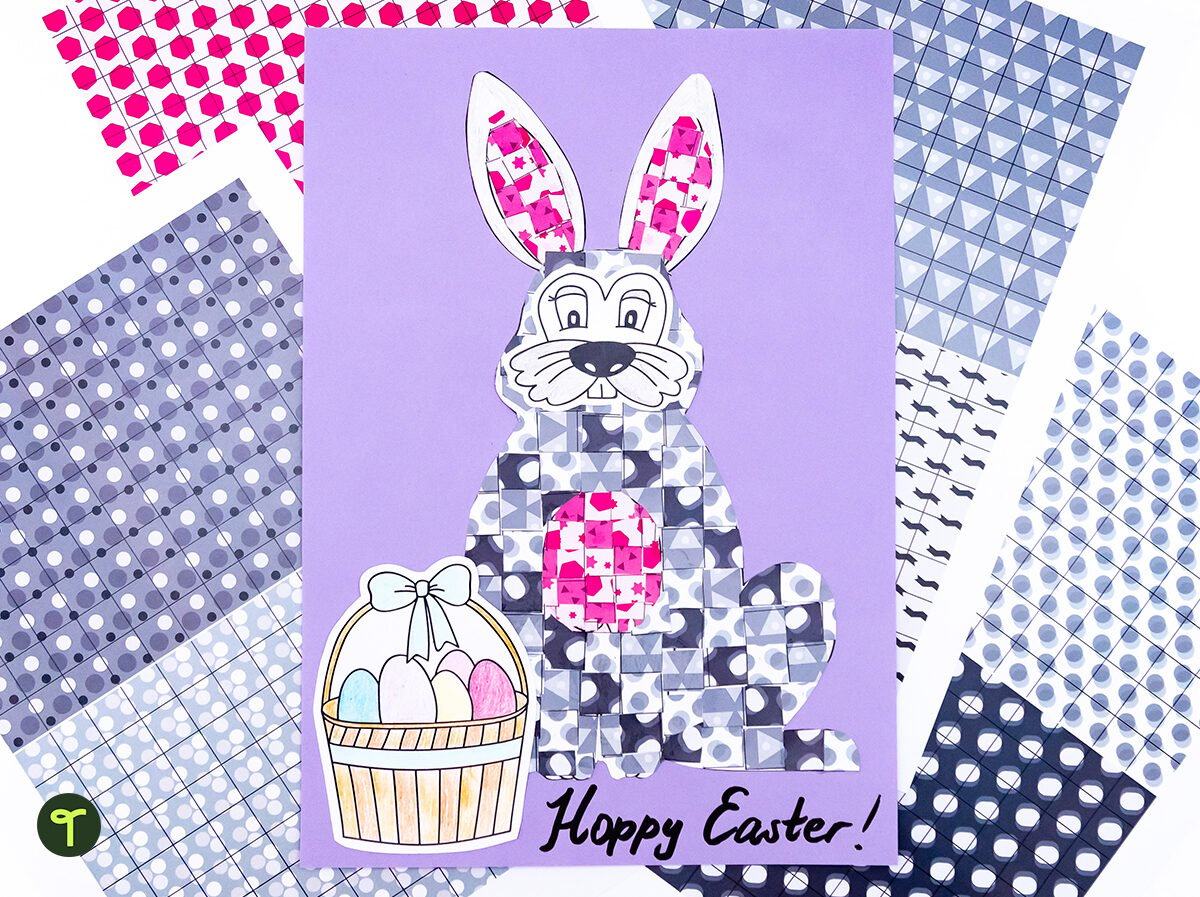 Grab the bunny mosaic craft template here.
3D Bunny Craft
Talking about 3D shapes in the classroom? Create visual representations of the concept with this bunny craft activity — 3D bunnies! Print the 3D bunny nets, and have your students label the various attributes/features (faces, edges, vertices) to show their understanding of the subject.