Harmony Day has always been celebrated on the 21st of March every year in Australia. However, in 2003, this was changed to Harmony Week which will be from the 21 – 27 March in 2022. Some schools still decide to focus the celebration on one day. Either way, it's a week or day to celebrate the diversity of our amazing country! The main message is everyone belongs, which is a fantastic opportunity to encourage the inclusiveness of different cultural backgrounds that make up your class and your school! This blog highlights some of our Harmony Day ideas and teaching resources for kids that are perfect to use during this week or any time of the year!
Harmony Week Ideas for Schools
Class Performance Idea for Harmony Day
The words of this song encourage young children to appreciate that everyone belongs. This song is the perfect choice if your class has been asked to perform in front of the school to celebrate Harmony Week. Either way, it's a great song for your students to listen to and discuss the meaning of the lyrics.
Download the tracking music and words on the Song Library website.
School Posters and Decorations for Harmony Day
To fully immerse your class and school into Harmony Week, encourage students and teachers to come dressed in orange on one of the days during the week.
Why orange? Orange is the official colour chosen to represent Harmony Week. It signifies social communication and meaningful conversations. The colour orange also relates to freedom of ideas and encouragement of mutual respect.

Use our beautifully illustrated Harmony Day classroom posters to display in your classroom or around your school.
---
Classroom Activities for Harmony Day
Use this Harmony Day resource with your students to reflect on the many cultures that are experienced within Australia.
After writing their name and where they were born, students write their favourite food, sport, cartoon and type of music. They then research the countries and cultures where each favourite originated.
They draw a self-portrait within the outline of Australia and add drawings or pictures of some of their favourite things.
Once complete they cut out the hexagonal shape and create a tessellating display on a wall promoting Harmony Day.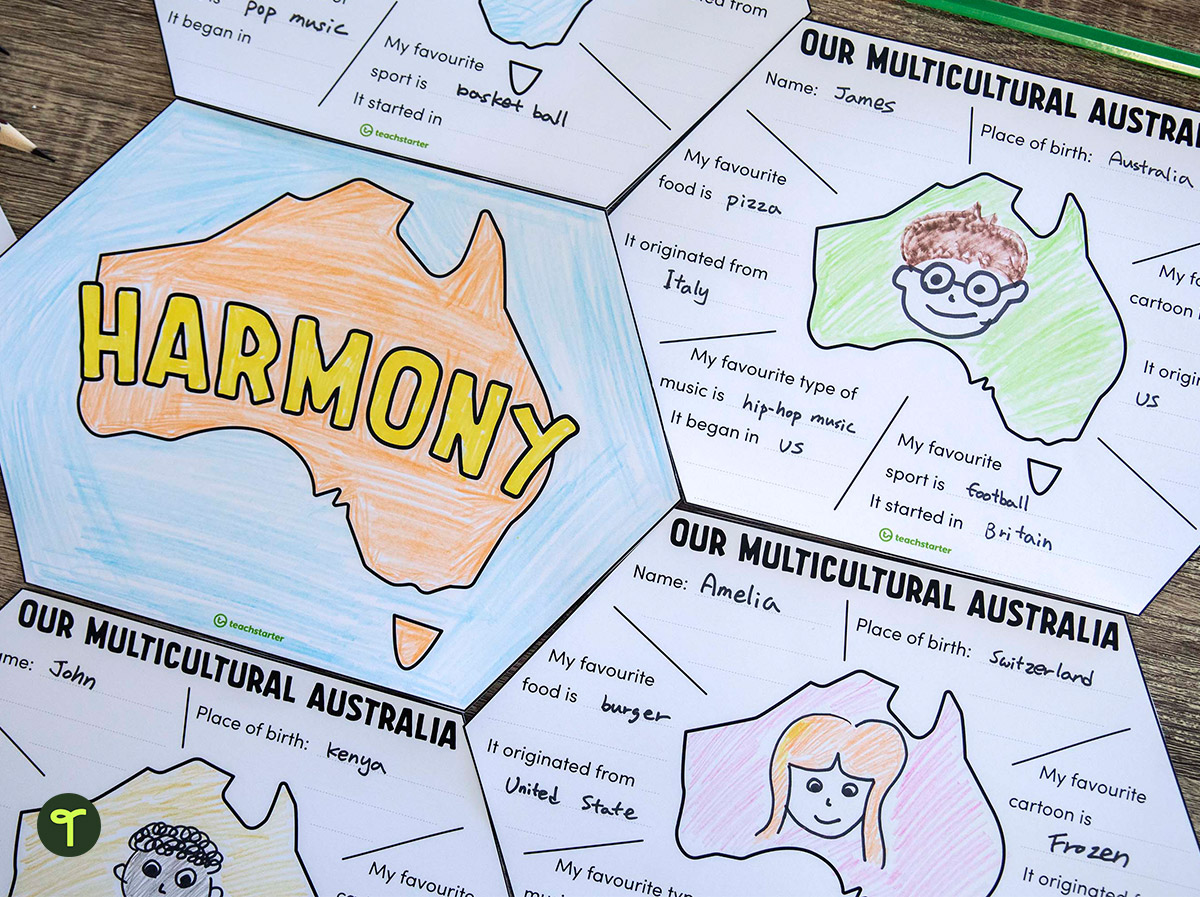 Create a beautiful floral display in your classroom for Harmony Day.
Print the lotus petals of the template on orange card and the lotus pad pages on green.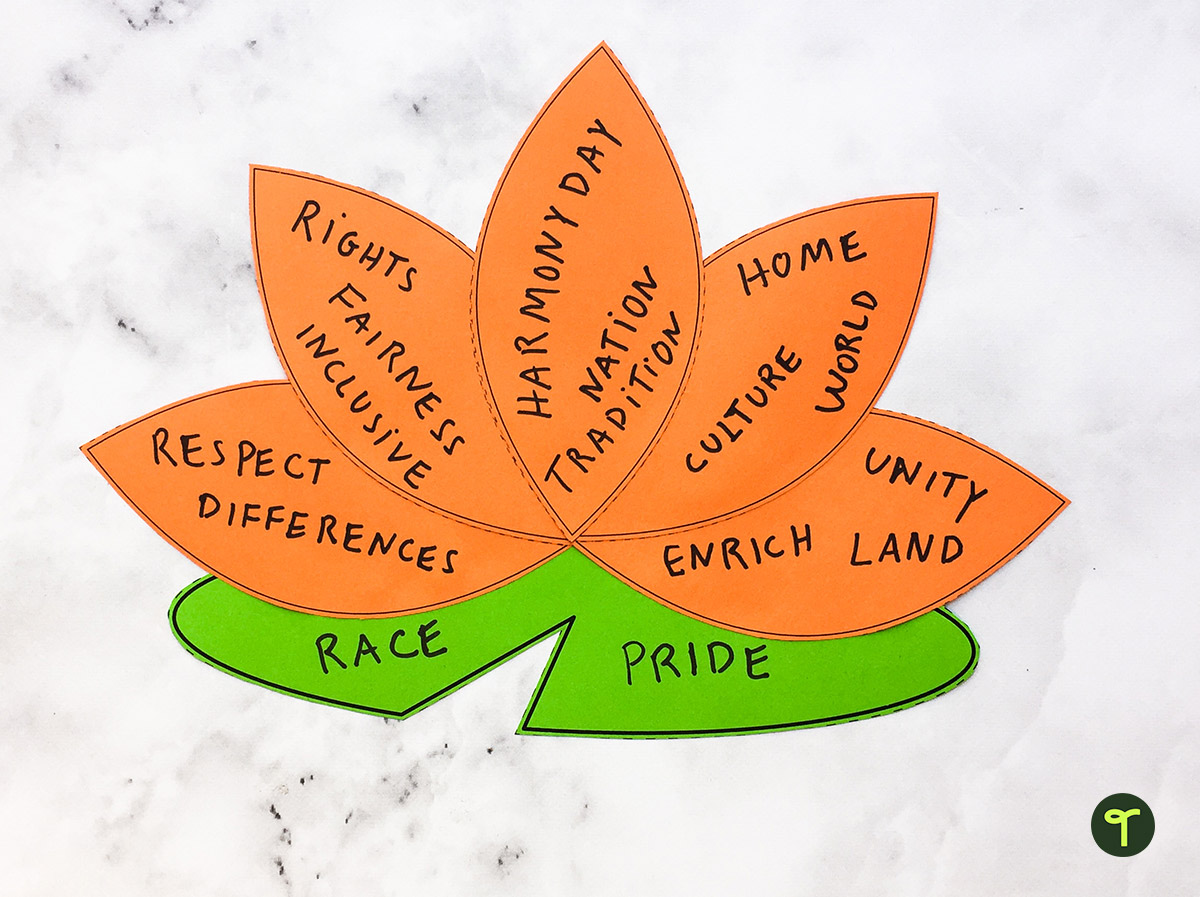 This gorgeous Harmony Tree Craft activity creates a simple, yet effective display that celebrates your students' different backgrounds and cultures.
Students use a hand template to represent themselves and their cultural background.
The hands are then used to create a whole class harmony tree display.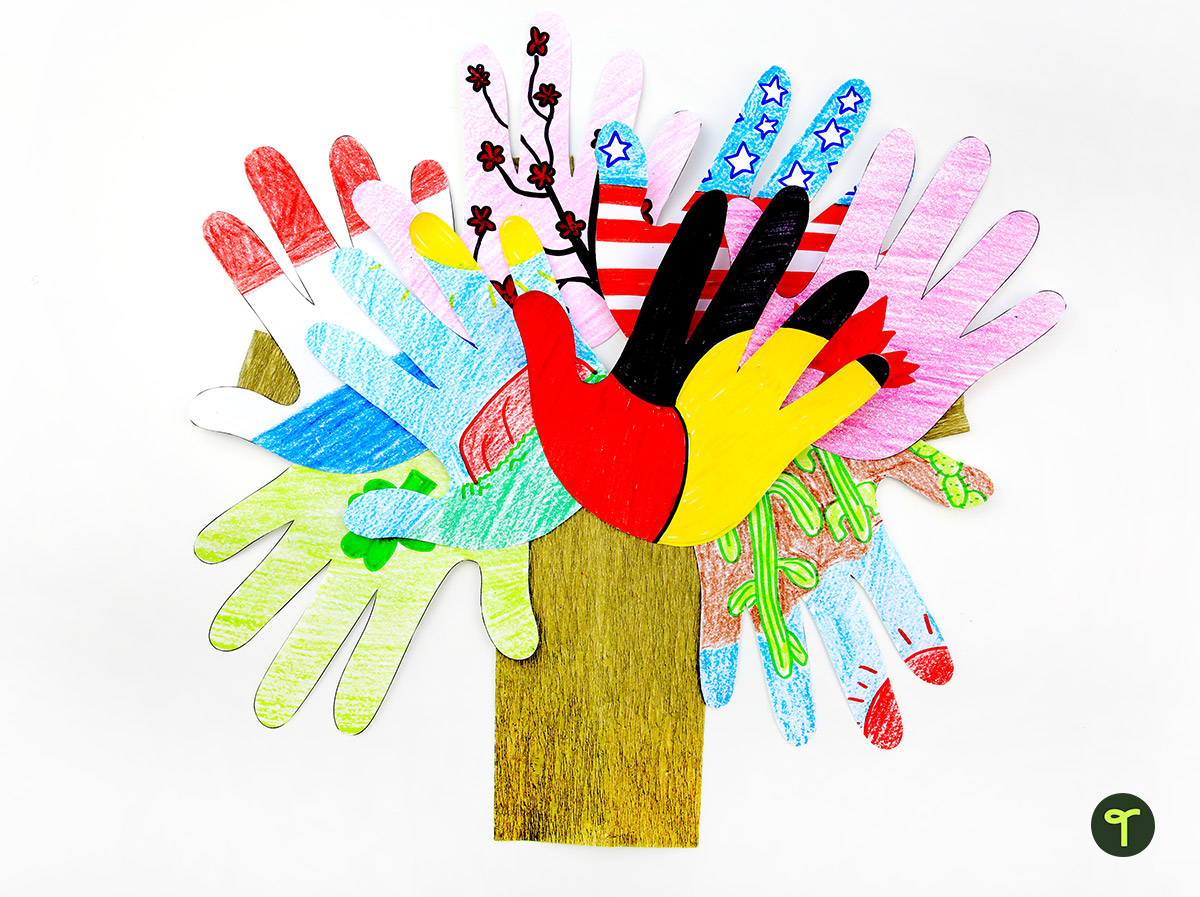 This is another creative Harmony Week craft activity to use when learning about the cultural diversity of your class.
Students use a paper chain template to represent themselves and their cultural background.
The people cutouts are then joined together to create a paper chain to display in your classroom.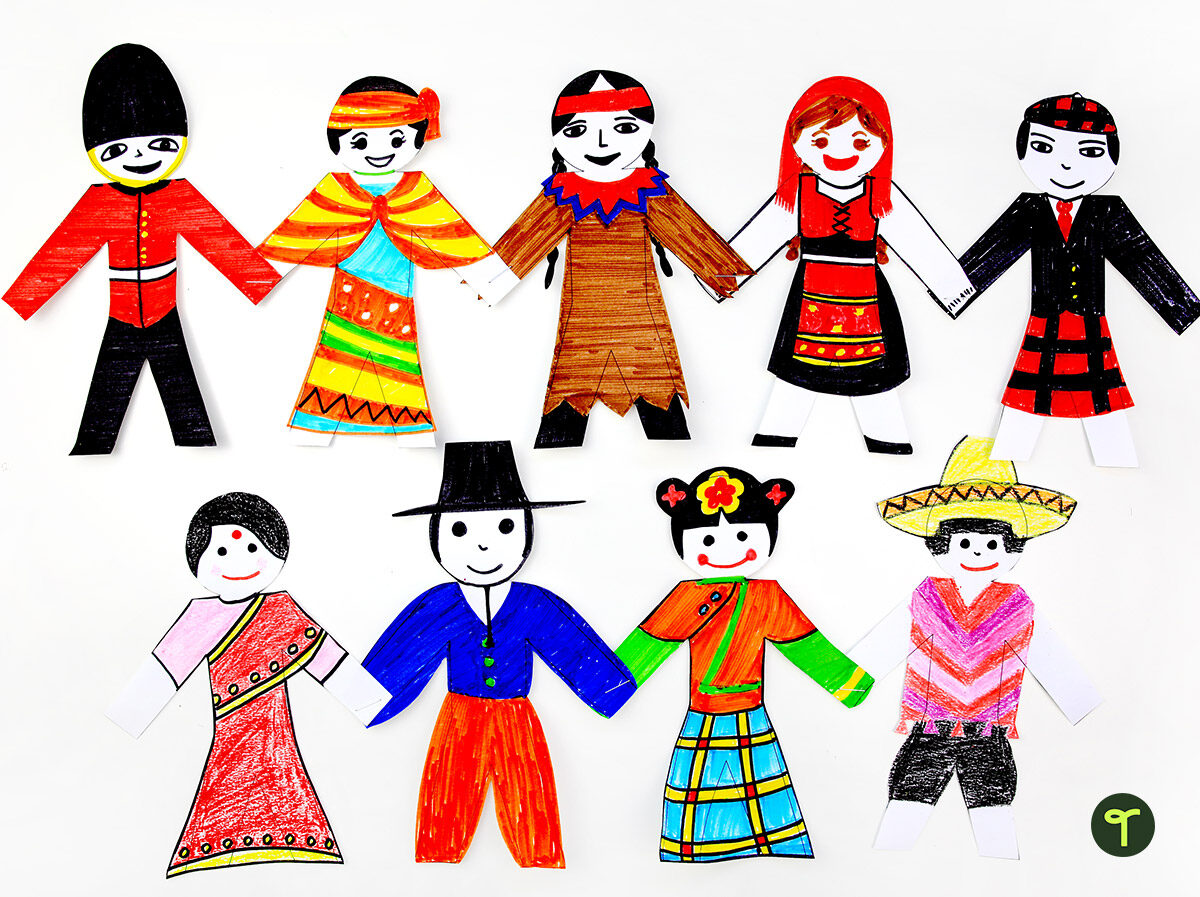 Use our collection of printable worksheets to celebrate and identify the diverse cultures that make up your classroom.
In this collection of Harmony Week worksheets, students identify different groups that they belong to, design and create their own Harmony Day badge and create a self-portrait.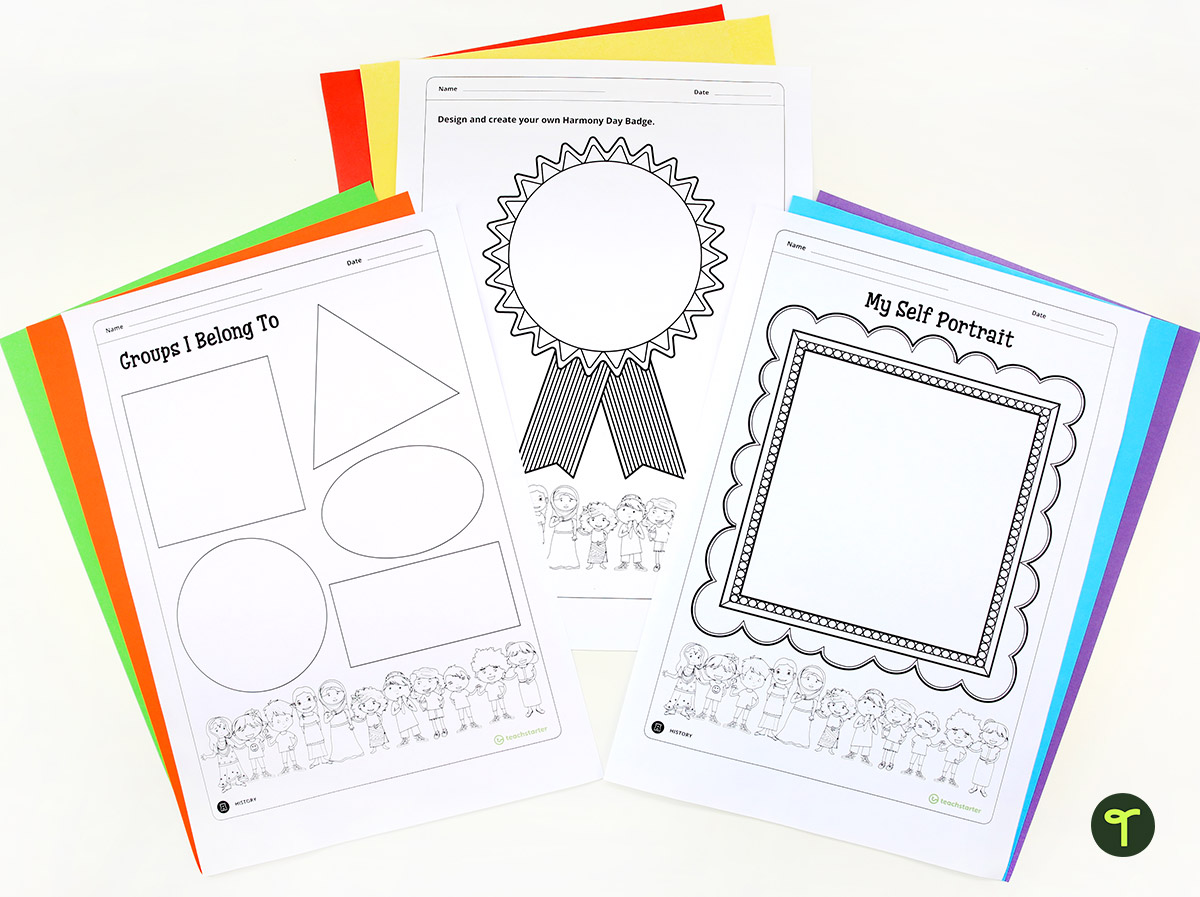 Download and print our The Meaning of Harmony Day Template to create a gorgeous display for your classroom.
Students cut and decorate a globe with the heart representing Australia. Then, on the strips of paper, they write the words or terms that were brainstormed earlier and stick these strips of paper to the bottom of the globe.
We printed the strips on orange paper as orange is the colour that represents Harmony Day.

This resource is the perfect activity for the middle to upper years of primary school. Students create gorgeous Harmony Day Vocabulary Flip Books, looking at a variety of words that represent Harmony Day and its meaning.
Students can write down the definitions of these words from the dictionary. Alternatively, they can write what those words mean to them in their own words.
Harmony Day vocabulary covered: compassion, inclusiveness, respect, empathy, care, diversity, culture, belonging, unity and equality.

Encourage your students to learn how to say hello in a number of different languages using this gorgeous Hello Around the World classroom bunting.
More Printable Harmony Day or Harmony Week Resources
For more classroom activities, displays and ideas for Harmony Day, check out our Harmony Day resource collection.